Sometimes you want something fancy and elaborate, other times you just want simple. These days, with a constantly in motion 2 year old, my taste veers decidedly towards the simple: things I can make in the hour or two of free time I get while baby is napping, treats that she can enjoy just as much as I do, like these peanut butter melting moments with banana cream.

If you've been on my blog before you'll probably know that I have a deep fondness for shortbread and any sort of very tender, melt-in-your-mouth cookie. Many shortbread recipes call for confectioners' sugar instead of regular granulated sugar or substitute some rice flour for all-purpose flour; both confectioners' sugar and rice flour contain non-gluten starches that help keep the development of gluten in the cookies low, thus ensuring their fine, sandy, texture.
Cornstarch is a similar non-gluten starch, and is sometimes serves a similar purpose to rice flour in recipes. There are many shortbread-similar cookies around the world that use cornstarch for more tenderness; one that I'm particularly enchanted with lately is the evocatively-named melting moments from Australia. A super simple cookie made with just four ingredients, I find it's easier to manipulate and more forgiving than the delicate shortbread, but the results are just as lovely. They have a firmer outer crust than shortbread, but the inside is beautifully tender – it's this contrast that makes part of this cookie's appeal.
While researching melting moments I discovered another similar cookie from Australia called yo-yo cookies, so called because they involve two cookies sandwiching a sweet filling. Yo yos are almost identical to melting moments, except they are made with custard powder instead of cornstarch. Custard powder isn't as common a ingredient in the US, but think of powdered vanilla pudding mix and you get the idea. It's used on its own to make an instant custard sauce, or it provides a boost of flavor to dessert recipes. Because it's also made with cornstarch, it can provide the same tender quality to baked goods.
The cookies I ended up making are kind of hybrid of melting moments and yo-yo cookies. I added peanut butter to the cookies since Isabelle has been on a peanut butter spree lately (she wolfed these cookies down as well) so I came up with the idea of a caramelized banana pastry cream filling to spread between the cookies. Peanut butter and banana is, after all, a classic kid combination!
I tinkered around with my pastry cream recipe because I wanted it to be firm enough to pipe – if you don't mind it being softer, you can leave the gelatin out of the recipe. Or, I think next time I might keep things even simpler and make a basic confectioners' sugar buttercream and add in the banana. Either way, it's a kid-and-adult-friendly flavor pairing – simple yet still elegant, with a bit of nostalgia mixed in. Tickle your inner child's tastebuds.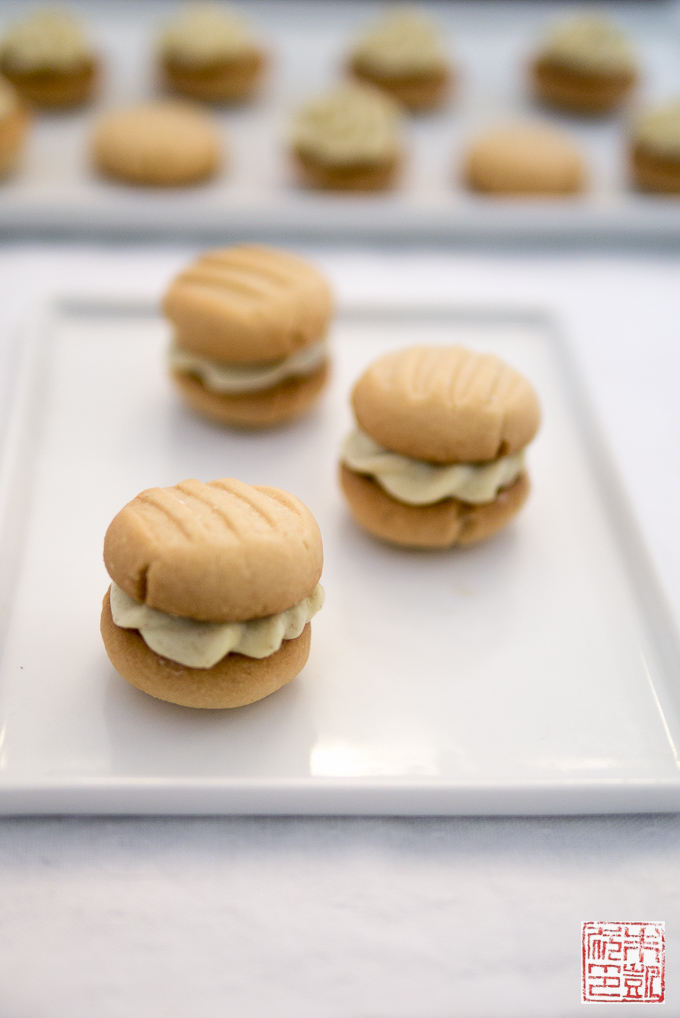 Peanut Butter Melting Moments with Caramelized Banana Cream
Ingredients
CARAMELIZED BANANA PASTRY CREAM
2 ripe medium bananas
¼ cup light brown sugar
½ teaspoon powdered gelatin
1 cup whole milk
½ cup sugar
½ teaspoon salt
3 large egg yolks
2 tablespoons cornstarch
1 teaspoon vanilla extract
¾ cup (170 g) heavy cream
PEANUT BUTTER COOKIES
½ cup (113 g) unsalted butter, room temperature
50 g peanut butter
50 g confectioners' sugar
115 g all-purpose flour
50 g cornstarch
Instructions
FOR THE PASTRY CREAM:
Cut bananas into ¼" thick slices and place in a sauté pan. Sprinkle with the brown sugar.
Cook on medium heat, stirring to prevent burning, for about 5 minutes, until the sugar has melted and caramelized around the bananas. Let cool while you make the pastry cream.
Combine milk and ¼ cup of the sugar in a medium saucepan. Heat on the stove over medium heat until the sugar is dissolved and bubbles appear on the edge of the pan.
Sprinkle the gelatin over 2 teaspoons of water in a small bowl and let bloom.
Meanwhile, whisk together the egg yolks and remaining ¼ cup sugar in a bowl.
Whisk the cornstarch into the egg yolk mixture until combined.
Pour the hot milk into the egg mixture, whisking constantly to prevent the eggs from cooking.
Return the entire mixture to the saucepan and cook over medium heat, whisking constantly until the mixture thickens. Add in the gelatin and stir to make sure it fully dissolves. Stir in the vanilla.
Scrape the pastry cream into a food processor. Add the caramelized bananas and process until fully blended and very smooth.
Scrape the pastry cream into a clean container, press a piece of plastic wrap to the surface, and refrigerate until needed.
When you are ready to use the pastry cream, whip the cream in a mixer to soft peaks, and then fold gently into the pastry cream to lighten.
FOR THE COOKIES:
Line two baking sheets with parchment paper. Preheat oven to 350 degrees F.
Beat butter, peanut butter, and confectioners' sugar together in a stand mixer until light and fluffy.
Sift together the flour and cornstarch. Add to the stand mixer and beat until the dough comes together into a smooth mass (it may look crumbly at first, keep beating.)
Roll small teaspoons (about 10 g weight) of dough into balls. They will look small but these cookies are meant to be small. Place about 2 inches apart on the prepared sheets.
Press down on each ball with a fork dipped in flour to flatten.
Bake for about 13-15 minutes, rotating halfway through, until firm and golden brown at the edges. Let cool on wire racks.