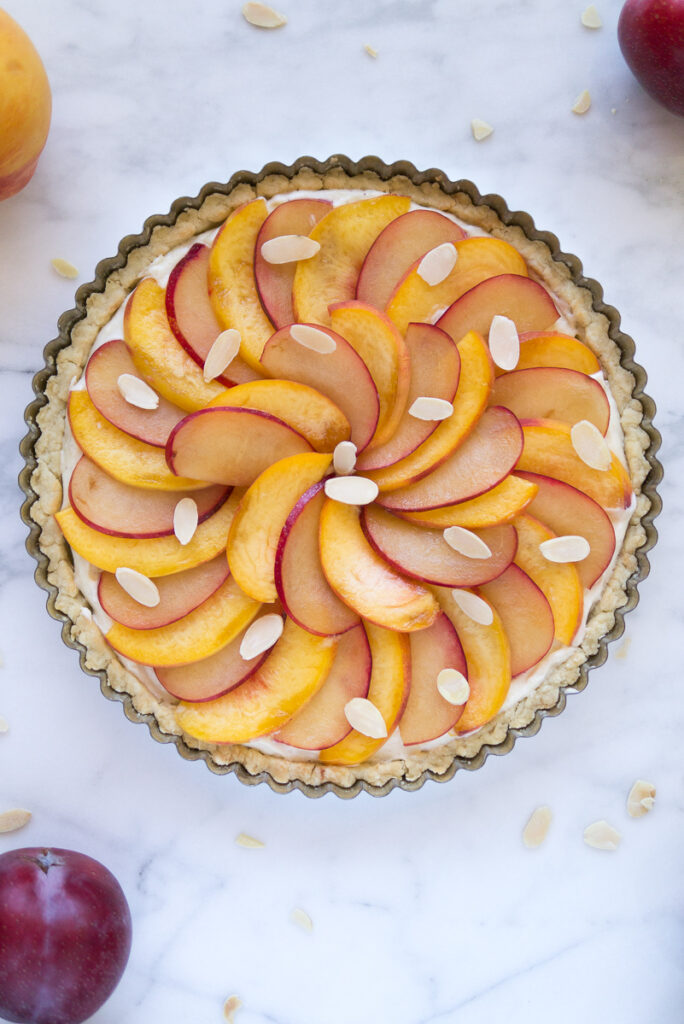 It's a little bit after stone fruit season, but I wanted to share one of the last fruit tarts I made a couple weeks ago: a peach plum tart with cinnamon pastry cream. It was a last-minute creation for a weekend picnic, but I ended up making perfect use of the peaches and plums we had left in the house!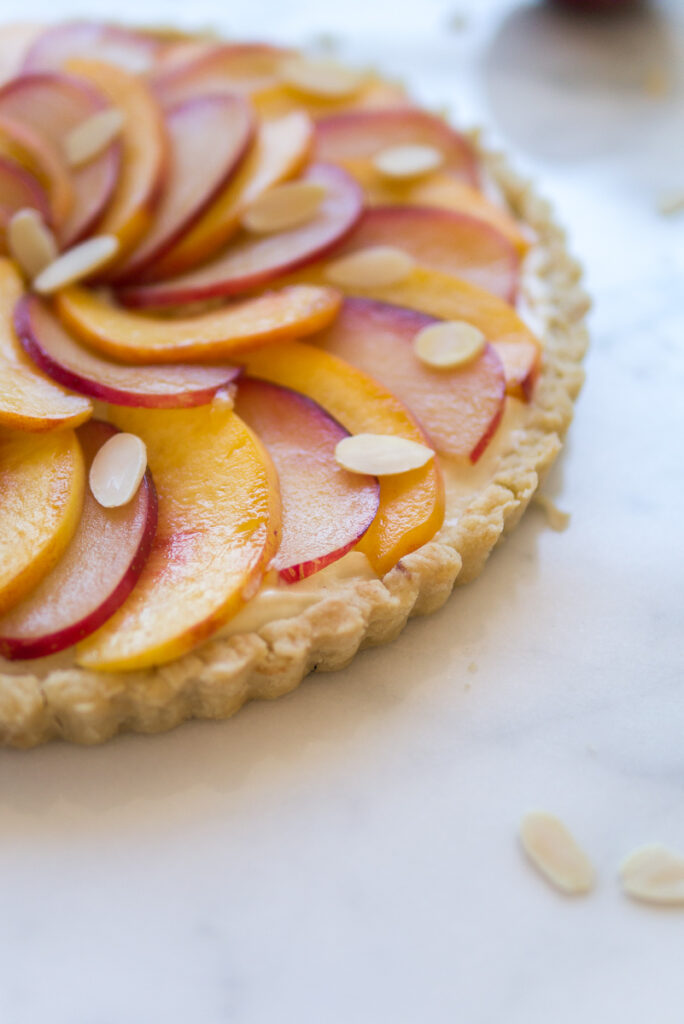 I love the mix of sweet, end-of-summer peaches and the clean tartness of plums combined, but you can use any stone fruits like nectarines or pluots. I also love the contrast of rosy pink and golden yellow tones; next time I'd love to try mixing in some even deeper-toned varieties like elephant heart plums. The tart crust is my trusty melted butter press-in crust, perfect when you don't want to do any rolling out of dough. It's flavored with almond extract, which I think enhances the sweetness of the fruit.
The fruit rests on top of a pastry cream lightened with whipped cream and spiced with a little cinnamon to give a nod to autumn. It's simple enough for an afternoon snack and sophisticated enough for dessert at a dinner party. We enjoyed this tart on one glorious Indian summer afternoon, a last happy hurrah right when everyone's thoughts start shifting towards fall.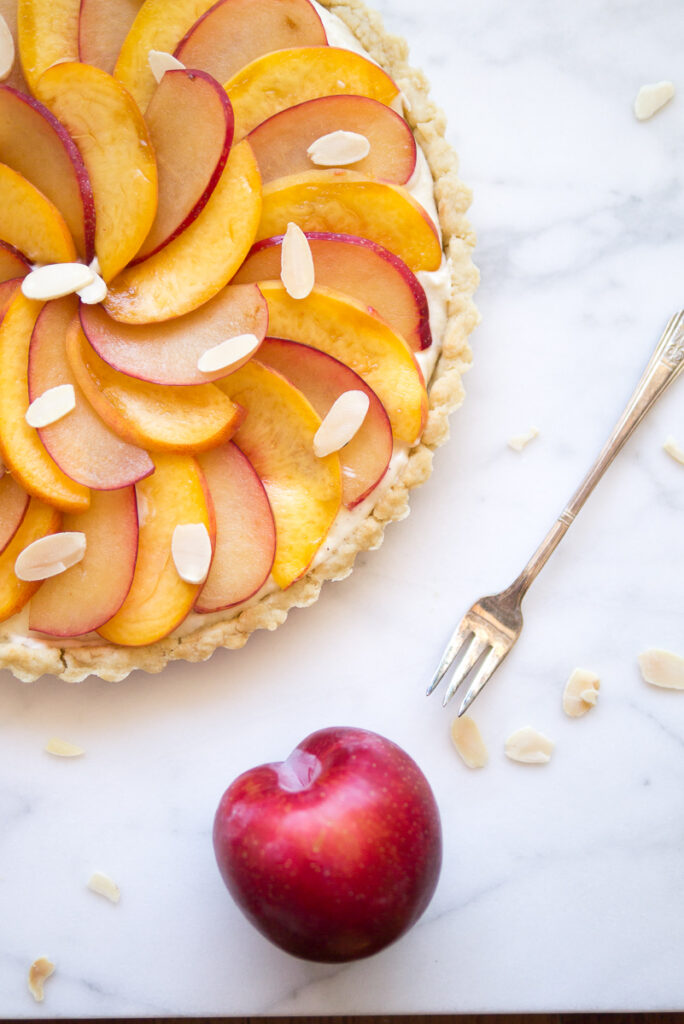 I apologize for being behind on my cruise recap as well, thanks to a busier-than-expected end of summer. Look for those posts to appear soon, along with some more treats to celebrate the approaching holiday season!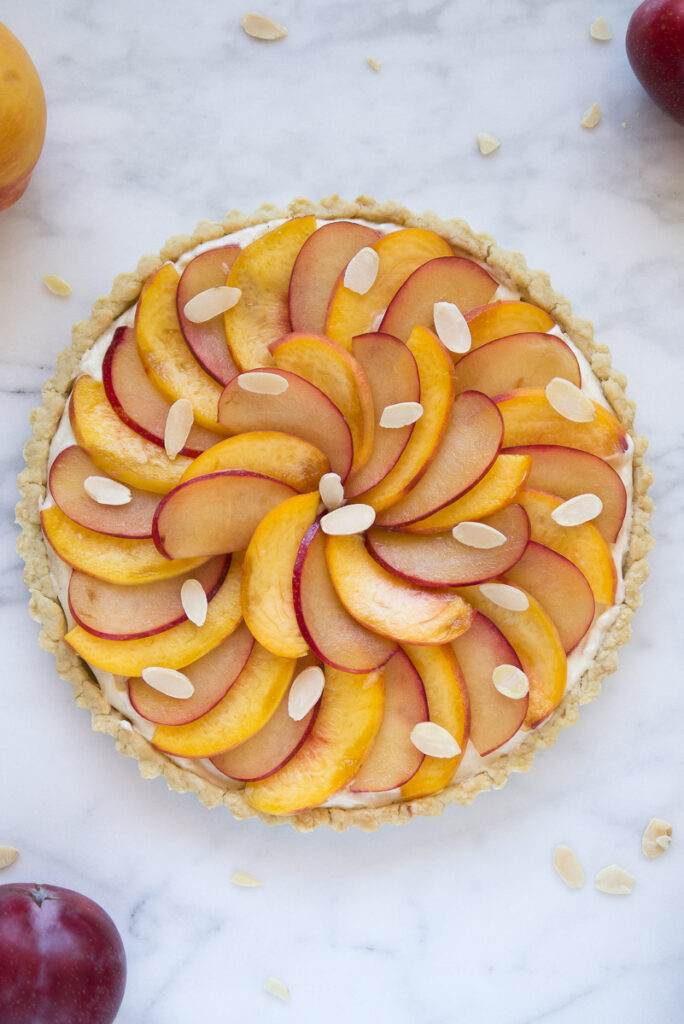 Peach Plum Tart with Cinnamon Vanilla Pastry Cream
Serves:
(1) 9" round tart
Ingredients
Crust
8 Tbsp (4 oz) unsalted butter
1 cup (5 ounces) (140 g) all purpose flour
¼ cup (50 g) sugar
⅛ teaspoon salt
¾ teaspoon almond extract
Pastry Cream
1 cup (230 g) whole milk
2 Tablespoons (30 g) + 3 Tablespoons (44 g) sugar
3 large egg yolks
2 Tablespoons (14 g) cornstarch
1 teaspoon vanilla extract
1 cup (230 g) heavy cream
Topping
3 large ripe peaches
3 large ripe plums
¼ cup apricot preserves for glazing
Instructions
for the crust:
Preheat oven to 350 degrees F. Melt the butter in a saucepan or microwave.
Combine the flour, sugar, and salt in a medium bowl.
Pour in the melted butter and almond extract. Use a fork to combine ingredients until it forms a solid dough.
Press the dough into the bottom and up the sides of a 9-inch tart pan with removable bottom. A dough tamper can help you press out the dough evenly.
Bake the tart shell for about 25-30 minutes until the shell is golden brown. Let cool while you prepare the filling.
for the pastry cream:
Combine ¾ cup (172g) of the milk with 2 Tablespoons (30g) of sugar in a small saucepan. Heat on the stove over medium heat until the sugar is dissolved and bubbles appear on the edge of the pan.
Meanwhile, whisk together the egg yolks and 3 Tablespoons (44g) sugar in a bowl.
Whisk the cornstarch and remaining ¼ cup (46g) coconut milk in a small bowl and then add to the egg yolk mixture, whisking to combine.
Pour the hot milk into the egg mixture, whisking constantly to prevent the eggs from cooking.
Return the entire mixture to the saucepan and cook over medium heat, whisking constantly until the mixture thickens. Stir in the vanilla and ground cinnamon.
Scrape the pastry cream into a bowl, press a piece of plastic wrap to the surface, and refrigerate until needed.
When you are ready to use the pastry cream, whip the cream in a mixer to soft peaks, and then fold gently into the pastry cream to lighten.
To finish:
Wash, pit and slice the peaches and plums into ¼" thick slices.
Spread the pastry cream into the tart case evenly.
Arrange the peach and plum slices on top.
Stir the apricot preserves to loosen it up, then spread lightly on the fruit with a pastry brush.
This tart is best served the same day it is made. It will keep covered in the refrigerator for a couple days.