Peach Plum Tart with Cinnamon Vanilla Pastry Cream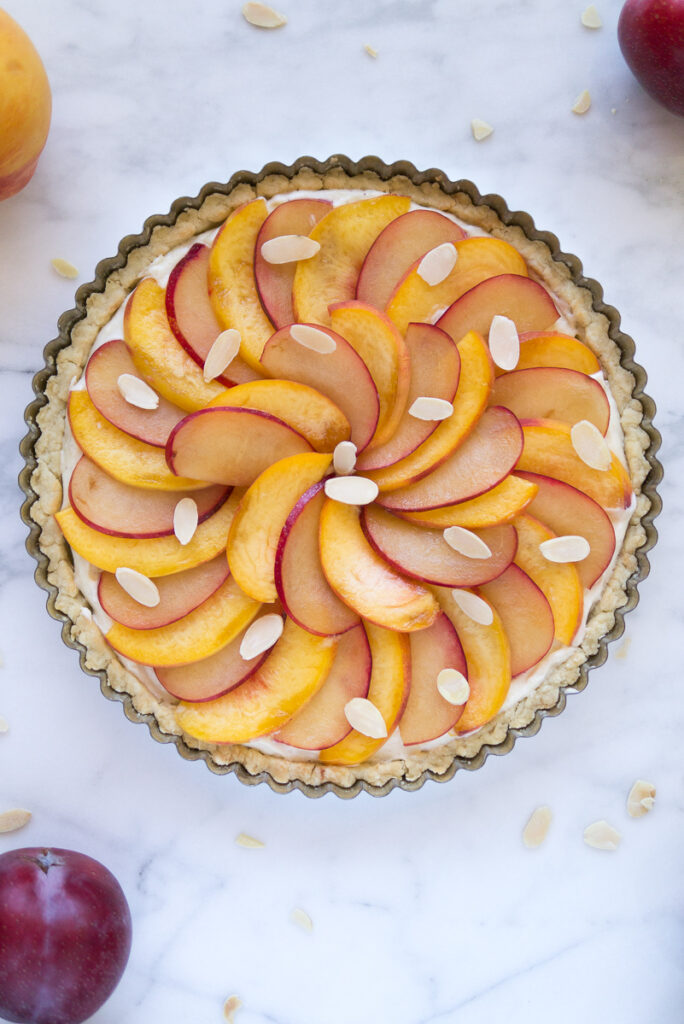 Serves:
(1) 9" round tart
8 Tbsp (4 oz) unsalted butter
1 cup (5 ounces) (140 g) all purpose flour
¼ cup (50 g) sugar
⅛ teaspoon salt
¾ teaspoon almond extract
1 cup (230 g) whole milk
2 Tablespoons (30 g) + 3 Tablespoons (44 g) sugar
3 large egg yolks
2 Tablespoons (14 g) cornstarch
1 teaspoon vanilla extract
1 cup (230 g) heavy cream
3 large ripe peaches
3 large ripe plums
¼ cup apricot preserves for glazing
Preheat oven to 350 degrees F. Melt the butter in a saucepan or microwave.
Combine the flour, sugar, and salt in a medium bowl.
Pour in the melted butter and almond extract. Use a fork to combine ingredients until it forms a solid dough.
Press the dough into the bottom and up the sides of a 9-inch tart pan with removable bottom. A dough tamper can help you press out the dough evenly.
Bake the tart shell for about 25-30 minutes until the shell is golden brown. Let cool while you prepare the filling.
Combine ¾ cup (172g) of the milk with 2 Tablespoons (30g) of sugar in a small saucepan. Heat on the stove over medium heat until the sugar is dissolved and bubbles appear on the edge of the pan.
Meanwhile, whisk together the egg yolks and 3 Tablespoons (44g) sugar in a bowl.
Whisk the cornstarch and remaining ¼ cup (46g) coconut milk in a small bowl and then add to the egg yolk mixture, whisking to combine.
Pour the hot milk into the egg mixture, whisking constantly to prevent the eggs from cooking.
Return the entire mixture to the saucepan and cook over medium heat, whisking constantly until the mixture thickens. Stir in the vanilla and ground cinnamon.
Scrape the pastry cream into a bowl, press a piece of plastic wrap to the surface, and refrigerate until needed.
When you are ready to use the pastry cream, whip the cream in a mixer to soft peaks, and then fold gently into the pastry cream to lighten.
Wash, pit and slice the peaches and plums into ¼" thick slices.
Spread the pastry cream into the tart case evenly.
Arrange the peach and plum slices on top.
Stir the apricot preserves to loosen it up, then spread lightly on the fruit with a pastry brush.
This tart is best served the same day it is made. It will keep covered in the refrigerator for a couple days.
Recipe by
Dessert First
at https://dessertfirstgirl.com/2016/10/peach-plum-tart-cinnamon-cream.html