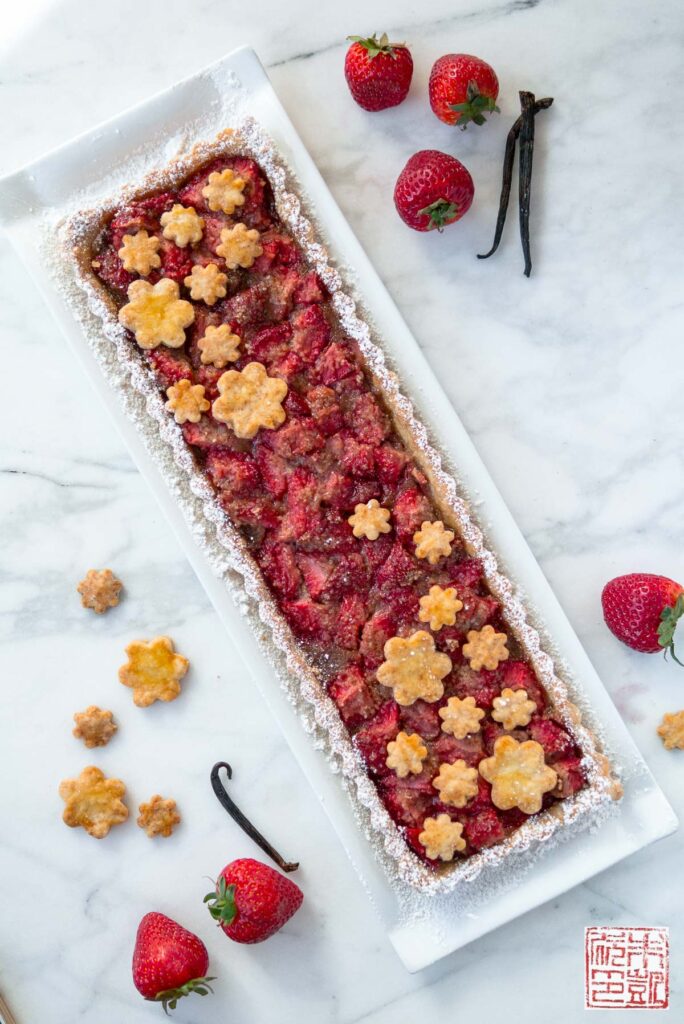 Happy summer! This strawberry vanilla chamomile tart is a perfect welcome to the season. Although as a grownup I sadly don't get the whole summer off, my daughter, freshly graduated from preschool, does, so I'm sharing in her giddy joy and excitement. She and all of her little friends have been impatiently waiting for the end of preschool (unlike all of us verklempt, teary-eyed parents), and now it's onto summer camp, swimming, and lots of sunshine. Kindergarten's still just a mysterious blip on the horizon, so now all that's on their minds is going to the pool, endless playdates, ice cream, and summer fruit. (Isabelle's main reasons for wanting summer to come were 1) getting to wear shorts and 2) eating strawberries and watermelon.) With all that fruit, cue the summer baking.
Click here to jump to recipe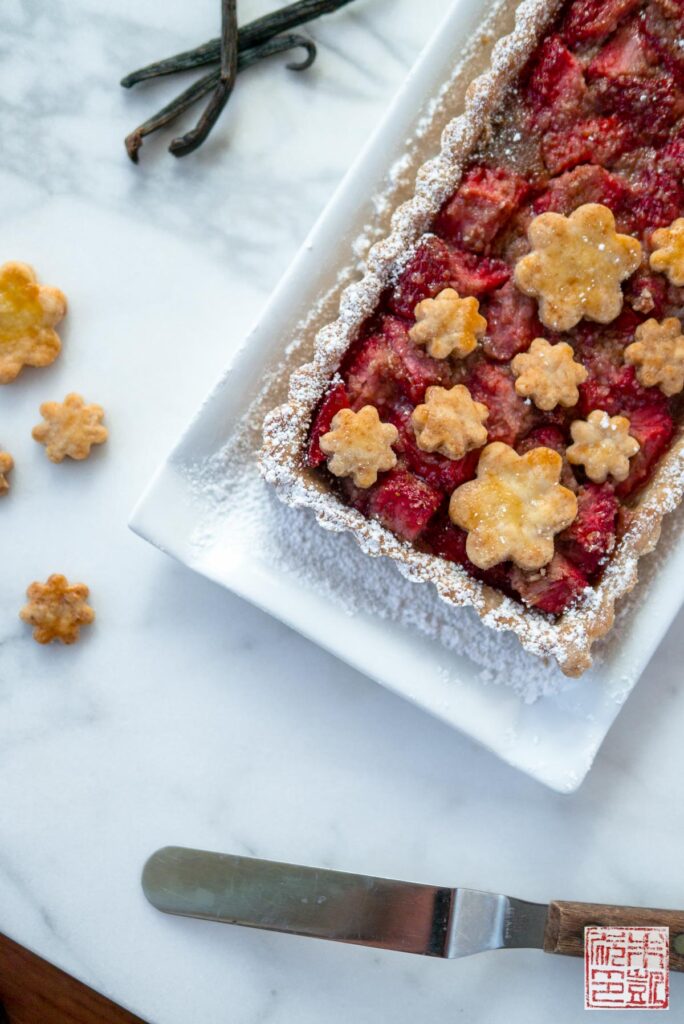 This tart was taken from the Taartwork Pies Cookbook by Brittany Bennett, a catalogue of her gorgeous, seasonally-inspired pies. The cornerstone of the cookbook, her tart crust, is based on a recipe from her Dutch grandmother, and you can also see her Oma's influence in the Old World flavor of many of the pies, from the Dutch appeltart to the plum and juniper berry tart.
The tart crust is a crisp, crumbly, no-roll, press-in style that's quite similar to the tart crusts I've been favoring for a while now. It goes well with the cream-and-fruit French tarts that I love to make, but it's also a great alternative to the flaky pie crust; you can easily make lattices and other top crust designs with this type of tart dough as well.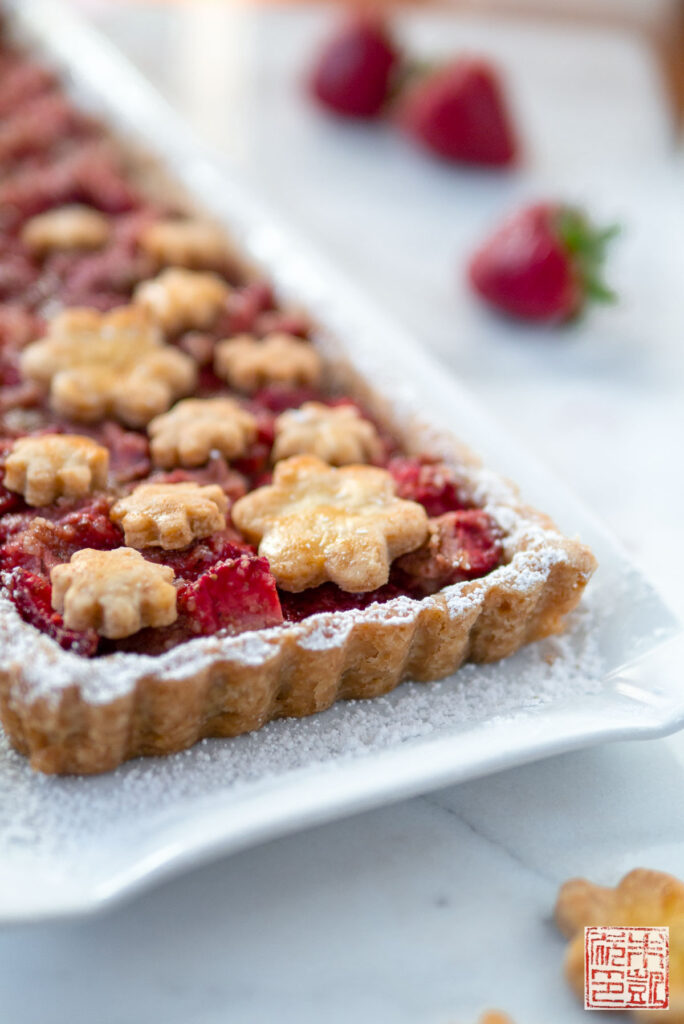 I liked this strawberry vanilla tart because of it's simplicity: strawberries tossed with brown sugar and vanilla and baked in a lemon-scented shortbread cookie-like crust. Also, since we have an overabundance of strawberries in the house now, I need to start making things with them. The recipe also includes a chamomile syrup of which you can add a few tablespoons of to the tart before baking: since I found my strawberries already very sweet on their own and with the brown sugar, I drizzled some of the syrup over the finished tart to taste. It's simple and fresh and tastes like a warm summer day out in the country.
The recipe suggests making a lattice over the top, or if you want to go easy like me, you can just cut shapes out of the leftover tart dough and decorate the top. It's best eaten the same day it's made, but I don't think that will be an issue. Hope you are all enjoying that summer vacation feeling too.
Strawberry Vanilla Tart
Serves:
(1) 9" round or 14" x 4½" rectangular tart
Ingredients
Tart Dough
1½ cups (239 g) all-purpose flour
¾ cup (150 g) sugar
zest from 1 lemon
pinch of salt
¾ cup (176 g) unsalted butter, cut into 1-in pieces, slightly softened
1 large egg
Strawberry Filling
1½ lbs (about 5 cups, or 450 g) fresh strawberries, hulled and halved
¼ cup (50 g) light brown sugar
2 tbsp vanilla extract
pinch of salt
½ cup (83 g) whole unsalted, unroasted almonds
3 tbsp arrowroot starch flour
Chamomile Syrup
¼ cup (50 g) sugar
¼ cup (50 ml) water
1 lemon peel
3 tbsp dried chamomile flowers
Instructions
For the tart shell:
Combine all the ingredients except the butter in a large mixing bowl. Toss until the ingredients are combined. Alternatively, you can do this in a food processor.
Add in the butter and knead into the mixture with your hands for several minutes until the mixture start to come together into a ball. If you're doing this with a food processor, process just until the mixture forms large crumbs that hold together when you press them.
Gather all the dough together and press into a 9" round or 14" x 4½" rectangular tart pan. Make sure to spread the dough out and up evenly to prevent an overly thick bottom or sides.
Whisk the egg in a small bowl and add a small bit of water. Brush lightly over the top of the crust with a pastry brush.
For the filling:
Combine strawberries with the brown sugar, vanilla, and salt in a large bowl.
Process almonds in a food processor until they are small crumbs. Stir into the strawberry mixture and let macerate for 30 minutes.
To bake the tart:
Preheat the oven to 350 degrees F.
Drain some of the excess liquid from the macerated strawberry mixture, and stir in the arrowroot starch.
Pour the filling into the tart shell, and bake for 45 to 50 minutes. Let cool on wire rack for at least 2 hours before slicing.
For the chamomile syrup:
While the tart is baking, combine the sugar and water in a medium saucepan. Stir over medium-high heat with a wooden spoon until the sugar dissolves.
Bring the water to a simmer and add the lemon peel and chamomile. Remove from heat and let steep for 15 minutes.
Pour syrup through a fine mesh sieve into a small bowl and let cool. Drizzle some over the top of the strawberry tart.