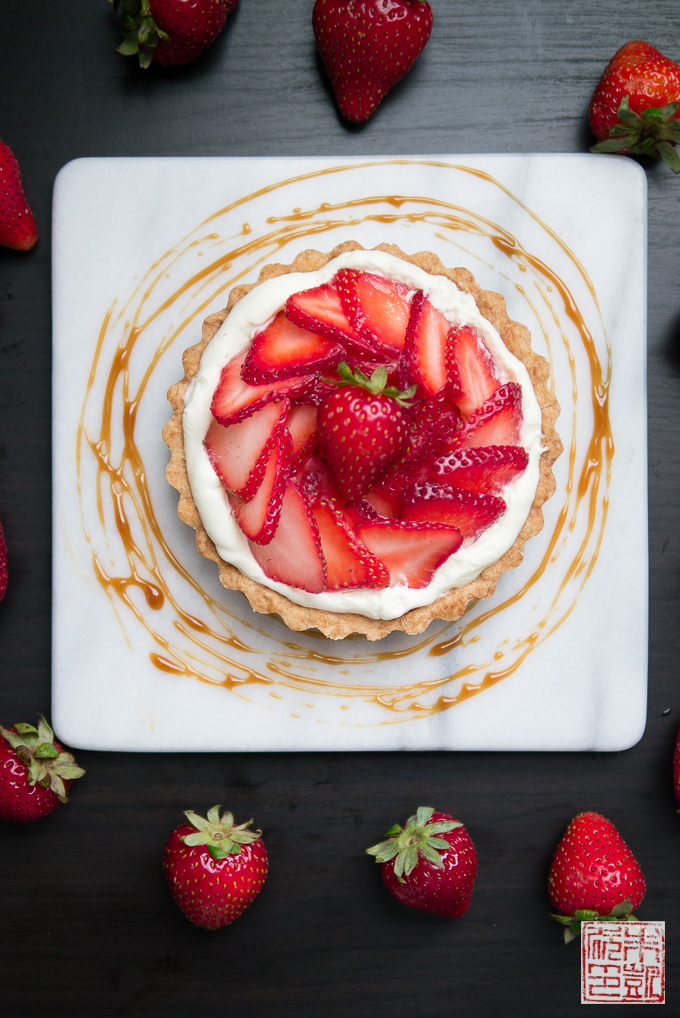 Deep in the heart of summer, and we can't get enough of sweet ripe fruit around here. My daughter Isabelle would live on fruit if she could; it's been a trial to coax her to eat her dinner when she keeps insisting that she only wants to eat blueberries and strawberries and mango.
How can I blame her, though? When you're hot and sticky from running around outside blowing bubbles all afternoon, and the kitchen is filled with a bunch of fruit from the grocery store run earlier in the day, a big bowl of berries certainly seems more appetizing than a big heavy dinner.
Isabelle can't get enough of strawberries, but I managed to keep a few baskets hidden away from her long enough to put together these summery tarts. They're a bit of a riff on strawberries dipped in cream and brown sugar: buttery brown sugar tart shells filled with billows of whipped cream, and topped with fresh strawberries.
The final, secret ingredient in this tart is a layer of white balsamic vinegar-laced caramel at the bottom of the tart. Strawberries and balsamic isn't a new combination, but instead of glazing the strawberries themselves with balsamic vinegar, I wanted to have the balsamic caramel as a separate element, so you could have the experience of swirling all the different flavors and textures together: the ripe fruit, the silky cream, and the tangy caramel. I also wanted to keep the strawberries looking as fresh as possible in the presentation, which is why I didn't cover them in caramel.
What's the difference between white balsamic vinegar and regular balsamic vinegar? Balsamic vinegar is made from the pressings of white Trebbiano grapes from Italy. Regular dark balsamic vinegar is cooked until it caramelizes and becomes dark and concentrated, and is often aged for several years. White balsamic vinegar is only cooked for a short period of time so it doesn't darken. It's generally less sweet and syrupy than regular balsamic, and of course doesn't add any dark coloring to your dish. Both white or dark balsamic vinegar can be used to make this caramel; I picked white because I wanted more of the tart, acid vinegar notes to contrast with the already-sweet and syrupy caramel, but whichever you pick will work fine.
The tart dough I used for the shells is a favorite of mine from Deborah Madison's Seasonal Fruit Desserts (an indispensable source of inspiration for making the most of fruits throughout the year). It's a treasure of a recipe to have in your back pocket: it can be made in a food processor, requires no chilling or rolling, yet bakes up wonderfully light and flaky, and delightfully rich and buttery. You've no excuse not to make a tart with a no-fail tart dough recipe like this one. The strawberries are the icing on top – or shall we say better than icing on top?
I have to admit that Isabelle probably takes after her mommy since I can't ever get enough of strawberries either, so it's notsurprising that making these tarts was a happy afternoon's work for me – and they didn't last too long afterwards either. Baking and enjoying these tarts all in a golden afternoon kind of encapsulates summer for me: the pleasures are intensely sweet and fleetingly ephemeral, but there's always the promise of tomorrow, and new joys to discover from summer's endless bounty of delights.
Strawberry White Balsamic Caramel Tarts
Serves:
(6) 4" round tarts
Ingredients
Tart Dough
1 cup(125 g) all purpose flour
1 tablespoon dark brown sugar
¼ teaspoon salt
1 teaspoon lemon zest
8 tablespoons (110 g) cold unsalted butter, cut into ½ inch pieces
1 tablespoon cold water
½ teaspoon vanilla extract
¼ teaspoon almond extract
Caramel
1 cup sugar
½ cup whipping cream
2 tablespoons unsalted butter
1 tablespoon white balsamic vinegar
Strawberry and Cream Filling
1 cup (230 g) whipping cream
1 tablespoon confectioners' sugar
½ teaspoon vanilla extract
2 lb strawberries
Instructions
For the tart dough:
Combine flour, sugar, salt, and lemon zest in a food processor. Pulse to combine.
Add in butter and pulse until butter is in pea-sized pieces.
Combine water, vanilla, and almond extract and drizzle over the mixture. Pulse to combine until the mixture resembles coarse crumbs – it should not be fully combined into a ball.
Turn out mixture onto a piece of plastic wrap and form into a disk about 1 inch thick. If you have trouble making it stick together add a few more drops of water.
Turn out dough onto a lightly floured surface. Gently press and form into the bottoms and sides of six 4" round tart tins with removable bottoms.
Chill tart tins in refrigerator while preheating the oven to 375 degrees F.
Line the dough with foil and fill with pie weights. Bake tart shells for 15 to 20 minutes.
Remove the foil and bake until golden, 12 to 15 minutes more.
Remove tart shells from oven and let cool. Make the caramel while they are cooling.
For the caramel:
Combine sugar and ¼ cup water in a medium, heavy-bottomed saucepan. Bring to a boil over high heat.
Meanwhile, bring the cream to a simmer in separate small saucepan, stirring to combine. Turn heat to low and keep warm.
Continue cooking until sugar mixture is dark amber, about 6-8 minutes. Do not let the mixture burn!
Remove from heat and add the cream slowly; mixture will bubble up furiously and settle down. Stir to combine. Add in butter and stir until melted and incorporated.
Remove from heat and stir in the balsamic vinegar.
Let cool to room temperature before using.
For the filling:
Combine cream, confectioners' sugar, and vanilla extract in bowl of a stand mixer. Whip just to soft peaks.
Wash and hull strawberries. Slice vertically into ¼" thick slices.
To finish the tarts, pour some caramel into the bottoms of the tart shells. Fill with the whipped cream. Arrange strawberry slices in circles on top of the whipped cream. Serve immediately, or keep refrigerated and covered for up to three days.