Strawberry White Balsamic Caramel Tarts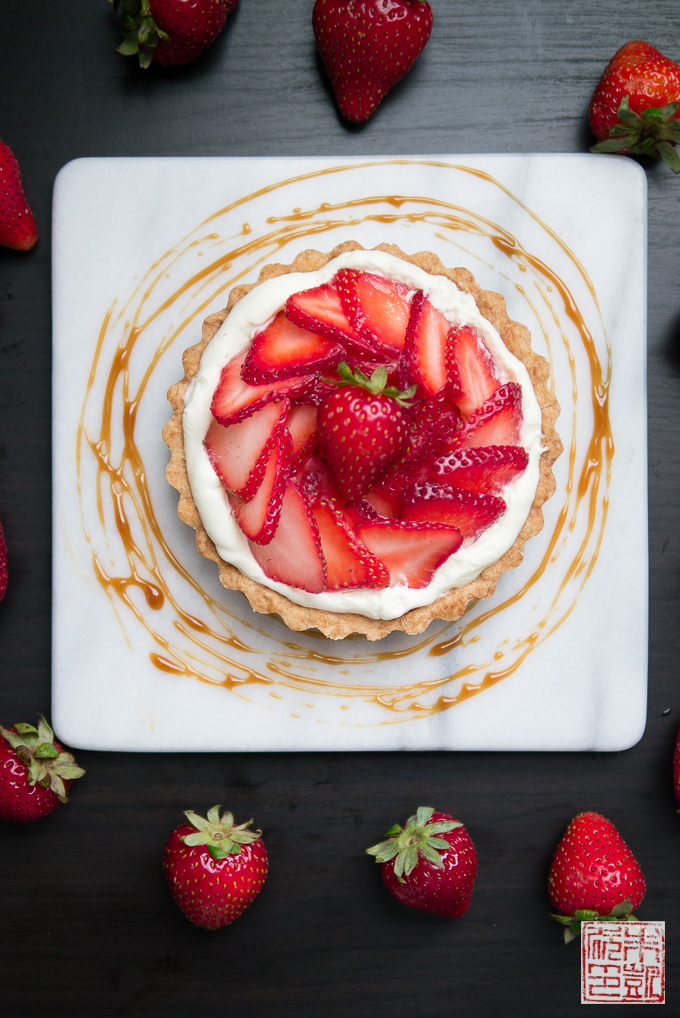 Serves:
(6) 4" round tarts
1 cup(125 g) all purpose flour
1 tablespoon dark brown sugar
¼ teaspoon salt
1 teaspoon lemon zest
8 tablespoons (110 g) cold unsalted butter, cut into ½ inch pieces
1 tablespoon cold water
½ teaspoon vanilla extract
¼ teaspoon almond extract
1 cup sugar
½ cup whipping cream
2 tablespoons unsalted butter
1 tablespoon white balsamic vinegar
1 cup (230 g) whipping cream
1 tablespoon confectioners' sugar
½ teaspoon vanilla extract
2 lb strawberries
Combine flour, sugar, salt, and lemon zest in a food processor. Pulse to combine.
Add in butter and pulse until butter is in pea-sized pieces.
Combine water, vanilla, and almond extract and drizzle over the mixture. Pulse to combine until the mixture resembles coarse crumbs – it should not be fully combined into a ball.
Turn out mixture onto a piece of plastic wrap and form into a disk about 1 inch thick. If you have trouble making it stick together add a few more drops of water.
Turn out dough onto a lightly floured surface. Gently press and form into the bottoms and sides of six 4" round tart tins with removable bottoms.
Chill tart tins in refrigerator while preheating the oven to 375 degrees F.
Line the dough with foil and fill with pie weights. Bake tart shells for 15 to 20 minutes.
Remove the foil and bake until golden, 12 to 15 minutes more.
Remove tart shells from oven and let cool. Make the caramel while they are cooling.
Combine sugar and ¼ cup water in a medium, heavy-bottomed saucepan. Bring to a boil over high heat.
Meanwhile, bring the cream to a simmer in separate small saucepan, stirring to combine. Turn heat to low and keep warm.
Continue cooking until sugar mixture is dark amber, about 6-8 minutes. Do not let the mixture burn!
Remove from heat and add the cream slowly; mixture will bubble up furiously and settle down. Stir to combine. Add in butter and stir until melted and incorporated.
Remove from heat and stir in the balsamic vinegar.
Let cool to room temperature before using.
Combine cream, confectioners' sugar, and vanilla extract in bowl of a stand mixer. Whip just to soft peaks.
Wash and hull strawberries. Slice vertically into ¼" thick slices.
To finish the tarts, pour some caramel into the bottoms of the tart shells. Fill with the whipped cream. Arrange strawberry slices in circles on top of the whipped cream. Serve immediately, or keep refrigerated and covered for up to three days.
Recipe by
Dessert First
at https://dessertfirstgirl.com/2015/07/sweet-summer-strawberry-white-balsamic-caramel-tarts.html