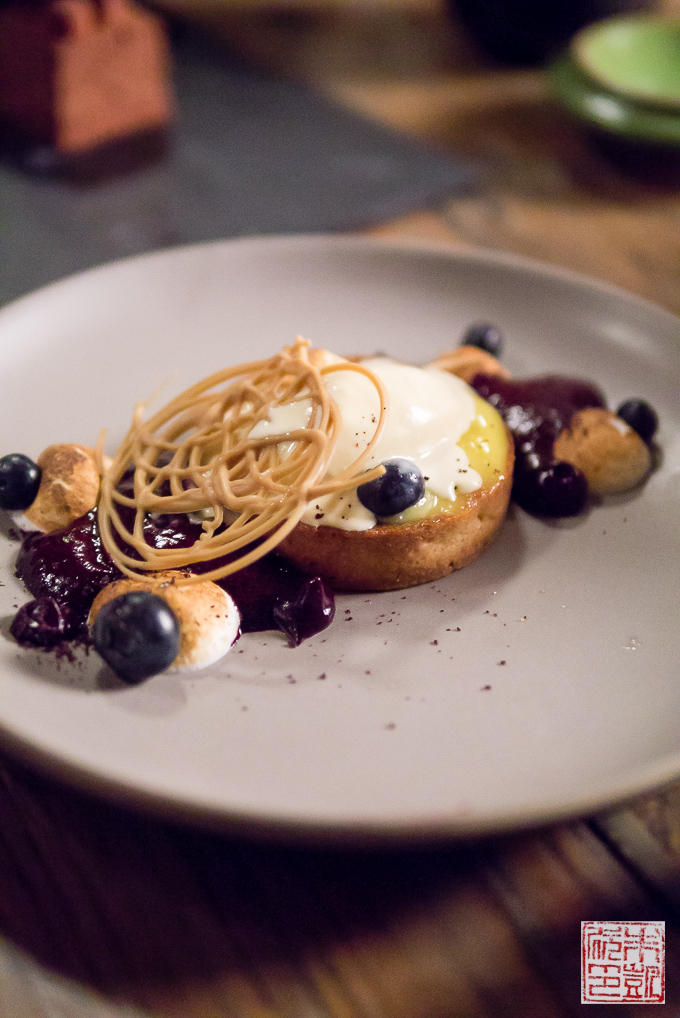 Becoming a parent means nights out become fewer and further between, especially fancy dinners at a San Francisco restaurant. It also means that when we do get date night, we pick our dining spot with over-meticulous care; after all, there's fewer worse disappointments than drawing a dud out of the city's current crop of hot spots.
Thanks to an invitation from Nommery we got our latest evening out and a chance to cross another restaurant off our list: Dirty Habit. Although the name is eyebrow-raising, I'm happy to say the food elicited only sighs on contentment from us.
Dirty Habit is located in the space formerly occupied by Fifth Floor restaurant, a longtime landmark of the San Francisco dining scene. It's been renovated to a modern bar and lounge space, perfect for the young-and-hip San Francisco set, but we felt comfortable even if we aren't so hip anymore. The interior is eclectically stylish, but I prefer the heated outdoor patio complete with fire pits and lounge chairs – a luxurious oasis in oft-foggy San Francisco. The space outside is more relaxed and conducive to conversation, and I had better lighting for the food (until the sun set, anyway).
Some of the highlights of our dinner: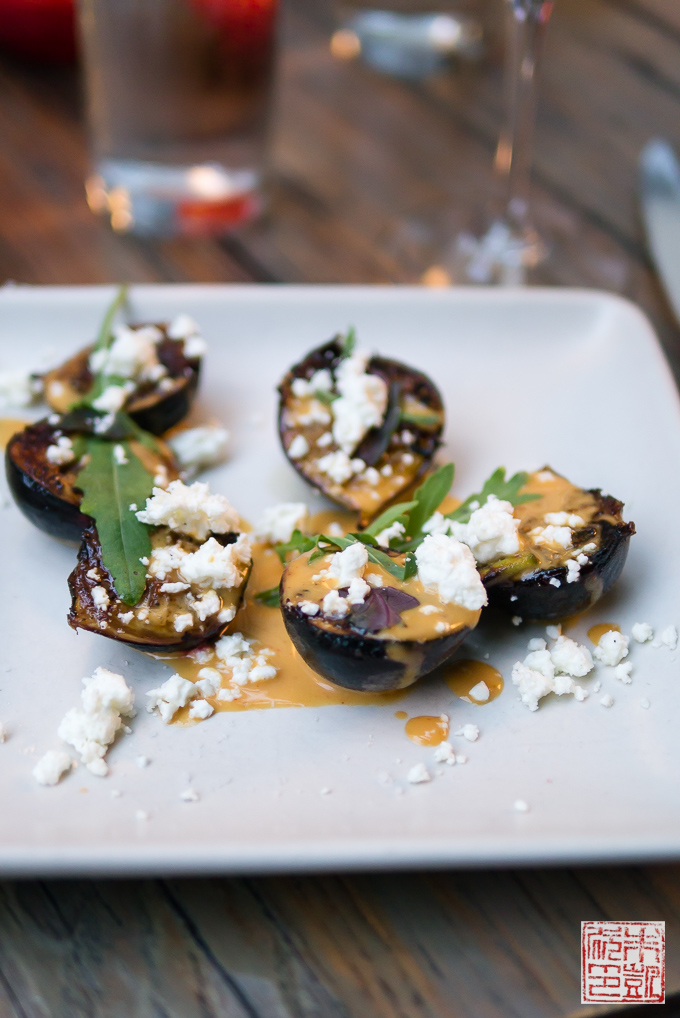 figs a la plancha/lime vinaigrette/feta
Beautiful way to start off the evening. Dirty Habit's plating is on point.
halibut ceviche/pluot/white soy/sesame
Loved this. Fresh and clean and just a bit of spice.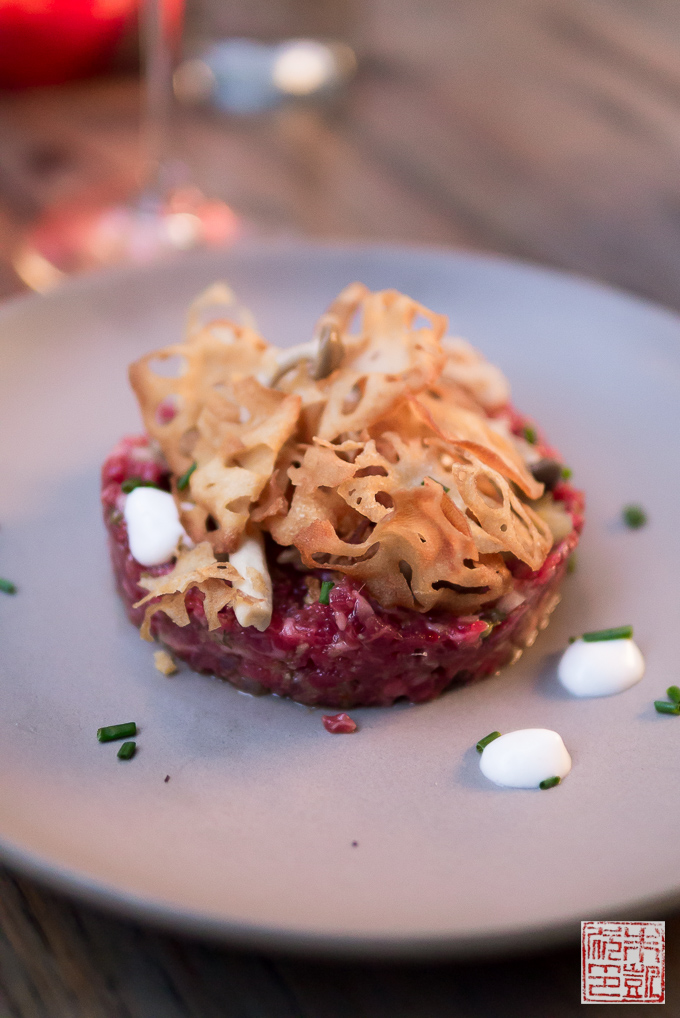 wagyu beef tartare/red curry/fried shallots
Another favorite of the evening. So tender and flavorful and I loved the addition of the curry.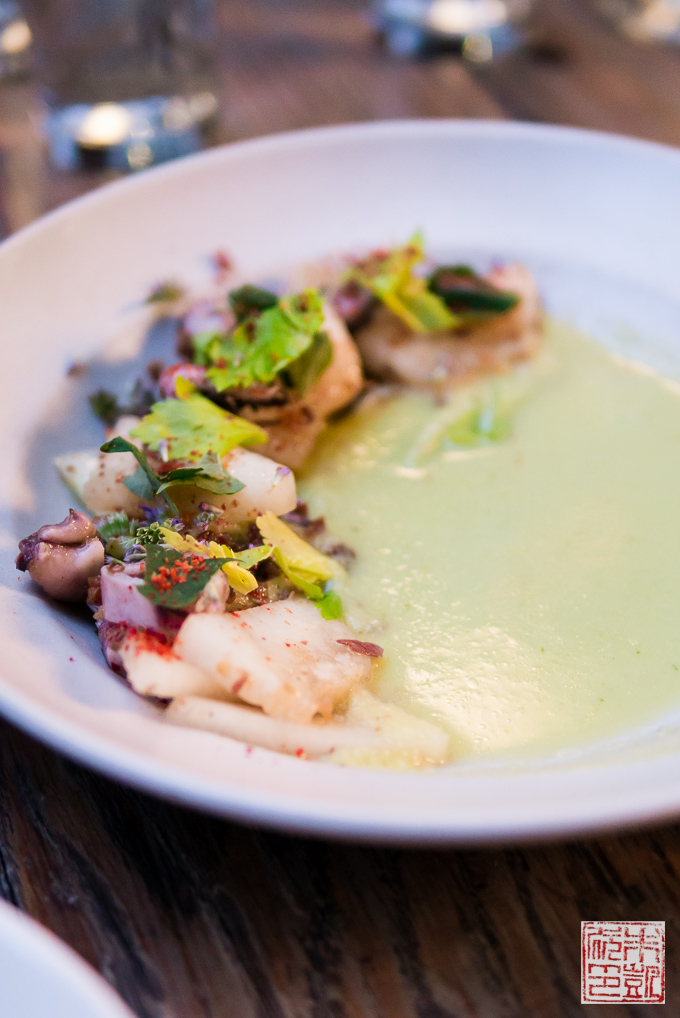 octopus confit/yukon/pole beans/yemen spice
Beautiful plating. Dirty Habit's cuisine is classified as New American, which is a bit of a nebulous description by now as chefs are showcasing increasingly unique and personal viewpoints. The dishes at Dirty Habit had a slight Asian influence, from the use of curry and coconut in an avocado salad to mixing yakitori-style chicken into a tagliatelle dish.
sisig fried rice/pork belly/calamansi
Can't say no to pork belly, and it was fun to see modern take on pork sisig.
soft shell crab/banana ketchup/thai sausage
A beautifully arranged ikebana-like spiral of crab legs. I really enjoyed the aesthetics of the plated dishes here.
Finally, dessert time. (Oh, and in case you were wondering, I never skip dessert, even when we're on the clock to get home to the babysitter. You always have to make time for the important things in life!) The most original item we got was a sweet chawanmushi (Japanese egg custard)with barley, strawberry, and black garlic. It was like a cross between creme brûlée and rice pudding. The other desserts were a lemon and blueberry tart (top photo) and a chocolate mousse cake with hazelnuts and cherry –  delicious, if not as creatively original as the rest of the menu. Next time I'd like to try the biko topped with passion fruit/mango/coconut – it sounds like the sort of Asian-inspired dish at which Dirty Habit excels.
Thanks for Nommery for the dinner invitation and giving us a fun night out!
I haven't attempted making the chawanmushi at home yet, but here are some of my takes on the lemon tart:
Meyer lemon and chocolate tart
Valrhona white chocolate and lemon tart