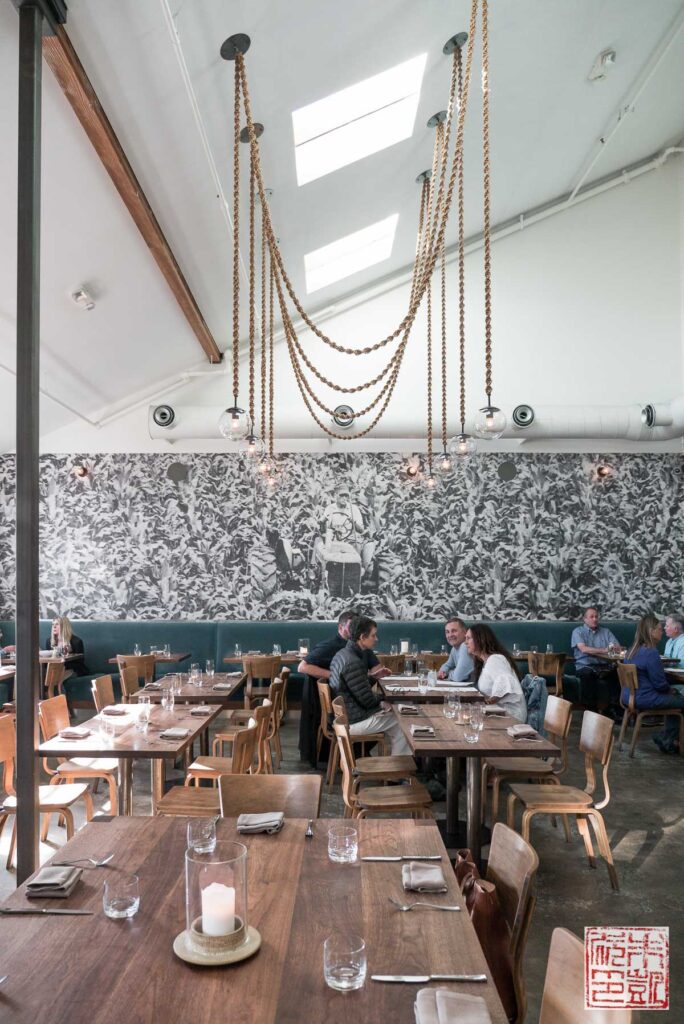 Farmshop Marin is a most delicious enticement to make your way north of San Francisco more frequently. This restaurant in Marin County Mart presents easygoing California farm-to-table cuisine in a setting that strikes the perfect balance between relaxed and refined. I had the opportunity to experience dinner at Farmshop about a month ago and I'm still thinking about how much I enjoyed every moment of it.
Farmshop Marin is the second outpost of chef-owner Jeff Cerciello's Farmshop brand(his first Farmshop restaurant is in Santa Monica), which is described as a a "culinary California road trip" celebrating local growers and food producers. Cerciello is a Thomas Keller alum who's worked at The French Laundry, Ad Hoc, and Bouchon, so you can't help but have high expectations coming into Farmshop. I'm happy to say that they were met.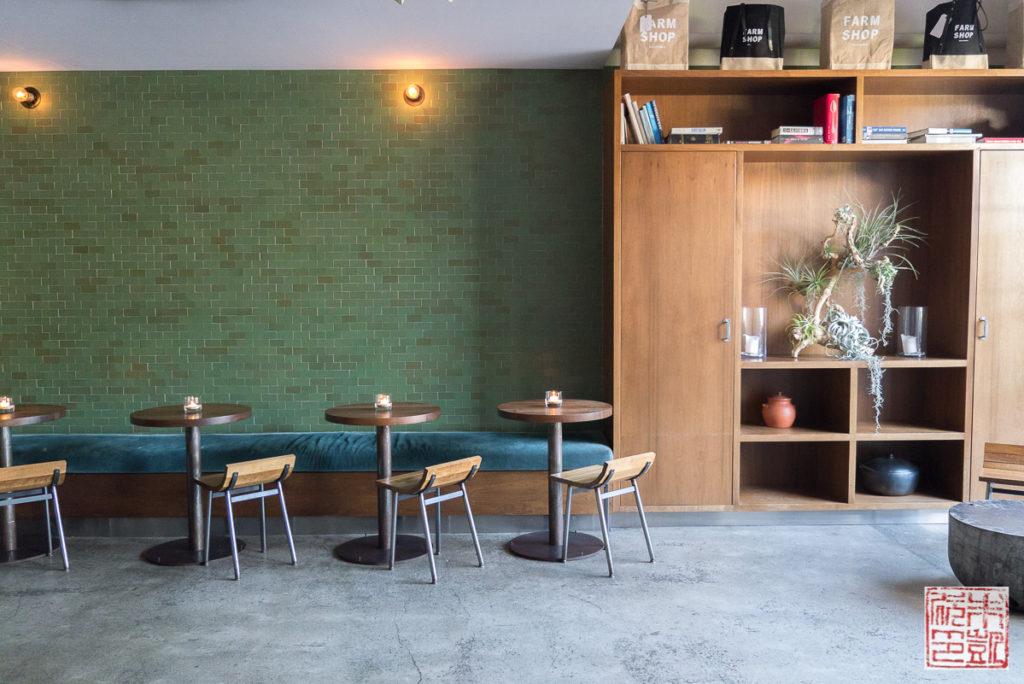 The restaurant itself is gorgeous. Filled with lots of rich wood, lush velvets, eclectic fixtures, and that lovely North Bay light, it's the epitome of laid back-Californian-midcentury-modern.
The gorgeous open hearth wood burning oven. Farmshop's excellent pizzas come out of here. I especially like the California tomato pizza with buffalo mozzarella, basil, parmesan, olive oil, and sea salt.
Marinated olives with goat's milk feta, peppadew peppers, and marcona almonds along with housemade lavash while perusing the menu. Oh, and rosé.
An absolutely stunning starter of citrus cured Pacific halibut with green strawberry aguachile, avocado, and paprika oil.
I also really love Farmshop's take on fritto misto, made with local smelt and halibut, florence fennel, maitake mushrooms, green onions, and mustard seed. You can really taste the fresh fish – it's worlds away from the overly fried appetizers at other places.
If you sit in the main dining room, you can watch the cooks working at the open counter. There's also an outdoor patio that's hard to resist on sunny days.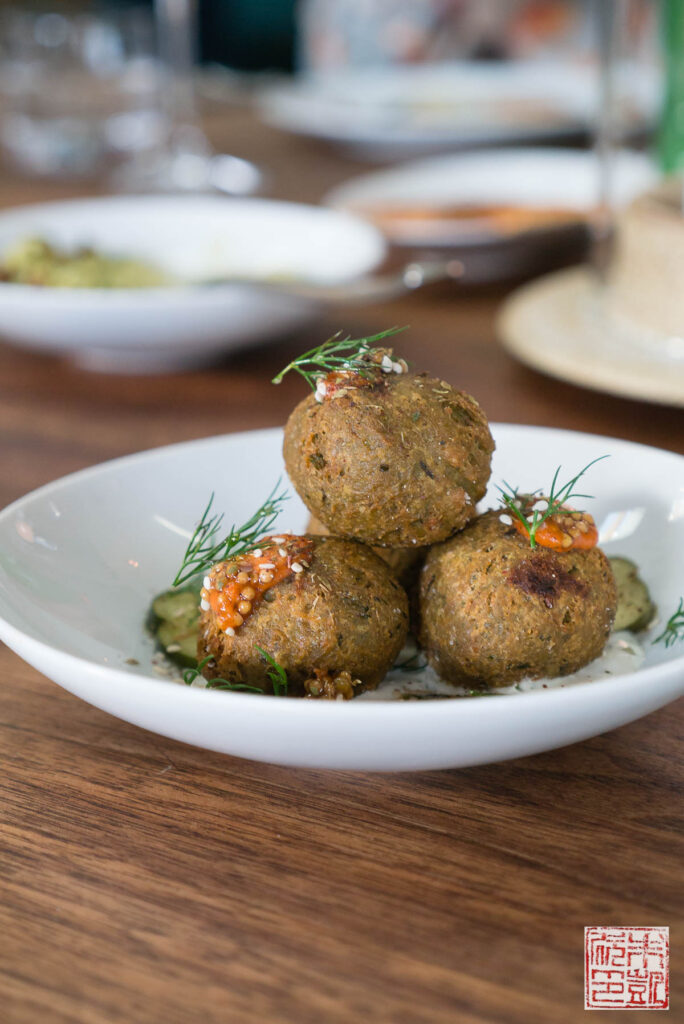 Fava bean falafel with English cucumbers, pickled mustard seeds and dill yogurt. Falafel made with fava beans is actually from Egypt, and it's been given a modern California spin here.
Getting ever more decadent: Di Stefano burrata with crispy artichokes, early stone fruit and red mustard. Any day with some Di Stefano is a stellar day.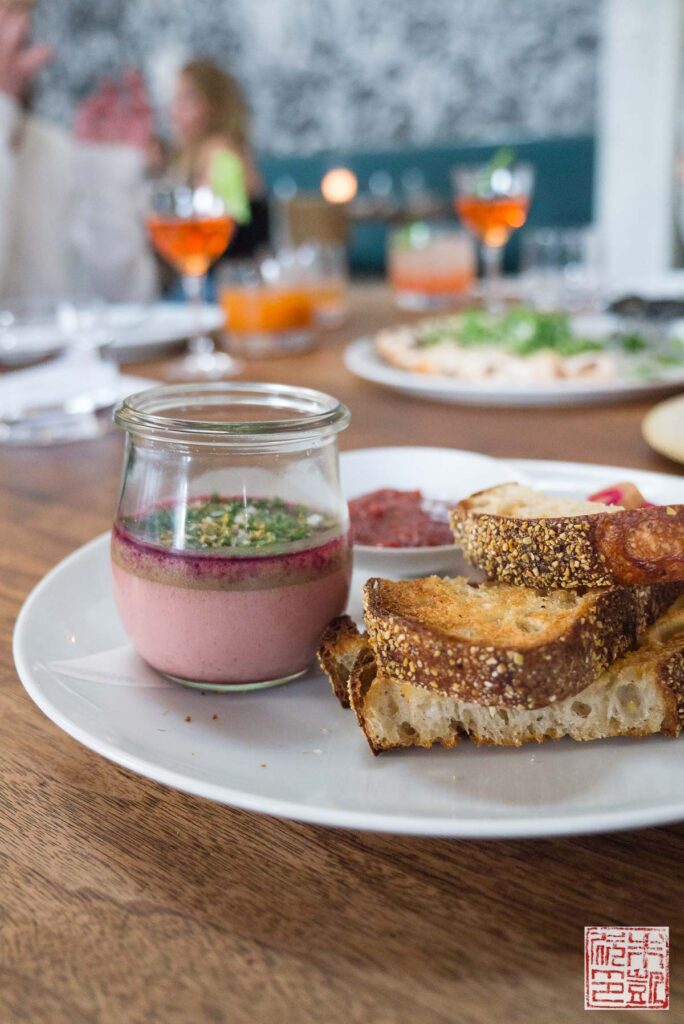 Chicken liver mousse with strawberry rhubarb jam, sangria gelee, and semolini crostini. I wanted to hide a jar of this in my bag to take home.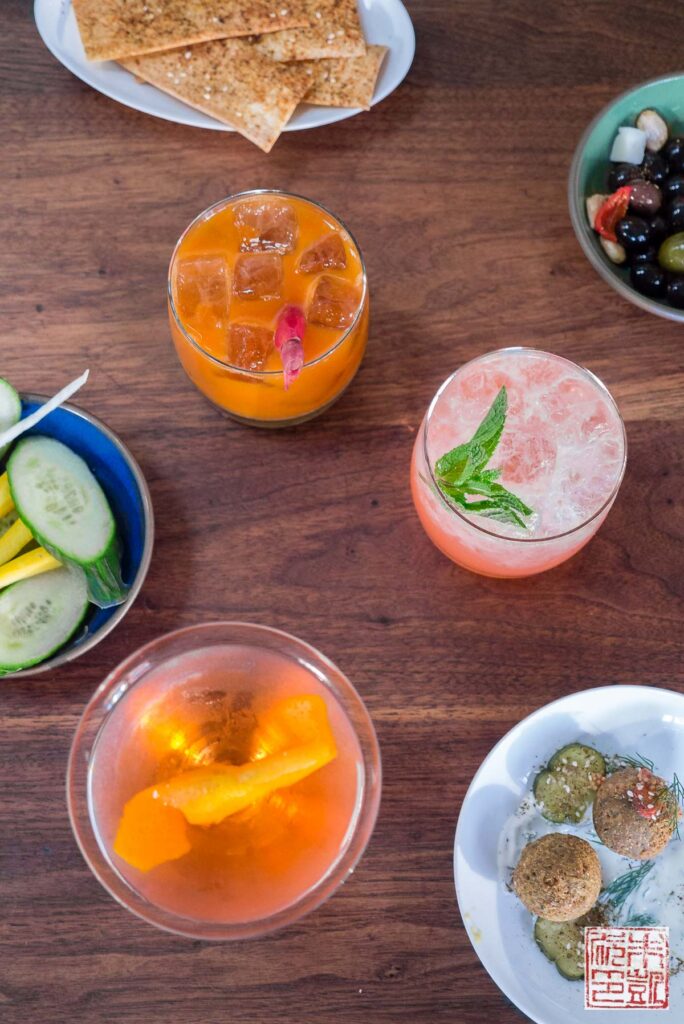 If the impressive 50 foot long carved wood bar doesn't tip you off, Farmshop takes its cocktails as seriously as its food. We did a sampling of some of their latest creations. Clockwise from top:
What's Up Doc – green chile vodka, spiced carrot juice, amaro
After Ferry – vodka, strawberry, mint, ginger shrub, prosecco
Snap Shot – gin, lillet blanc, aperol, snap pea syrup
It's hard to me to say no to any drink with strawberry or prosecco, so no surprise that I'd happily take more of the aptly named After Ferry. The Marin County Mart is located right next to the Larkspur terminal for the Golden Gate Ferry, so if you're looking for an easy way to get to Farmshop from San Francisco, take the ferry, enjoy the view of the bay, and have a drink at the bar minutes after you arrive.
Our waiter serving us mini tasting versions of the cocktails.
Desserts share the same deceptively simple but impeccably executed aesthetic. Bellwether Farms ricotta cake with candied kumquats and whipped creme fraiche is perfectly of the season.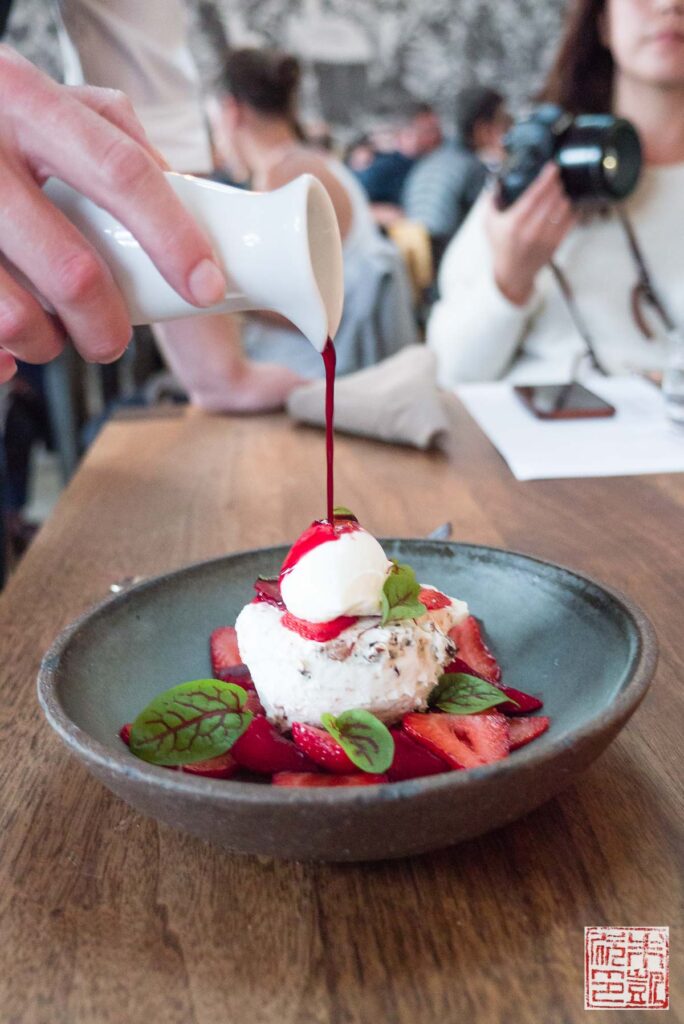 Frozen almond nougat with sangria macerated strawberries and black cumin. I got the pour shot of the sangria syrup! Lovely dessert for the warm summer evening.
Thanks to Farmshop Marin for a wonderful experience and some seriously tasty food that has me planning my next getaway north of the Golden Gate. Whether you take the ferry or drive over the bridge, this place is worth the trip.
Farmshop Marin
2233 Larkspur Landing
Larkspur, Ca 94939