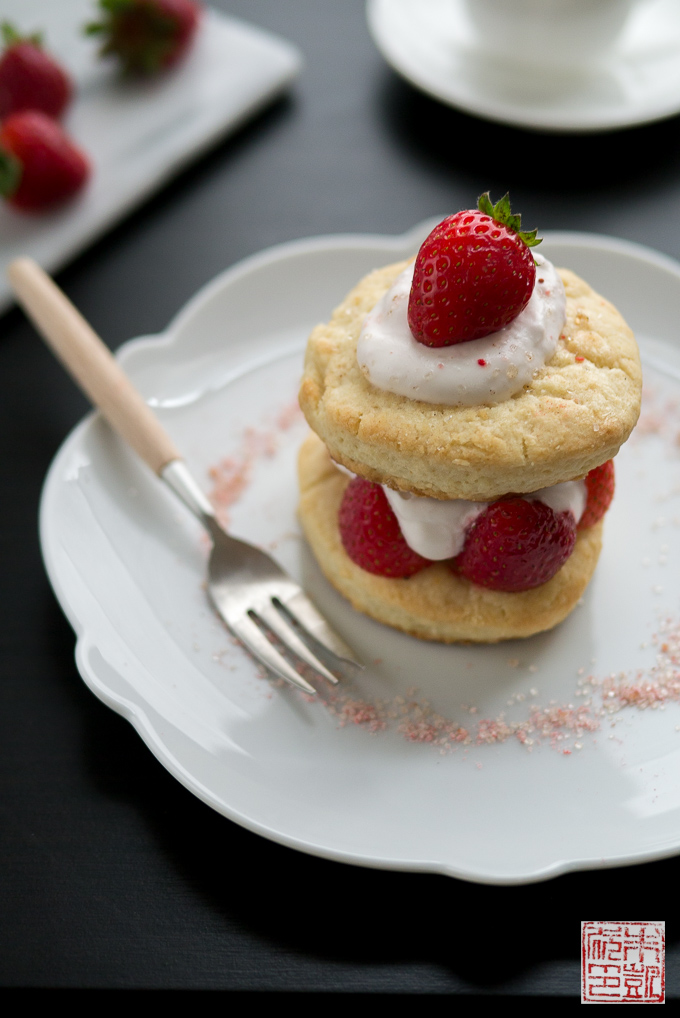 It's already mid-August, and I can't let summer slip away without some strawberry shortcake. We're on a serious strawberry spree over here, so it's no surprise that this dessert has finally made an appearance on our table.
My husband is the big biscuit-maker in the household, and every time he makes a batch for dinner I'm amazed all over again at how little time they take. I'm so used to doing elaborate prepping and scheduling for my multi-component desserts, sometimes I have to admit I get a little jealous when he reminds me how quick and simple baking can be.
With King Arthur Flour's Self-Rising Flour, biscuits (and other baked goods) are even easier now. A blend of wheat flour, baking powder, and salt, it takes out the extra work of measuring and combining several dry ingredients, and ensures a perfect mix every time (which is nice if you're lazy at sifting ingredients together, as I sometimes am!) The flour is softer than most all-purpose flours, with 8.5% protein content, so it helps make your baked goods softer and tender as well.
How to use self-rising flour
You can either use self-rising flour in recipes that specifically call for it, or substitute it in recipes that use all-purpose flour. How do you know if it's appropriate to substitute? The rule of thumb is to see if the recipe calls for about 1/2 teaspoon of baking powder for every cup of all-purpose flour. If the proportions seem different or if the recipe calls for a different combination of ingredients like baking powder and baking soda, you may need to make some more adjustments to the recipe. Most simple baked goods like cakes, muffins, cookies, and biscuits can be easily made with self-rising flour, and would also benefit from its lower protein content.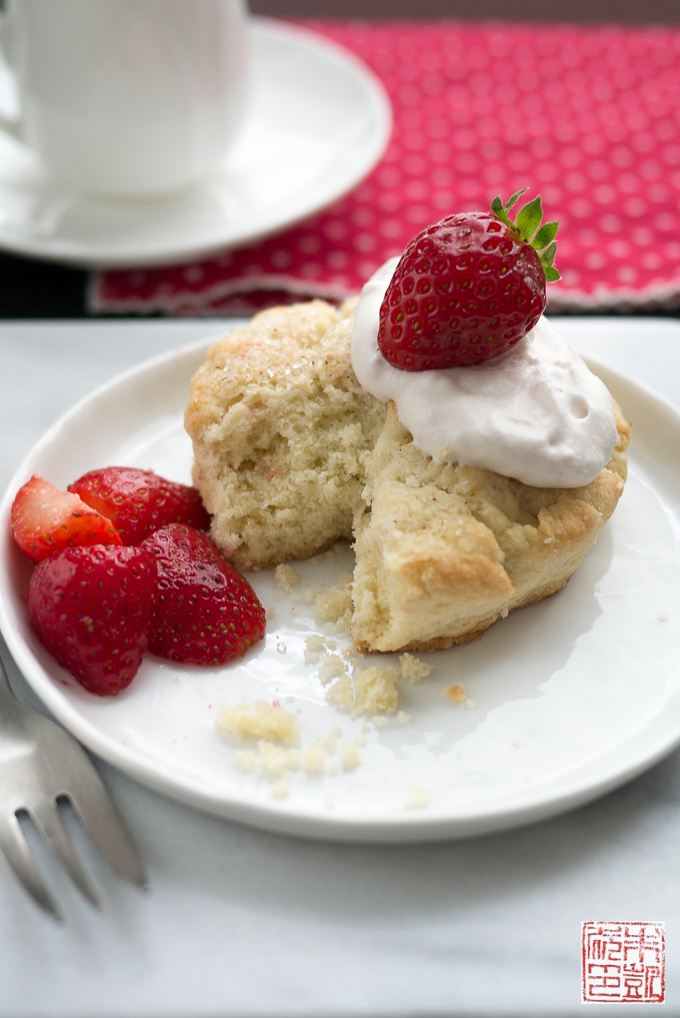 I chose to adapt my beloved shortcake recipe to use self-rising flour. There are many different opinions on what makes a good shortcake biscuit; some people use only cream, while others add in butter or shortening. I find that for making shortcake, my preference leans towards adding some butter, just to give them a bit more flavor and sweetness to go with the berries. For regular dinner biscuits, using only cream makes for super light and tender biscuits that aren't too dessert-sweet.
You can see in the above photo of a simpler, single-layer shortcake presentation how fluffy the interior is.
Here are some of the tips I've learned for making the lightest, fluffiest biscuits:
– Make sure your cream and butter are cold. Some people even go the extra step of freezing the butter and grating it into the dough. Basically, it's the same principle as making pie dough – you don't want the fat to melt, which leads to greasy heavy biscuits. Keep the ingredients cold and work quickly, and avoid touching the dough too much with warm hands.
– Don't overwork the dough. Especially if you're making it in a food processor, resist the urge to process too much and turn it into a ball of dough. The dough should still be crumbly and should just start sticking together after you add the cream.
– Turn the dough out onto a floured surface, flour your hands, and press it together. You don't want to knead it or roll it out with a rolling pin, which makes the dough tougher and denser. In the world of biscuit-making, a light touch leads to the best results!
– Make your block of dough about 1″ to 1 1/2″ thick – if your dough is too thin, it won't rise very much either. Starting out with a good thickness will ensure your biscuits rise to a nice height.
– When you cut the biscuits, use a sharp biscuit cutter and be sure to push straight down into the dough. Lift the cutter straight up and push out the biscuit. Don't twist the cutter as this "seals" the edges of the dough and keeps it from rising as much.
What's strawberry shortcake without the strawberries? As part of my revisit of this recipe, I also took a page from Ideas in Food's great spin on strawberry shortcake and used some freeze-dried strawberries to amplify the flavor. You can find freeze-dried fruits in many grocery stores today, like Trader Joe's; they're great for snacking and even better for baking.
I processed the freeze-dried strawberries with some confectioners' sugar to make a gorgeous pink powder that I then sprinkled over the fresh strawberries. It helps bring out the strawberry juices and heightens their sweetnesss. I also mixed it into the whipped cream for some additional flavor layering (and because Isabelle is really into pink everything right now). The result is a Super Strawberry Shortcake: Intense fruity sweetness wrapped in a cloud of cream, floating on a fluffy vanilla-scented biscuit. You can make it a fancy double-decker affair like I did at the top, or a casual end-of-a-warm-day tumble-together of components; either way, it's so good.
Thanks to King Arthur Flour for sharing their Self-Rising Flour and for encouraging me to make #betterbiscuits. Now make yourself some shortcake and enjoy summer before it's over!
Disclosure: I received a bag of King Arthur Flour's Self-Rising Flour for my use. All opinions in this post are my own.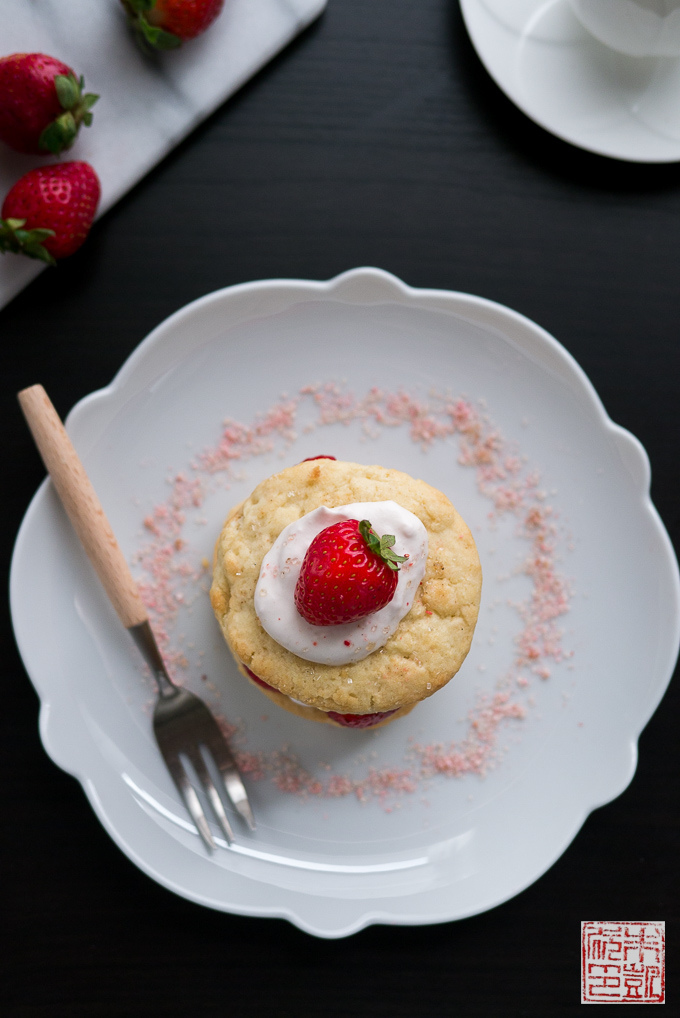 Super Strawberry Shortcake
Ingredients
Shortcake Biscuits
2 cups (230 g) self-rising flour
3 tablespoons(38 g) sugar
6 tablespoons(83 g) cold unsalted butter, cut into ½ inch cubes
⅔ cup (150 g) heavy cream plus extra for brushing
1 tablespoon turbinado sugar
Strawberry Sugar
⅜ cup (50 grams) confectioners' sugar
½ ounce (15 grams) freeze-dried strawberries
Strawberries and Cream
1 lb (16 oz) strawberries, hulled and sliced
1½ cups (345 g) heavy cream
Instructions
For the biscuits:
Preheat the oven to 400 degrees.
In a food processor combine the flour and sugar. Process to combine.
Add the butter and process briefly until it resembles coarse meal. Do not overtax.
Add the cream and process just until the dough starts to comes together (it will be wet and soft). It's better to still have it in rough lumps; if you let if combine into a smooth dough the biscuits will be less fluffy.
Turn out dough onto a floured surface and press together gently into a 1" thick square.
Cut the dough into 9 biscuits (you can simply cut into squares or use a 2¼" round cutter – remember the biscuits will expand in the oven). Brush the tops of the biscuits lightly with cream and sprinkle the turbinado sugar over them.
Place the biscuits about 2 inches apart on a parchment lined baking sheet and bake for about 12 to 16 minutes or the biscuits are golden brown. Transfer to a wire rack to cool.
for the strawberry sugar:
Combine the confectioners' sugar and freeze-dried strawberries in a food processor.
Process until they form a fine powder. You can store the strawberry sugar in an airtight container at room temperature.
For the strawberries and cream:
Place strawberries in a bowl and sprinkle with a few tablespoons of the strawberry sugar. Add more depending on how sweet the strawberries are. Let macerate for about 10 minutes.
Combine the cream and 2 tablespoons of the strawberry sugar in the bowl of stand mixer fitted with the whisk attachment. Whip cream to soft peaks.
To assemble the shortcakes, split the biscuits in half and place bottoms on plates.
Put some of the strawberries on top and then cover with the cream. Cover with the tops of the shortcakes and serve immediately.