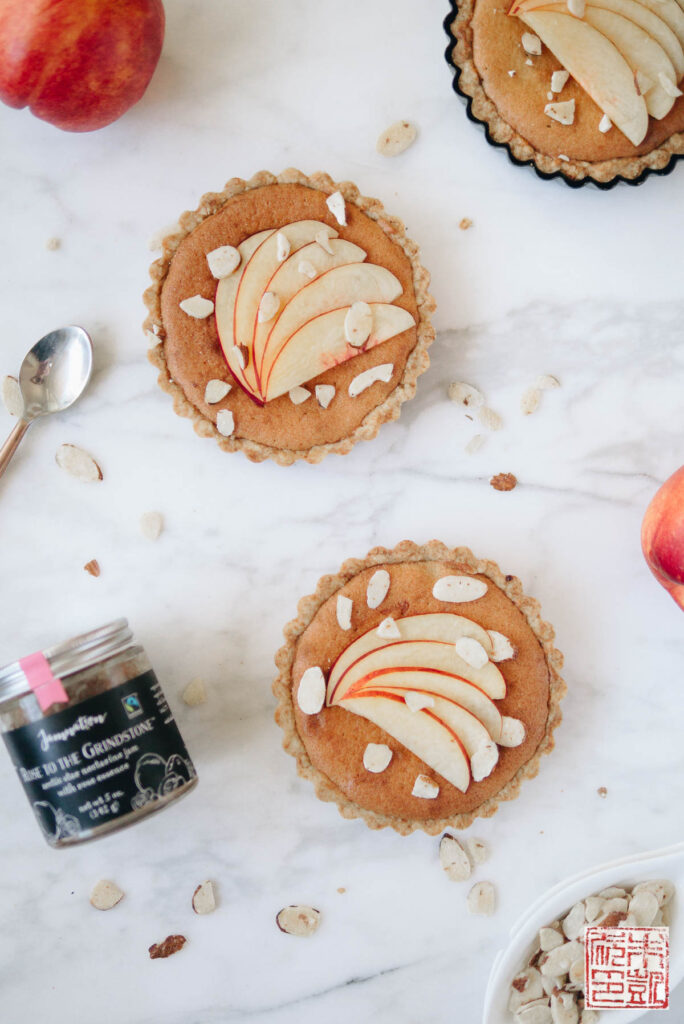 Nothing like a fruit jam and almond tart to celebrate fall. We're full on in stone fruit season, and it's a constant struggle between using all the fruit from the market to try out new recipes, and just eating the fruit straight. Now that Isabelle's officially a kindergartner, I don't have the time for elaborate jamming plans, but the good thing is there is so much good jam around here I don't feel like I'm missing out.
Click here to jump to recipe
I recently was sent a jar of jam from Gillian, founder and chief jammer of Jamnation Jams. She's based in San Francisco like me, and she's dedicated to using local, organic fruit, combined with unusual herbs and spice to create some memorable flavor combinations. The cleverness of her names, from Plum and Get It to Sublemonal Message, has totally won me over – not to mention that the jams are totally delicious.
I got a jar of Rose to the Grindstone, which happens to be the founder's favorite. It's made from Arctic Star white nectarines with Bulgarian rose essence. It has a gorgeously floral fragrance, intense sweetness and tastes like the memory of summer.
Although it would be perfect on toast or paired with some cheese, it's also great as part of dessert. To keep the focus on the jam, I kept it simple and used one of Deborah Madison's recipes from her lovely cookbook Seasonal Fruit Desserts. It's one of my favorite go-to cookbooks for baking with fruit; all the recipes are simple, foolproof, and showcase the fruit, as should be the case.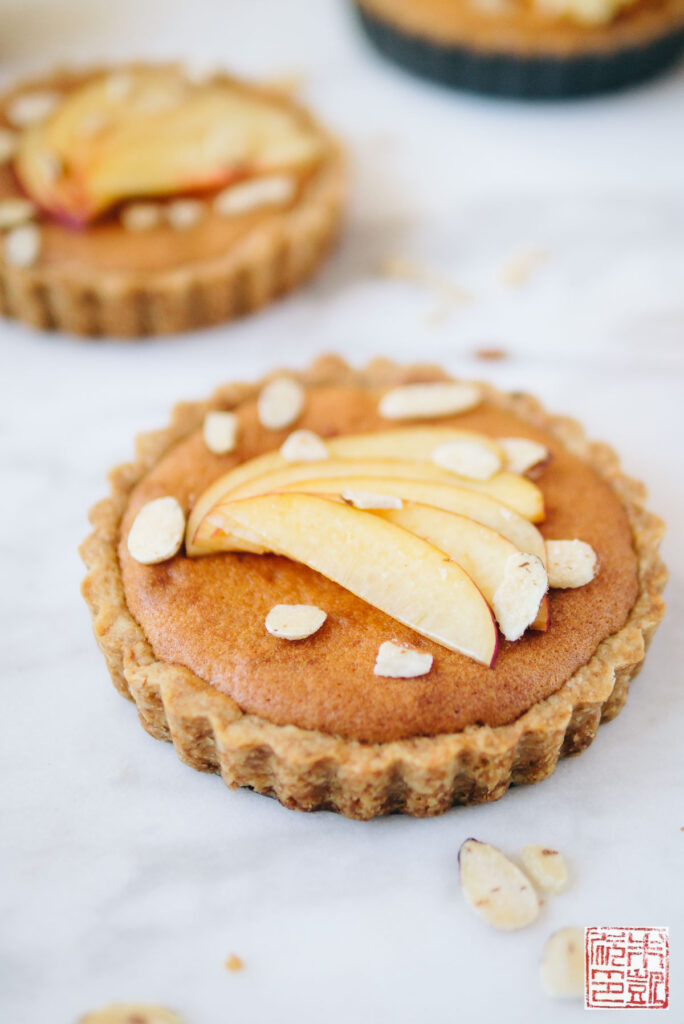 This tart is very simple and a bit of a riff on a frangipane tart, with the flakiest of crusts, and an almond and butter with filling a bit of baking powder that gives it a fluffier, more cakelike texture than the usual creaminess of frangipane. Almond complements most any fruit, so any jam would work well at the bottom, from apricot to fig to berry. I really liked the Jamnation jam as there were chunks of nectarine that gave more fullness and body to the filling. Look for thicker preserves if you want to achieve the same.
Thanks to Jamnation Jams for introducing me to their amazing jams, and giving us another way to enjoy the bounty of fall!
Fruit Jam and Almond Tart
adapted from Deborah Madison' Seasonal Fruit Desserts
Serves:
(4) 4½" round tarts
Ingredients
Tart Dough
1 cup(125 g) all purpose flour
1 tablespoon dark brown sugar
¼ teaspoon salt
1 teaspoon lemon zest
8 tablespoons (110 g) cold unsalted butter, cut into ½ inch pieces
1 tablespoon cold water
½ teaspoon vanilla extract
¼ teaspoon almond extract
Almond Filling
½ cup blanched almond meal
⅓ cup (67 g) sugar
¼ teaspoon salt
2 large eggs, room temperature
1 teaspoon vanilla extract
¼ teaspoon almond extract
8 tablespoons (110 g) unsalted butter, room temperature, cut into ½ inch pieces
2 tablespoons all-purpose flour
½ teaspoon baking powder
¼ cup fruit jam (apricot, raspberry, fig, or blackberry work well)
½ cup sliced almonds
Instructions
For the tart dough:
Combine flour, sugar, salt, and lemon zest in a food processor. Pulse to combine.
Add in butter and pulse until butter is in pea-sized pieces.
Combine water, vanilla, and almond extract and drizzle over the mixture. Pulse to combine until the mixture resembles coarse crumbs – it should not be fully combined into a ball.
Turn out mixture onto a piece of plastic wrap and form into a disk about 1 inch thick. If you have trouble making it stick together add a few more drops of water.
Turn out dough onto a lightly floured surface. Gently press and form into the bottom and sides of a 9" round tart pan, or four 4½" round tartlet pans. Make sure to spread the dough out and up evenly to prevent an overly thick bottom or sides.
Chill tart pan in refrigerator while preheating the oven to 375 degrees F.
Line the dough with foil and fill with pie weights. Bake tart shell for 15 to 20 minutes.
Remove the foil and bake until golden, 12 to 15 minutes more.
Remove tart shells from oven and let cool.
For the filling:
Combine almond meal, sugar, and salt in a food processor and process until combined and very fine.
Add in eggs, vanilla extract, and almond extract, and process until combined.
Add in butter, flour, and baking powder. Process until the mixture becomes a smooth batter, about 10 seconds.
To assemble:
Place tart shells on a baking sheet.
Using an offset spatula, spread jam over the bottom of the tart shells.
Pour the almond filling over the jam and smooth out the tops. Sprinkle sliced almonds over the tops.
Bake for about 25-30 minutes, until the filling is smooth, golden brown, and firm to the touch.
Remove from oven and let cool before serving.