Fruit Jam and Almond Tart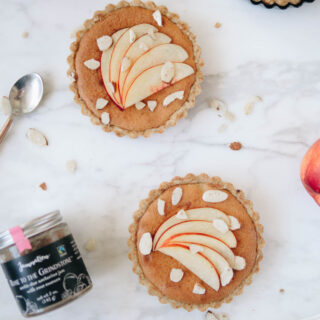 Serves:
(4) 4½" round tarts
1 cup(125 g) all purpose flour
1 tablespoon dark brown sugar
¼ teaspoon salt
1 teaspoon lemon zest
8 tablespoons (110 g) cold unsalted butter, cut into ½ inch pieces
1 tablespoon cold water
½ teaspoon vanilla extract
¼ teaspoon almond extract
½ cup blanched almond meal
⅓ cup (67 g) sugar
¼ teaspoon salt
2 large eggs, room temperature
1 teaspoon vanilla extract
¼ teaspoon almond extract
8 tablespoons (110 g) unsalted butter, room temperature, cut into ½ inch pieces
2 tablespoons all-purpose flour
½ teaspoon baking powder
¼ cup fruit jam (apricot, raspberry, fig, or blackberry work well)
½ cup sliced almonds
Combine flour, sugar, salt, and lemon zest in a food processor. Pulse to combine.
Add in butter and pulse until butter is in pea-sized pieces.
Combine water, vanilla, and almond extract and drizzle over the mixture. Pulse to combine until the mixture resembles coarse crumbs – it should not be fully combined into a ball.
Turn out mixture onto a piece of plastic wrap and form into a disk about 1 inch thick. If you have trouble making it stick together add a few more drops of water.
Turn out dough onto a lightly floured surface. Gently press and form into the bottom and sides of a 9" round tart pan, or four 4½" round tartlet pans. Make sure to spread the dough out and up evenly to prevent an overly thick bottom or sides.
Chill tart pan in refrigerator while preheating the oven to 375 degrees F.
Line the dough with foil and fill with pie weights. Bake tart shell for 15 to 20 minutes.
Remove the foil and bake until golden, 12 to 15 minutes more.
Remove tart shells from oven and let cool.
Combine almond meal, sugar, and salt in a food processor and process until combined and very fine.
Add in eggs, vanilla extract, and almond extract, and process until combined.
Add in butter, flour, and baking powder. Process until the mixture becomes a smooth batter, about 10 seconds.
Place tart shells on a baking sheet.
Using an offset spatula, spread jam over the bottom of the tart shells.
Pour the almond filling over the jam and smooth out the tops. Sprinkle sliced almonds over the tops.
Bake for about 25-30 minutes, until the filling is smooth, golden brown, and firm to the touch.
Remove from oven and let cool before serving.
Recipe by
Dessert First
at https://dessertfirstgirl.com/2018/09/fruit-jam-and-almond-tart.html