Hope you have been enjoying your summer! This French blueberry lemon curd tart is an updated version of one of my favorite tart combos: buttery French-style lemon curd with fresh dark berries. The very first time I made this was Claudia Fleming's very excellent version with a graham cracker crust, and Pierre Hermé's famous lemon cream. I've kept this lemon cream because it's still my favorite style of lemon filling for tarts, and upped the presentation a little since my beginner pastry days!
Click here to jump to recipe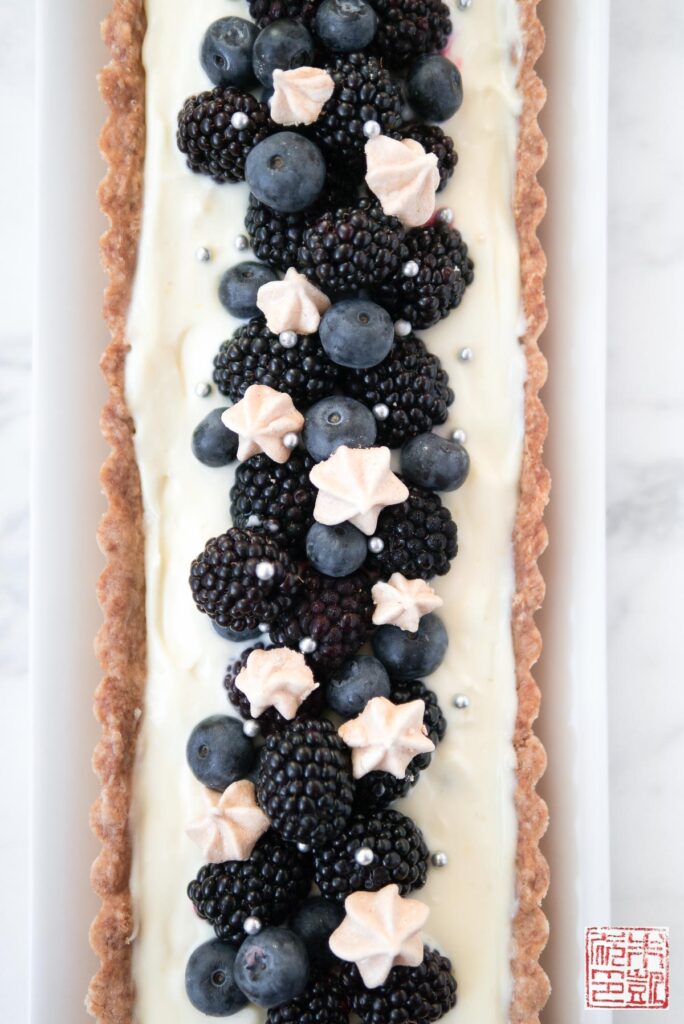 I was in Seattle and Vancouver for a sunny week (a very sunny week; temperatures were consistently in the upper 80s F/20s C, which is not what we expected of the famously cool and rainy Pacific Northwest!) Luckily we brought enough sunscreen, and ate a lot of ice cream and popsicles to beat the heat. Visit my instagram to see some of my favorite places we stopped at on our trip, plus a blog post coming soon!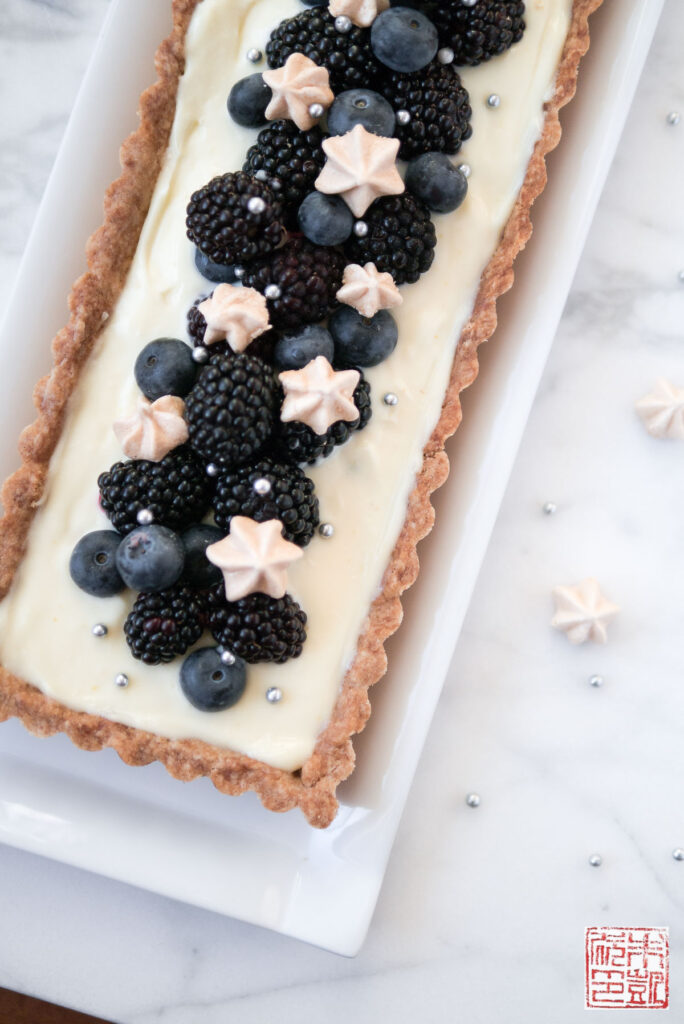 It's full on berry season in Washington, so everywhere we turned were heaps of blueberries, blackberries, loganberries, boysenberries, and all those other less common varieties I never see enough of in the Bay Area. Quick tip from my travels: if you're up around Pike Place Market (yes, touristy, but still an amazing place to visit), don't miss Le Panier for their marvelous marionberry tart. Once I got home, I couldn't stop thinking about all the berries and had to make this tart.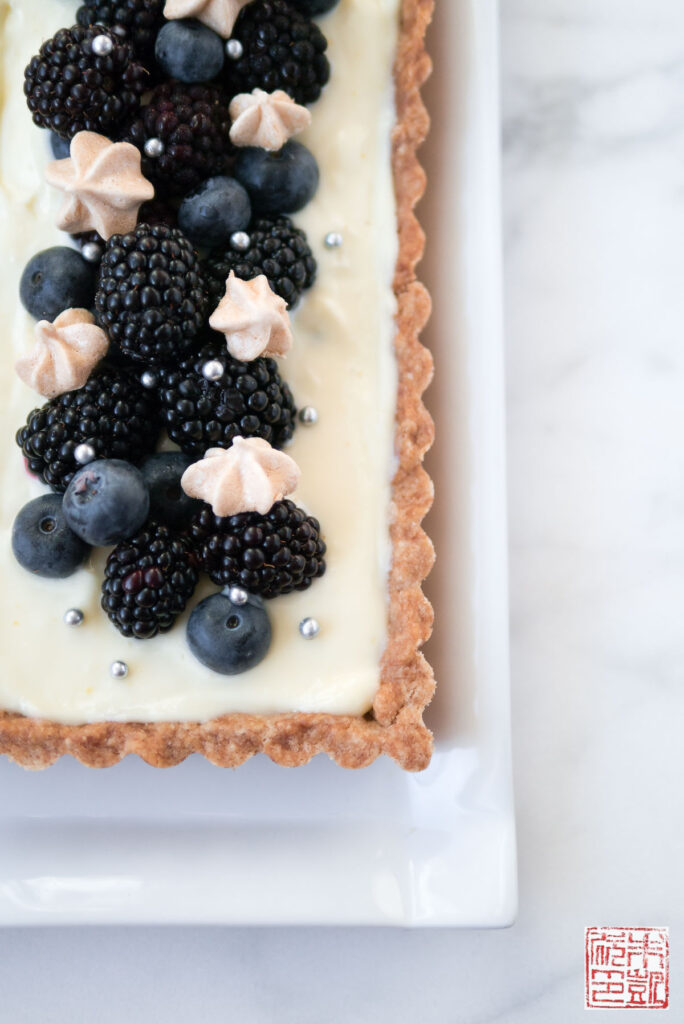 When I look back through my favorite recipes, this lemon cream always comes to the top. Eating it feels like pure luxury, a heaping spoonful of pure sunshine. All the little extra steps, from straining it into a food processor, to the addition of butter, really make a big difference in elevating it over other lemon curds. If you make it with Meyer lemons, it's sweeter, more subtle, a great spread for scones and biscuits. With regular lemons, it's more assertive, a nice tart base (so to speak) for ripe summer berries, without overpowering them. It's a lovely way to remember our trip up north and to celebrate the waning days of summer.
French Blueberry Lemon Curd Tarts
Serves:
(1) 14" x 4½" rectangular tart
Ingredients
Tart Dough
1 cup(125 g) all purpose flour
1 tablespoon dark brown sugar
¼ teaspoon salt
1 teaspoon lemon zest
8 tablespoons (110 g) cold unsalted butter, cut into ½ inch pieces
1 tablespoon cold water
½ teaspoon vanilla extract
¼ teaspoon almond extract
Lemon Cream
½ cup (100 g) sugar
zest from 2 lemons (Meyer lemons if they are in season)
2 large eggs
½ cup freshly squeezed lemon juice
5 ounces butter, cut into 1 inch pieces, softened but not melting
1 cup fresh berries for decoration
Instructions
For the tart dough:
Combine flour, sugar, salt, and lemon zest in a food processor. Pulse to combine.
Add in butter and pulse until butter is in pea-sized pieces.
Combine water, vanilla, and almond extract and drizzle over the mixture. Pulse to combine until the mixture resembles coarse crumbs – it should not be fully combined into a ball.
Turn out mixture onto a piece of plastic wrap and form into a disk about 1 inch thick. If you have trouble making it stick together add a few more drops of water.
Turn out dough onto a lightly floured surface. Gently press and form into the bottom and sides of a 14" x 4½" rectangular tart pan. Make sure to spread the dough out and up evenly to prevent an overly thick bottom or sides.
Chill tart pan in refrigerator while preheating the oven to 375 degrees F.
Line the dough with foil and fill with pie weights. Bake tart shell for 15 to 20 minutes.
Remove the foil and bake until golden, 12 to 15 minutes more.
Remove tart shell from oven and let cool.
For the lemon cream:
Create a water bath by placing a saucepan of water over heat to simmer and placing a metal bowl unto the pan so its bottom does not touch the water.
Combine the sugar and lemon zest together with your fingers and add to the metal bowl.
Whisk in the eggs and lemon juice.
Cook the mixture over the simmering water, whisking constantly, until the cream reaches 180 degrees and thickens. Keep whisking while the mixture is heating up to prevent the eggs from cooking.
Once the cream is thickened – you should be able to make tracks in the mixture with your whisk – take the cream off the heat and strain it into the bowl of a food processor or blender. Let the cream rest for a bit until it cools to about 140 degrees.
Add in the butter pieces a few at the time and combine on high speed. Once all of the butter has been added, let the mixture combine for a few minutes longer to ensure the mixture is perfectly smooth.
Once the cream is finished pour it into a container and let it chill in the refrigerator for about half an hour before assembly.
To Assemble:
Spoon the lemon cream into the tart shell and spread out evenly with a small offset spatula or back of a spoon.
Decorate top with fresh berries. Serve soon after assembly.