I'm so happy to share details from my day in Napa at the Trefethen Vineyards Anniversary Tasting. I know we're just a day away from fall, but here we're still hoping for a few weeks of Indian summer before sweater season. And, up in Napa, it's still gloriously warm and golden. Fall is one of the best times to visit Napa – you can see the foliage change colors and many wineries have opportunities for you to see the grape harvest. I got to visit Trefethen Vineyards about a month ago and I'm excited to share the experience. Going back through all the photos I took is making me eager to get back up there as soon as possible!
Trefethen Vineyards is one of Napa's largest family wine estates. The historic winery, which is on the National Registry of Historic Places, was purchased by the Trefethen family in 1968. They are now celebrating their fifty year anniversary all year long, and we got to sample some of the festivities on our visit, including their anniversary tasting.
Trefethen CEO Jon Ruel gives us a royal welcome by opening a double magnum of their 1997 Chardonnay. Nothing says "celebration" better than a lot of really good vintage wine.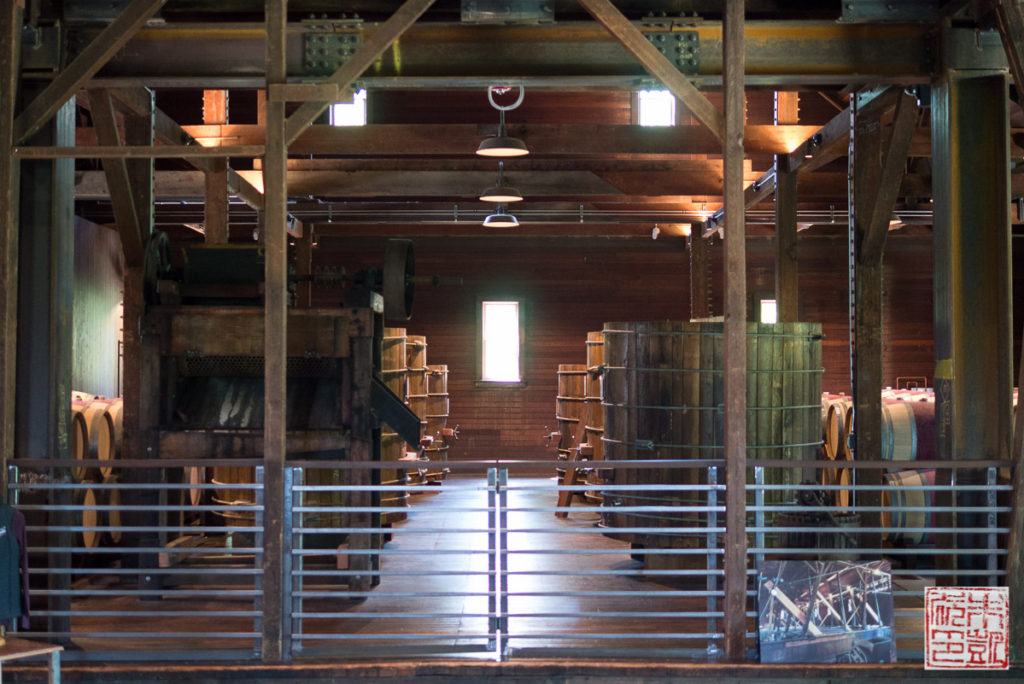 We got a brief tour of the vineyards before returning to the historic winery building. This building was severely damaged in an earthquake in 2014, and was completely repaired and rehabilitated. Hailey Trefethen, who currently helps run her family business along with her brother Loren, gave us a tour of the beautiful structure. You can still see some of the old wooden fermentation tanks and original de-stemming machine.
The tasting room is on the second floor. There's a gorgeous solid wood table that serves as the focal point of the space. The tasting room is open every day, but tasting reservations are suggested, especially on the weekends.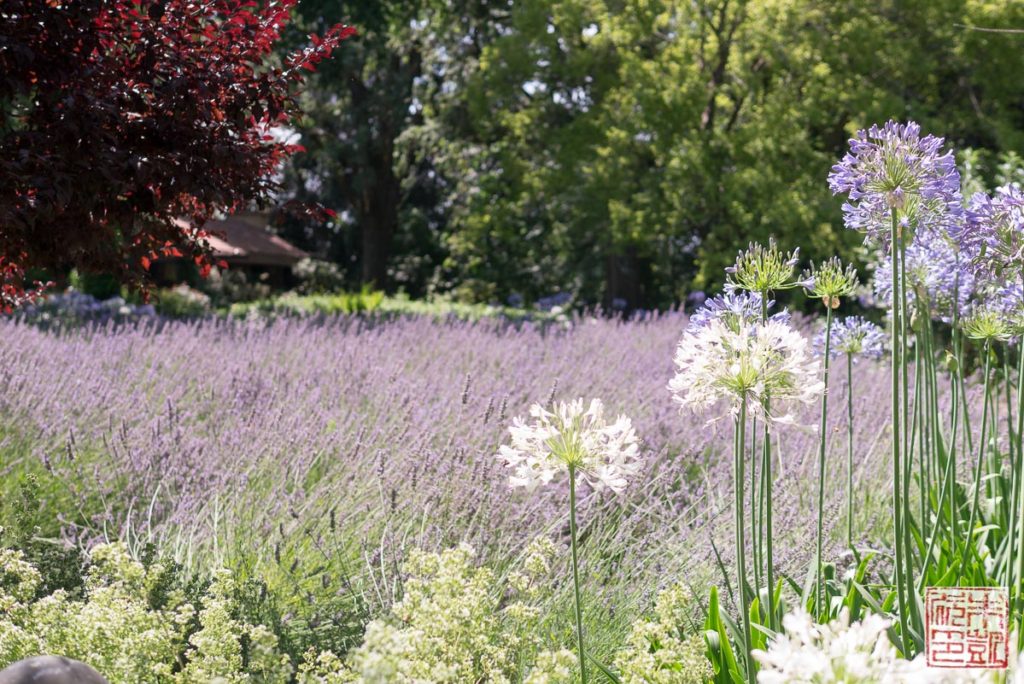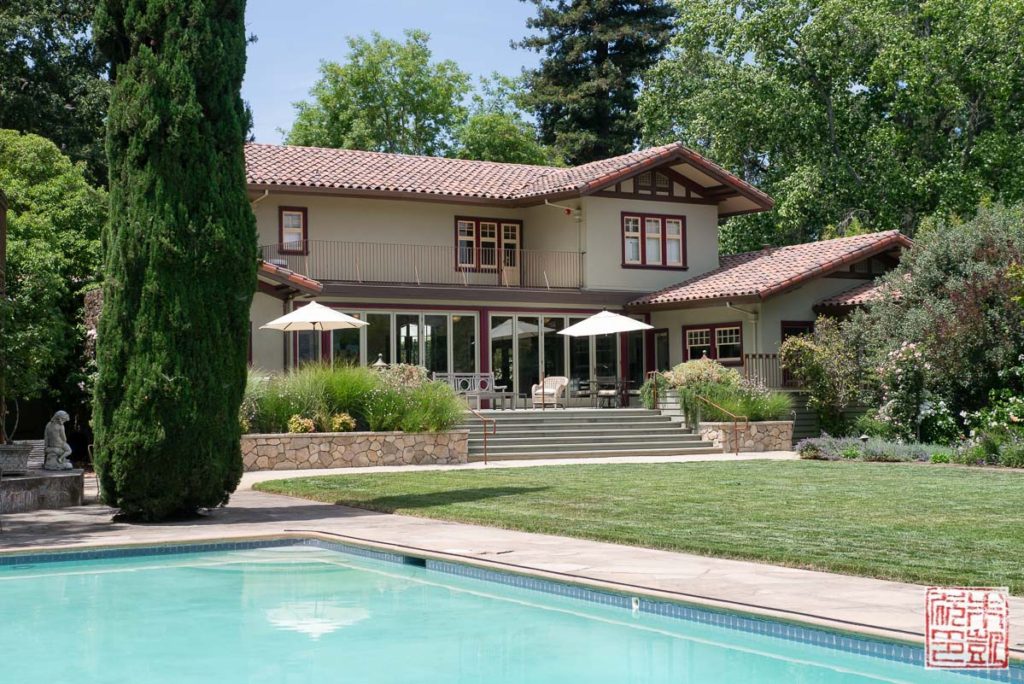 We then walked through some of the spectacular gardens on the property to the Villa, the Trefethen family home that is now used for some of the winery's more exclusive tastings. We were lucky enough today to participate in the Anniversary Tasting, which features several of their older vintages.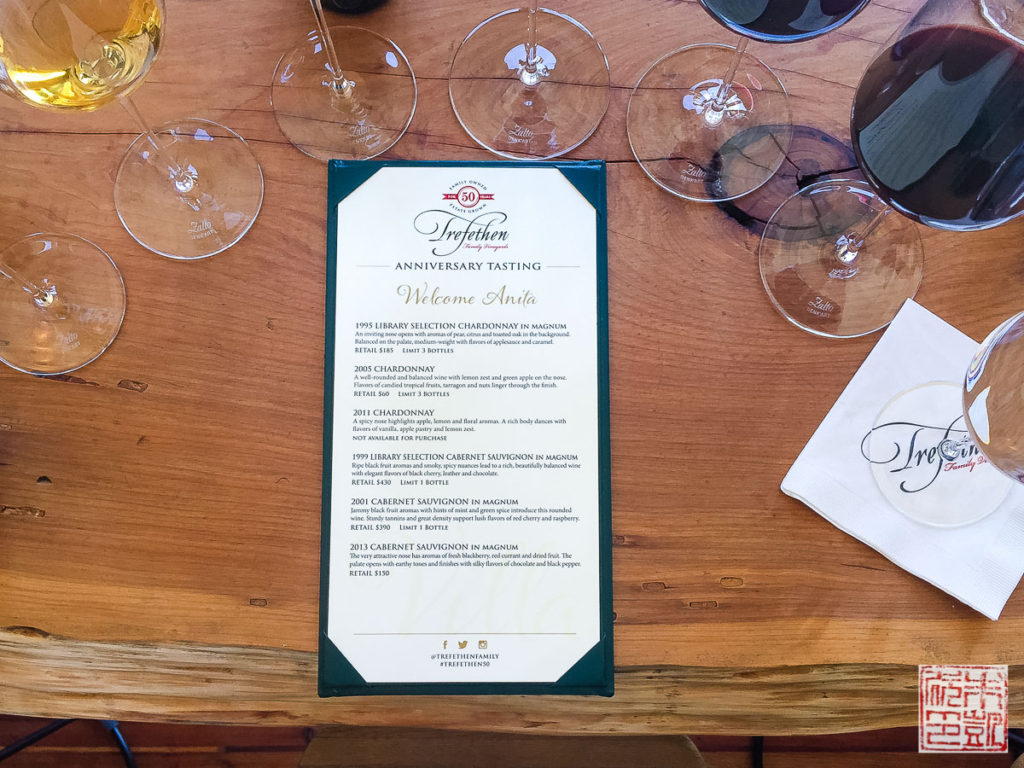 We actually had Trefethen's head winemaker Bryan Kays leading the tasting, and his knowledge and insight helped deepen our appreciation of the wines. I'm a white wine drinker, so I really enjoyed comparing the three chardonnays, but I admit that tasting the 1999 cabernet sauvignon was remarkable.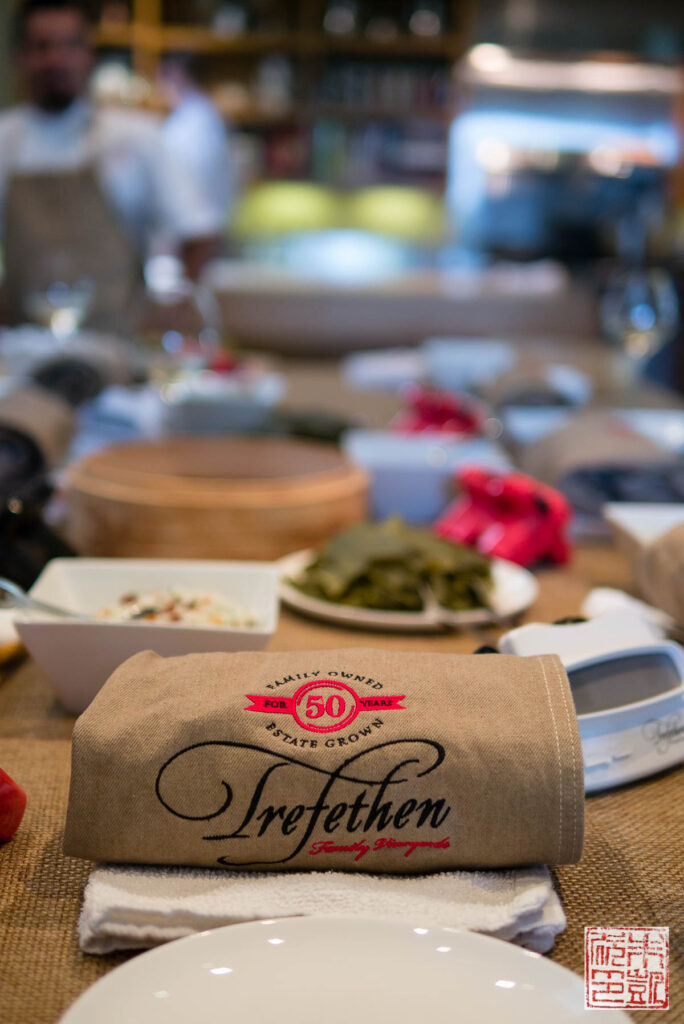 Afterwards we went to the rear of the villa (by that gorgeous swimming pool!) to the Villetta, specially designed gourmet kitchen that's often used to host cooking classes and other events. We got to participate in a dolma-making class by Trefethen's Chef Chris Kennedy Aken. The leaves for the dolmas are from their grapevines – impressive how they manage to incorporate the bounty of their vineyards in so many ways!
We also got to stroll through the beautiful vegetable gardens and fruit orchards behind the house and check out the stunning vistas. Although the gardens may have started as a side project, many of Trefethen's employees now enjoy taking home the produce, and Chef Aken will be using the harvest as well in a planned wine and food pairing program.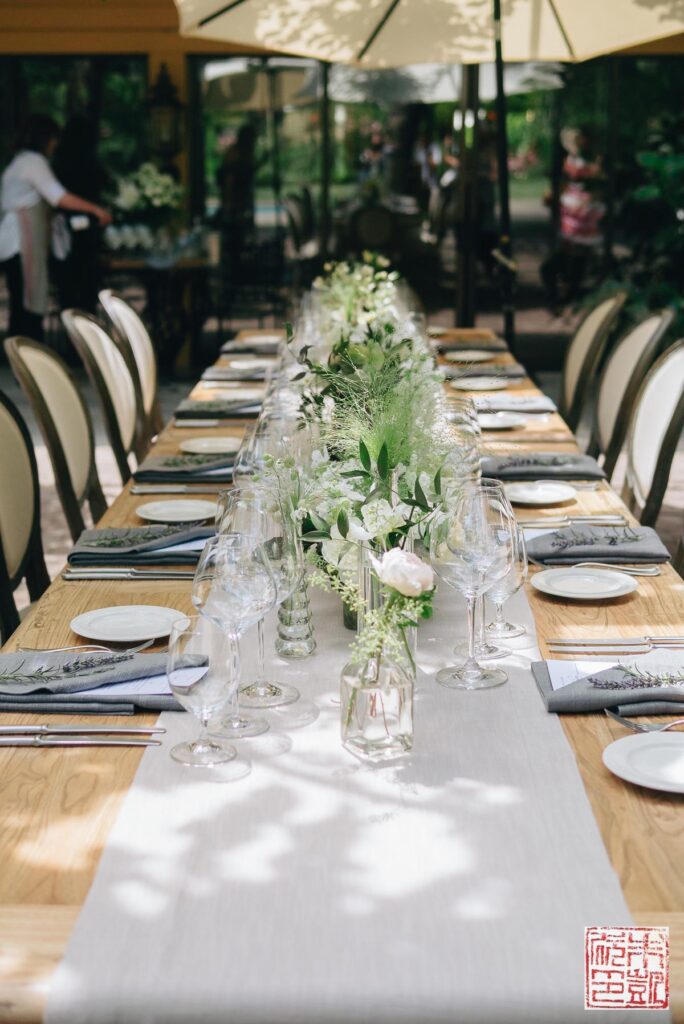 Finally, we got to see all the riches of Trefethen come together in a gorgeous poolside lunch created by Chef Aken.
Compressed melon confetti with pickled ginger, fresh basil, sheep's milk feta, and blossom.
Nothing better for a warm summer afternoon than a rose. Trefethen's S.I.N (Summer in Napa) Rose fit the bill perfectly.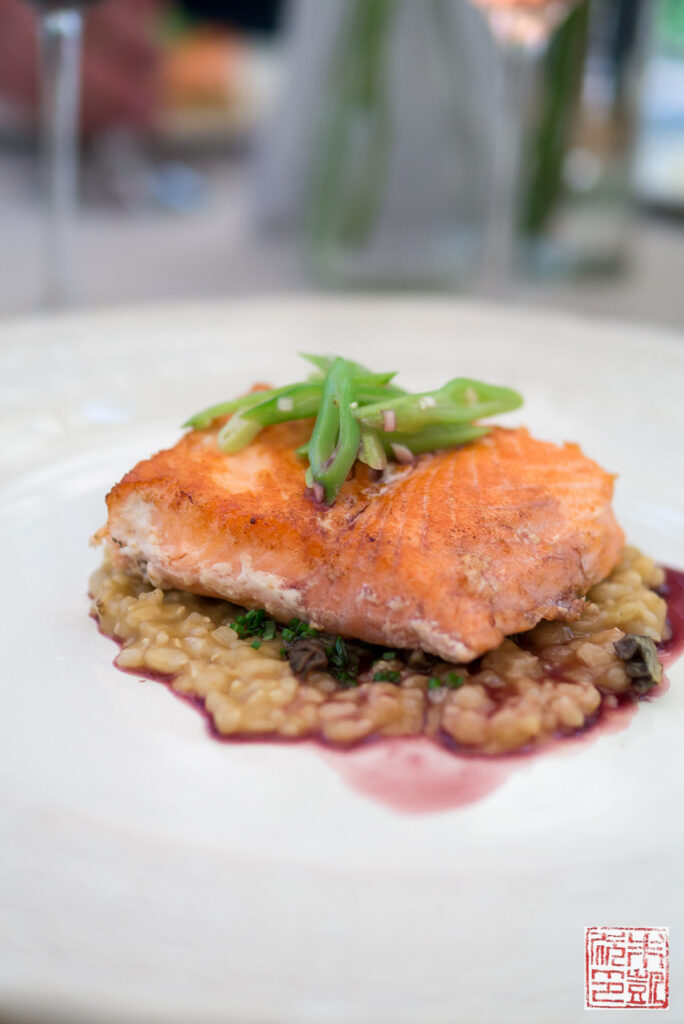 Filet of salmon with roasted morels on brown rice congee with a red wine emulsion.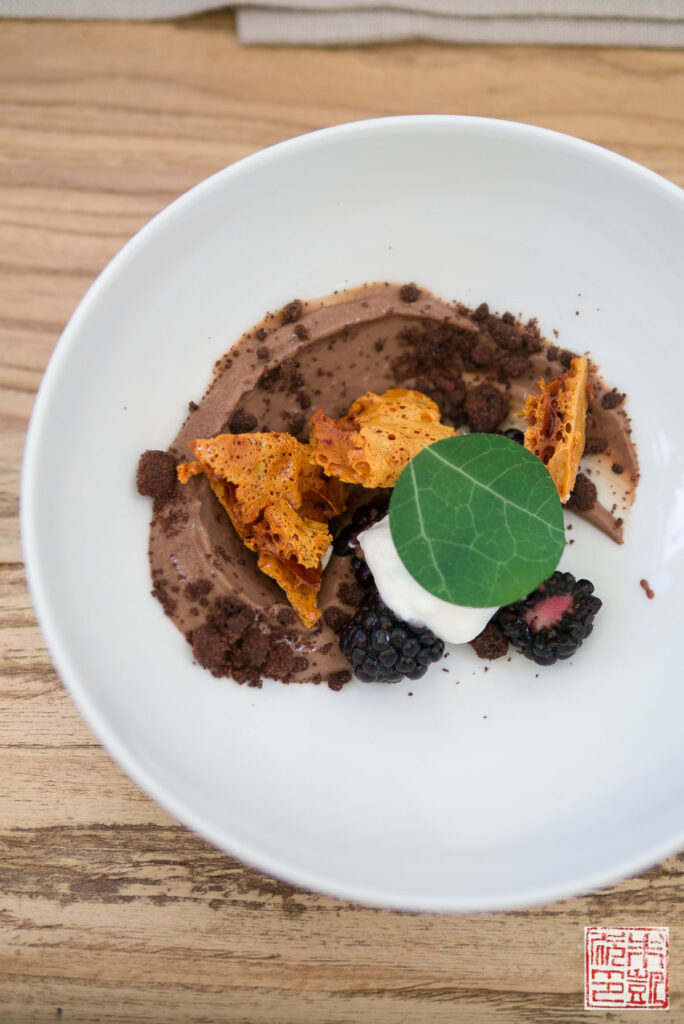 Dessert was a chocolate custard with honeycomb candy, chocolate soil, and blackberries from the estate gardens. It was a wonderful interplay of textures and flavors. Decadent and still perfectly light.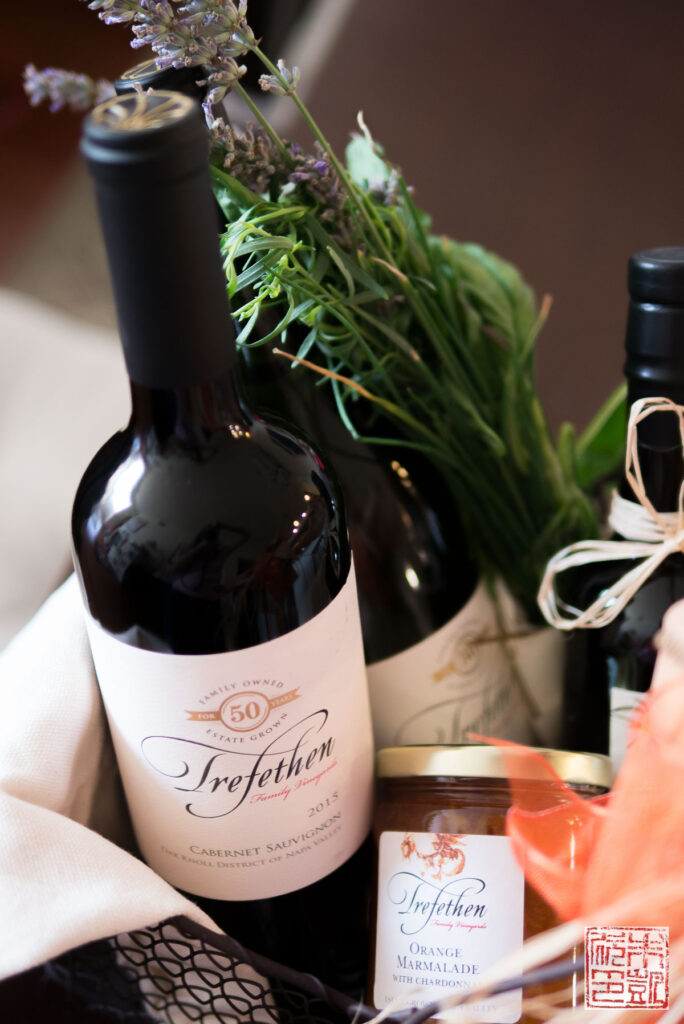 After this fantastic day, we left with a farewell gift from Trefethen, including bottles of their wine, marmalade, and olive oil. The bounty from this place is incredible. Thank you so much for wonderful day Trefethen Vineyards ! I'll be sure to come back to celebrate the harvest!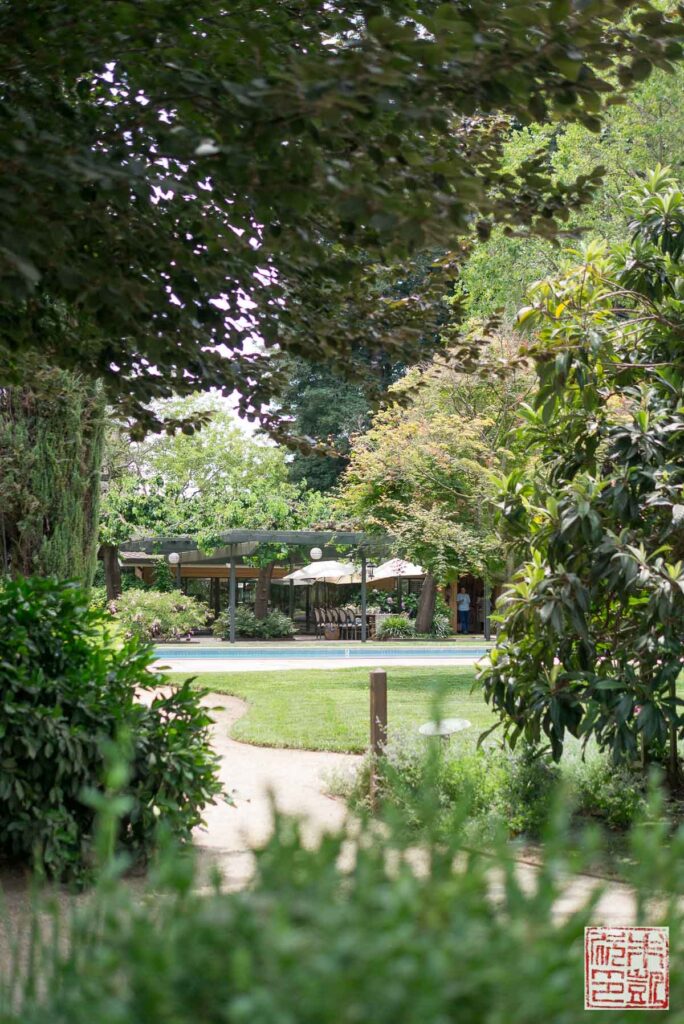 Trefethen Vineyards
1160 Oak Knoll Ave.
Napa, CA 94558