Super Strawberry Shortcake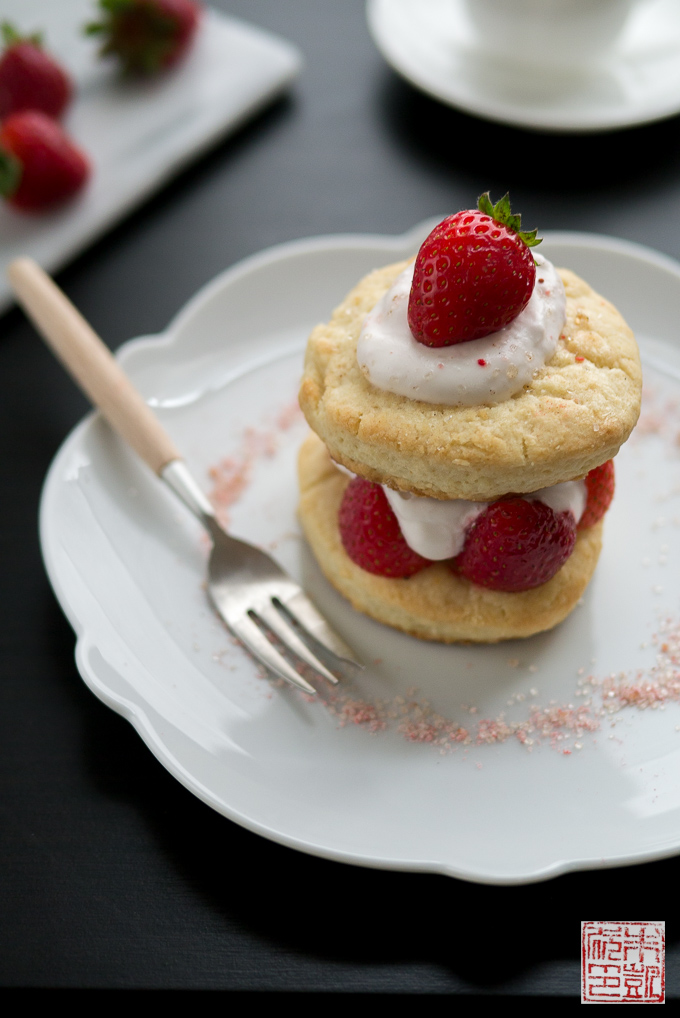 2 cups (230 g) self-rising flour
3 tablespoons(38 g) sugar
6 tablespoons(83 g) cold unsalted butter, cut into ½ inch cubes
⅔ cup (150 g) heavy cream plus extra for brushing
1 tablespoon turbinado sugar
⅜ cup (50 grams) confectioners' sugar
½ ounce (15 grams) freeze-dried strawberries
1 lb (16 oz) strawberries, hulled and sliced
1½ cups (345 g) heavy cream
Preheat the oven to 400 degrees.
In a food processor combine the flour and sugar. Process to combine.
Add the butter and process briefly until it resembles coarse meal. Do not overtax.
Add the cream and process just until the dough starts to comes together (it will be wet and soft). It's better to still have it in rough lumps; if you let if combine into a smooth dough the biscuits will be less fluffy.
Turn out dough onto a floured surface and press together gently into a 1" thick square.
Cut the dough into 9 biscuits (you can simply cut into squares or use a 2¼" round cutter – remember the biscuits will expand in the oven). Brush the tops of the biscuits lightly with cream and sprinkle the turbinado sugar over them.
Place the biscuits about 2 inches apart on a parchment lined baking sheet and bake for about 12 to 16 minutes or the biscuits are golden brown. Transfer to a wire rack to cool.
Combine the confectioners' sugar and freeze-dried strawberries in a food processor.
Process until they form a fine powder. You can store the strawberry sugar in an airtight container at room temperature.
Place strawberries in a bowl and sprinkle with a few tablespoons of the strawberry sugar. Add more depending on how sweet the strawberries are. Let macerate for about 10 minutes.
Combine the cream and 2 tablespoons of the strawberry sugar in the bowl of stand mixer fitted with the whisk attachment. Whip cream to soft peaks.
To assemble the shortcakes, split the biscuits in half and place bottoms on plates.
Put some of the strawberries on top and then cover with the cream. Cover with the tops of the shortcakes and serve immediately.
Recipe by
Dessert First
at https://dessertfirstgirl.com/2015/08/super-strawberry-shortcake.html