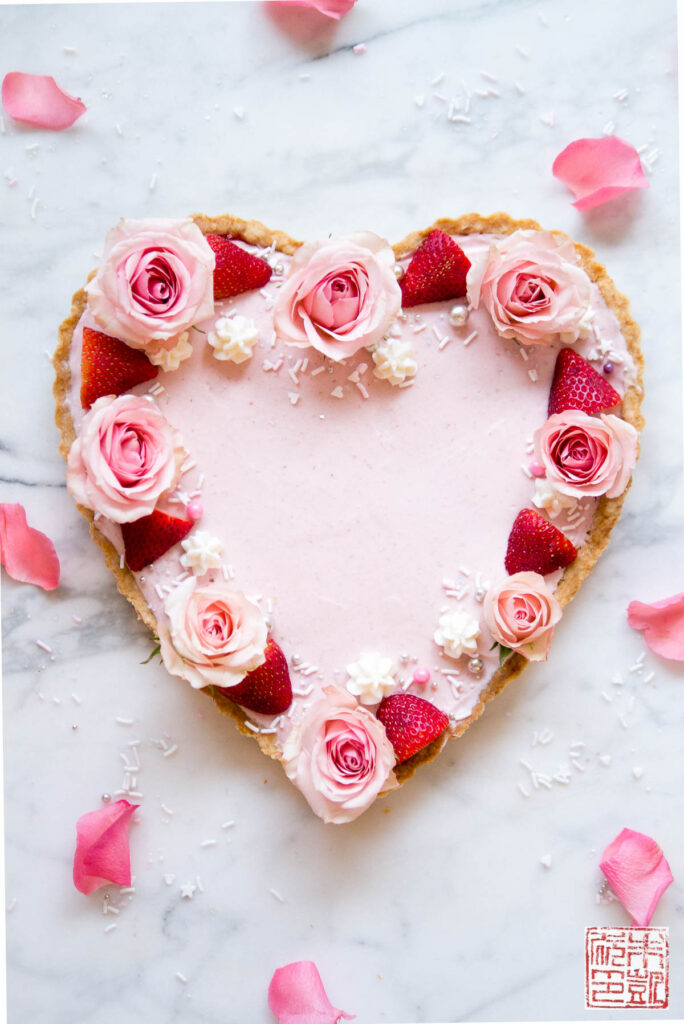 Happy Valentine's Day! This roasted strawberry mousse tart was quick to disappear at my place – all that's left are the photos now! After the heart brownie from two years ago, I was really waiting for an excuse to use this heart tart pan again. This time it was for a proper tart: a buttery brown sugar crust holding a layer of roasted strawberry puree and a pink cloud of strawberry mousse of top.
I'm super excited to share photos of Isabelle's 6th birthday cake soon but had to stop and make this tart first. After the frenzy of birthday party planning and dessert-making, getting to leisurely put together one little tart afterwards was like kitchen therapy. I've also been inspired by all the gorgeous, elaborately decorated tarts and pies I've been seeing all over the blogs and social media lately, so I had to join in with my little contribution. It's the true sign of a baker/food stylist: I'm at the store looking at flowers not to give to someone, but to find ones in the right shade to match my tart!
Click here to jump to recipe
Unfortunately I discovered that the heart pan I used is no longer available and I can't find a similar one online. It's about 11″ across at its widest and 1 1/2″ deep; if you want to use a regular round 10″ or 11″ tart pan, that will also work, and you'll have some tart dough and strawberry mousse left over.
The strawberry mousse is a simple blend of strawberries and whipped cream. I like to roast the strawberries to bring out their flavor, as the whipped cream cuts the intensity of the fruit. I've really liked how they worked out in other recipes like this roasted strawberry and marshmallow ice cream. As a bonus, if you're looking for a way to use up any leftover strawberry mousse, you can either pour it into individual ramekins or cups, and chill them, or you can serve it right away. Although I like to use a little gelatin to firm up the mousse in the tart so it cuts more easily, if you're serving the mousse on its own you don't really need the gelatin. The fluffy, cloudlike texture is even better fresh.
I might make this in a graham cracker crust next time when it's spring or summer. Either way, it's a beautiful and simple dessert that I'm sure I'll find myself making more often once we're full into strawberry season. Enjoy!
Roasted Strawberry Mousse Tart
Ingredients
Tart Dough
1½ cups(188 g) all purpose flour
1 tablespoon +1 teaspoon dark brown sugar
½ teaspoon salt
12 tablespoons (165 g) cold unsalted butter, cut into ½ inch pieces
1 tablespoon cold water
1 teaspoon vanilla extract
½ teaspoon almond extract
Strawberry Filling
2 cups (about 300 g) strawberries, washed and hulled
¼ cup (50 g) granulated sugar
1½ teaspoons (3.5 g) unflavored powdered gelatin
3 tablespoons cold water
1½ cups heavy cream
Instructions
For the tart dough:
Combine flour, sugar, salt, and lemon zest in a food processor. Pulse to combine.
Add in butter and pulse until butter is in pea-sized pieces.
Combine water, vanilla, and almond extract and drizzle over the mixture. Pulse to combine until the mixture resembles coarse crumbs – it should not be fully combined into a ball.
Turn out mixture onto a piece of plastic wrap and form into a disk about 1 inch thick. If you have trouble making it stick together add a few more drops of water.
Turn out dough onto a lightly floured surface. Gently press and form into the bottom and sides of an 11" heart pan, or a 10" x 2" round tart pan will give you some leftover dough. Make sure to spread the dough out and up evenly to prevent an overly thick bottom or sides.
Chill tart pan in refrigerator while preheating the oven to 375 degrees F.
Line the dough with foil and fill with pie weights. Bake tart shell for 15 to 20 minutes.
Remove the foil and bake until golden, 12 to 15 minutes more.
Remove tart shells from oven and let cool.
For the strawberry mousse:
Preheat oven to 350 degrees F. Wash and hull the strawberries.
Place on a rimmed baking sheet lined with a silicone baking mat. Sprinkle the sugar over the strawberries.
Bake for about 20-25 minutes until the strawberries feel soft and mushy and the juices are coming out.
Put strawberries into a food processor and puree until very smooth. You should get about 1 to 1½ cups of puree.
Reserve about ½ cup of the strawberry puree to spread over the bottom of the tart shell.
In a small bowl, sprinkle the gelatin over the water and let stand until softened, about 2 minutes.
Heat in microwave for about 30 seconds to liquefy the gelatin. Don't let it boil.
Stir the gelatin into the pureed strawberries.
Whip the cream in a stand mixer with whisk attachment on high until stiff peaks form.
Fold about a third of the cream into the strawberry mixture to lighten it. Fold in the rest of the cream.
Spread the reserved strawberry puree over the bottom of the tart shell. Carefully spoon and spread the strawberry mousse filling over the top, and smooth out with an offset spatula.
Refrigerate for at least 2 hours or overnight before serving.