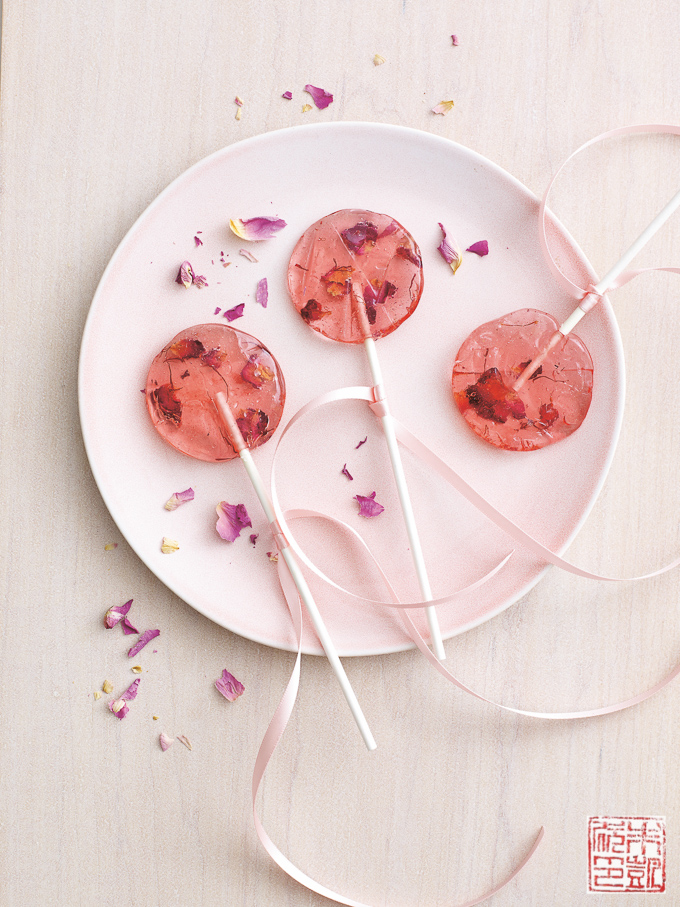 Rose saffron lollipops from my cookbook Lollipop Love. Photo by Antonis Achilleos.
It's National Lollipop Day, and to celebrate I'm sharing another of my favorite recipes, rose saffron lollipops, from my latest cookbook Lollipop Love!
I've always been a fan of the color pink and of using rose in my baking, so these lollipops were a must to include in the cookbook. These lollipops are delicately pink and subtly floral from the rosewater and rose syrup. This is one of the lollipops in my cookbook that doesn't need any additional coloring; the rose syrup provides all the color. Although the color is already striking, the addition of some rose petals and saffron threads makes them particularly party-favor worthy. When you start making lollipops, you'll discover how easy it is to personalize them and add your unique touch with sprinkles, luster dust, coloring, and other add-ins.
Most of the recipes in my book were made with typical round lollipop molds, although they'll work with any more creatively shaped molds. I use either 1½" round lollipop molds 
about 1/4″ deep, which make the small lollipops you often see at the doctor's, or 2″ round molds 
about 1/2″ deep, which make more substantial looking lollipops if you're looking to make an impressive dessert display. This recipe makes about 24 of the small 1 1/2″ round lollipops or 5 of the big 2″ ones.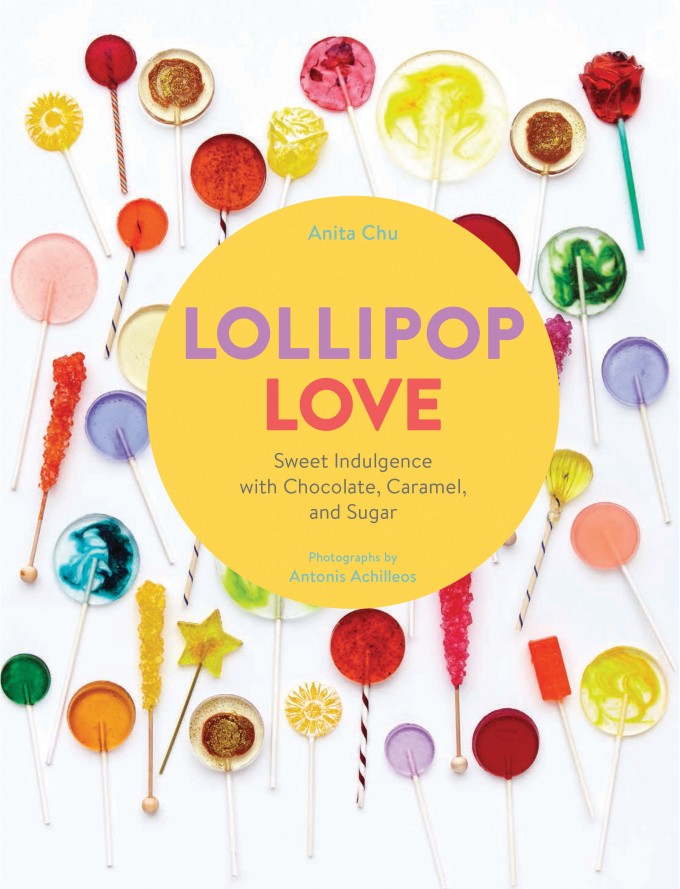 Also, if you haven't seen my announcement on my social media, the e-version of my cookbook is only $1.99 for the rest of the month of July! This is a great chance to get my book for your e-reader for a very low price. Go here 
to purchase (affiliate link) or you can purchase at Amazon, Barnes and Noble online, Google Play, or Kobo. I hope you'll take this opportunity to add Lollipop Love to your library. In the meantime, enjoy these lollipops on this sweetest of days!

Rose Saffron Lollipops
Recipe from Lollipop Love by Chronicle Books. Rose syrup can be found at many Indian or Middle Eastern groceries. I make these in either 1½" round shallow or 2" round deeper lollipop molds - you can find them and lollipop sticks at many craft or baking stores.
Serves:
about 24 small (1½ in round) lollipops
Ingredients
1 cup (200 g) sugar
¼ cup (85 g) corn syrup
½ cup (120 g) water
1 teaspoon rosewater
1 teaspoon rose syrup
Rose petals and saffron
Instructions
Spray lollipop molds lightly with nonstick cooking spray. Place lollipop sticks in the molds.
Combine sugar, corn syrup, and water in a large, heavy saucepan. Bring to a boil over medium-high heat.
Continue cooking until the mixture reaches 300°F, hard crack stage. Immediately remove saucepan from heat. Let cool to about 275°. Stir in rosewater and rose syrup.
Pour the mixture into a heatproof measuring container with a spout, or a candy funnel.
Divide the mixture among the prepared molds. Press in rose petals and saffron with a stick. Let lollipops cool and harden, about 15 minutes, before removing from the molds.
Store wrapped in cellophane bags twist tied shut, in a cool dry place for up to one month.