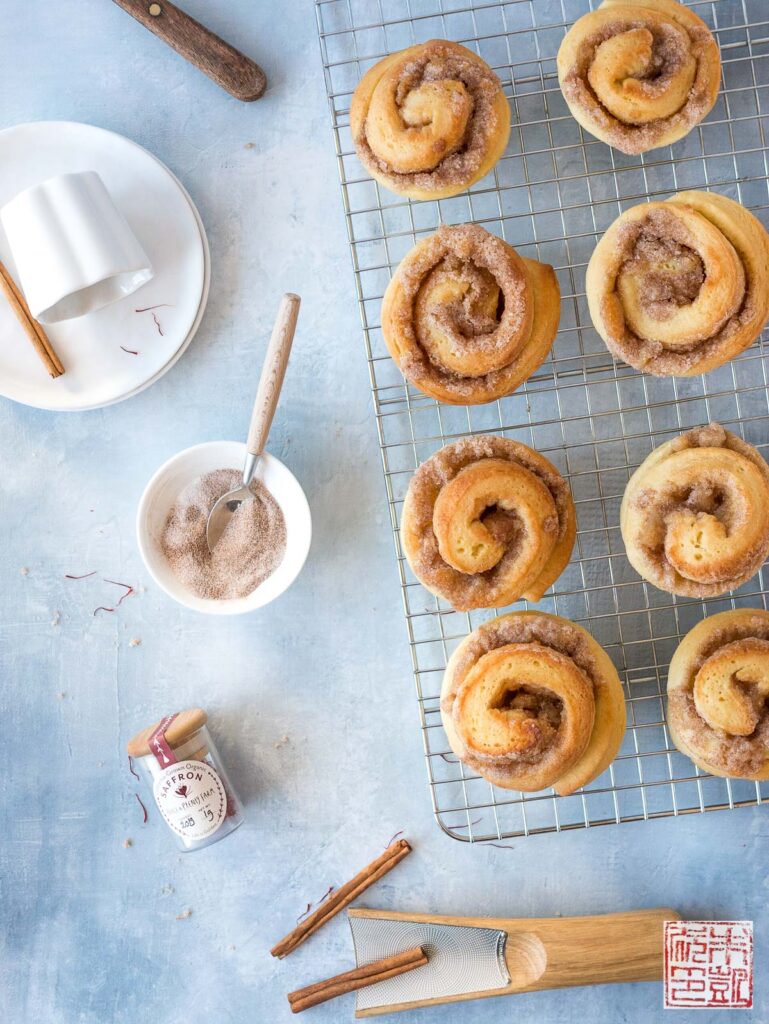 These saffron almond buns are a cross between cinnamon rolls and lussekatter – saffron buns that are popularly served in Sweden during the feast of St. Lucia at Christmastime. I don't bake enough with saffron, but I was recently introduced to Peace and Plenty Farm, an organic farm located in Northern California. They specialize in organic saffron, and I wanted to showcase it with these sweet, sunshine-hued buns. You don't need to wait until Christmas to make these.
Click here to jump to recipe
Peace and Plenty, started by husband and wife duo Simon and Melinda, is one of the few commercial organic saffron farms in the US. Growing and harvesting saffron is a time-consuming process, and that labor makes those delicate red threads are worth more per ounce than gold.  But its distinct grassy, floral-honey flavor is impossible to duplicate with other ingredients. The earthiness of saffron generally makes it more popular with savory dishes like paella, but it's very popular in baked goods in Sweden, like their lussekatter. These buns are a bit of an American spin on them, with the buns rolled up like cinnamon rolls, and filled with a mix of sugar, cinnamon, and almond paste.
A couple tips I picked up while creating this recipe:
In order to get the most flavor out of this precious saffron, I grind up the threads with a mortar and pestle into little bits, then steep them in warm milk. Liquids draw out the flavor of saffron so don't skip this step! It also intensifies the gorgeous warm golden color of the final product.
You can use almond paste or marzipan, which usually comes in a tube. It's often difficult or time consuming to cut the soft almond paste into little bits. One trick is to place the wrapped tube in the freezer for about 15-20 minutes to let it firm up. Then use a grater to grate the tube into little bits that you can then sprinkle over the top of the dough. 
If you start the dough for these buns in the morning, you can enjoy them by afternoon. They rise in about two hours total, and bake up marvelously plump and pillowy. The earthy, floral notes of the saffron make a lovely contrast to the buttery sweetness of the filling. I made a quick glaze out with confectioner's sugar and milk for a fun shot but I don't think it's necessary for these buns as they are already sweet on their own. 
Thank you Peace and Plenty for your beautiful saffron!
Saffron Almond Buns
Ingredients
Dough
½ cup (115 g) milk
1 teaspoon saffron
2¼ teaspoons (1 packet) active dry yeast
2 cups (280 g) all-purpose flour
1 cup (140 g) bread flour
½ (100 g) cup sugar
½ teaspoon salt
6 tablespoons unsalted butter, room temperature
2 large eggs, room temperature
¼ (58 g) cup water as needed
Filling
6 tablespoons unsalted, room temperature
½ cup (100 g) sugar
1 teaspoon ground cinnamon
85 g marzipan
Instructions
For the dough:
Bring the milk to a simmer in a saucepan. Take off heat.
Crush saffron into small bits with a mortar and pestle and place into milk, cover saucepan and let steep for about 20 minutes.
Place milk in bowl of stand mixer and add the yeast. Let sit for about 5 minutes to activate the yeast.
Add flour, sugar, salt, butter, and eggs to the mixer.
Fit stand mixer with dough hook and knead the mixture until it comes together. If it seems dry add up to ¼ cup of water. Continue kneading for another 6-10 minutes until dough becomes soft, shiny, and sticky. It should come together into a cohesive mass and make a slapping sound as it hits the side of the bowl. If you do the windowpane test by pulling a piece of dough, it should stretch and thin out instead of breaking off instantly.
Gather dough into a ball and place in a large oiled bowl. Cover with plastic wrap pressed directly to surface of dough. Let proof in a warm place for about 45 minutes until dough has doubled in size.
Roll out dough on a lightly floured surface into a rectangle about 10 inches by 12 inches by ¼ inch thick. The dough should be fairly soft and easy to roll out.
For the filling:
Stir together the butter, sugar, and cinnamon in a bowl. Spread evenly over the surface of the dough, stopping about ½" from the edges.
Grate or break the marizpan into small pea-sized pieces (easier if it's very cold) and sprinkle over the surface of the dough.
Starting from the top of the dough rectangle, roll the long edge down towards you like a jelly roll, turning the dough into a spiral.
Trim off ¼ inch from each end. Using a bench scraper or sharp chef's knife, cut the roll crosswise into twelve equal pieces.
Grease a twelve cup muffin tin. Place a roll into each muffin cup. Cover with plastic wrap and let rolls proof at warm room temperature, until they have turned large, puffy, and pilllowy.
Preheat oven to 350 degrees F. Bake rolls for 20 to 25 minutes, rotating the sheet halfway through. The rolls should be golden brown and done on top. Let cool on wire rack.