edited on 3/21/10: Umm, fangirl moment…Chef Migoya actually saw my post and left a comment! I hope he wasn't turned off by my talk of lactose intolerance earlier! FYI, he also has a blog called The Quenelle – check it out!
Personal reveal here: I've made a unexpected and slightly upsetting discovery recently. I've been noticing that occasionally after meals I've been experiencing indigestion-like symptoms, not strong enough to be incapacitating, but often enough for me to finally wonder if something was amiss.
By slow process of elimination, I finally figured out that it's been milk – especially the milk with my breakfast cereal, that's been the source of the problem. Lactose intolerance?  That's my diagnosis so far, although I'm a little surprised, given that I've been consuming dairy almost all my life without ill effect. Can you develop lactose intolerance later in life? I know it's quite widespread among Asians, so I feel fortunate that I had no problem drinking milk in my childhood. In fact, I am nearly certain that my diligent consumption of all the glasses of milk my mother placed before me led to my impressive (for an Asian) growth spurt in my teen years.
(I am aware that 5'4" does not quite qualify as towering, but if you had been back to Hong Kong twenty or so years ago like me, you would seen I was a veritable giantess among my tiny, slim-shouldered cousins. Nowadays, a trip back there and I can easily see the effects of a Westernized diet on the ever-taller youth.)
At any rate, there's no need for concern, readers: I'm not ill in any other way, and taking some lactose-intolerance pills before I eat my breakfast appears to do the trick. I also don't seem to have problems with consuming items that contain dairy, so far, so I count myself lucky in that respect as well.
Very lucky, since I've been making recipes with quite a bit of butter and milk lately. Like these craquelin from The Modern Cafe
by Francisco Migoya.
Can you also believe I've never heard of craquelin before now? I've now managed to plug this gap in my pastry knowledge. Craquelin is a unique Belgian version of brioche that contains citrus-scented cubes of sugar tucked into the center of the bun. The sugar cubes melt during baking to create these little pockets of sweetness that burst when bite into the brioche. Brioche's trademark, of course, is it's eggy, buttery, damn-the-artery-clogging richness, but craquelin adds in a zingy sweetness that makes it even easier to inhale. When craquelin cools down, the sugar recrystallizes, adding a crunchy dimension to the bread that I like even more.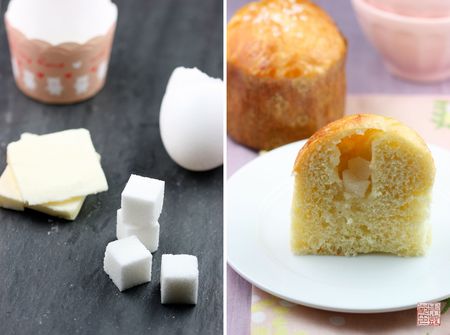 Making craquelin is similar to making brioche, with the addition of a few more steps. First, the sugar cubes are mixed with zest to flavor them; I looked some other versions of craquelin and some recipes have Grand Marnier or other liqueur added to the sugar, which I might try next time. Then, the sugar cubes are tucked deep inside balls of brioche dough. Finally, a thin disc of brioche dough is wrapped around the ball, almost like a wrapper, to help keep the bubbling sugar from escaping. Craquelin bakes up just like regular brioche, and the buttery, yeasty scent that fills the kitchen while it's baking is enough to make you want to gobble down the whole batch when it's done.
Francisco Migoya was originally the executive pastry chef at The French Laundry, Bouchon, and Bouchon Bakery, and now teaches at the CIA, so getting The Modern Cafe was a fantastic opportunity to revel in his depth of knowledge. This CIA-published book is a primer on how to run a successful cafe, from tested recipes to tips on presentation, pricing, and packaging. I often get e-mails asking about advice on starting a bakery or baking business, and I'm excited now to have this resource to recommend. Not only are the recipes delicious and unique (you don't want your cafe to offer the same old, same old), they cover all the different parts of a cafe: the bakery (with breads and morning pastries), the pastry shop (with fancy cakes and other desserts), the savory kitchen (with soups, sandwiches, and other simple entrees), beverages (surprising how often people don't think about this high-profit part of a cafe), and retail items (chocolates, jams, and other confections).
In other words, many people think of opening a cafe or coffee shop without thinking of all the various categories they can offer goods to customers, and which ones are the most profitable. It's fascinating to have all this broken down in a book: for example, Migoya explains that the bakery (breads, brioches, muffins, etc) is typically a high-profit area in a cafe because the ingredient costs are relatively low, and the finished products usually don't require refrigeration or other special care. In contrast, the pastry shop can be labor intensive (assembling all those complex cakes), have high ingredient costs (chocolate and other specialty items), and the results are highly perishable. But, well-done pastries can be a major focal point of your cafe and generate good revenue if you manage your costs well.
I'm sure much of this might be old knowledge to veterans in the food industry, however, it's very useful to novices to have this information, along with notes on how long to keep goods on display, professional equipment and techniques, and customer service all presented clearly in an appealingly designed book. The photographs are beautiful, there are tons of useful troubleshooting charts provided, and just a lot of great baking advice. Even if you aren't planning on opening a bakery, I think it's still a wonderful book to have as it covers so much of the fundamentals of pastry.
The book is aimed towards the experienced amateur or professionals: the recipes are presented in metric and US measurements, along with baker's percentages. The instructions are clear although fairly succinct. However, there are typically more in-depth explanations of various baking techniques in each chapter (for example, the brioche recipe takes about a page, but there are about three pages earlier in the chapter that discuss the roles of each ingredient) that should satisfy anyone's culinary curiosity.
Be warned as well: most of the recipes are for larger batches, so you may have to practice your scaling. The craquelin recipe, which uses the base brioche recipe, yielded 40 craquelin, which is entirely too many to have sitting beguilingly about the house. But they were so good, I could almost believe I'd brought them back from some fabulous little bakery-cafe that just opened up down the street.
Craquelin
In the interests of length, and because the brioche recipe in The Modern produces about 8 pounds of dough, I am not reproducing it here. You can use you favorite brioche recipe, or here is one I enjoy from Alice Medrich's Pure Dessert
. Double it to get about 20 craquelin
20 sugar cubes
lemon zest from 2 lemons
1 egg for egg wash
sanding sugar
Make brioche according to recipe. Refrigerate until ready to use, up to 24 hours.
Cut the sugar cubes in half and combine with lemon zest in a bowl until uniformly mixed. You can store this mixture at room temperature beforehand to increase the lemon flavor.
Weigh out twenty 2 1/4 ounce pieces of dough and refrigerate. Weigh out twenty 1 ounce pieces of dough and refrigerate.
Shape the 2 1/2 ounces pieces of dough into balls and place back in the refrigerator.
Roll the 1 ounce pieces of dough into 3 inch round discs. If they aren't perfect discs, it's all right – you can stretch the dough out later.
Line a sheet pan with mini panettone cups.
Take out the larger brioche balls. Push 4 sugar cube halves into each ball and roll so the pieces are entirely encased in the dough.
Brush the top of each brioche disc with egg wash. This will make it easier to form it around the brioche balls.
Place a brioche ball in the middle of each disc.
Wrap the discs around the balls, making sure they are completely enclosed with no tears.
Place each craquelin seam side down in a panettone cup. Brush the top of each craquelin with egg wash.
Place the sheet pan inside a plastic bag or cover with plastic wrap. Proof at room temperature (70 to 72 degrees F) until craquelin has risen to the top of the cups. This can take up to three hours – longer if it's colder in your kitchen, shorter if it's warmer. Try placing the craquelin near the warmest spot in your kitchen (not on top of a hot stove, though).
Preheat oven to 390 degrees F.
Brush the top of each craquelin with egg wash again and sprinkle with sanding sugar. Score the center of each craquelin with a pair of scissors, about the size of a dime across and half an inch deep.
Bake for about 12 minutes, until the tops are golden brown. Remove from oven and let cool on a wire rack.