Remember the massive chocolate chip cookie bakeoff I did last year, all in that elusive, neverending search for the perfect recipe? Well, with the New York Times throwing its formidable hat into the ring, a revisit definitely seemed in order.
If you haven't read the article yet, it's certainly worth your time. Although every baker has no doubt realized that everyone's tastes are different and no recipe will ever satisfy everyone 100% of the time (and likely comforted herself with this knowledge at some point or another), there's always the thrilling illumination in discovering exactly what makes a recipe work well, in ferreting out the intricacies and subtle byways of deliciousness.
The New York Times does an excellent job of explaining how it developed its recipe (and, before I go any further, it's a really good recipe). Three of the kitchen discoveries described in the article that author David Leite believes lead to cookie greatness are 1) Sprinkling sea salt on top to further enhance the taste; 2) Making cookies large, about 5″ in diameter, to allow for a progression of textures from crispy to chewy; 3) Chilling the dough for 12-36 hours before baking to improve the depth of flavors .
The exciting thing about all these suggestions are the new dimensions they add to the chocolate chip cookie rubric. In all of the chocolate chip cookie recipes I've come across, two of the most common "official" variations involve adding oats or nuts. Beyond that, however, most of the recipes follow the same ingredient lists and formula of assembly, and differentiating between them becomes a matter of 1/3 cup of flour here, 1/2 cup of brown sugar there, and maybe an extra bit of vanilla.
For this second round of testing, I used the New York Times recipe, my own that I've been working on, and the one from King Arthur Flour's blog (they've also done an excellent analysis of the Times' recipe). I also list The Nestle Toll House recipe for reference, although I didn't make it: I think just about everyone has made that recipe!
Ingredients NYT* KAF Dessert First Nestle

Butter 5 oz 4 oz 4 oz 4 oz
Shortening 4 oz
Eggs 1 1 1 1
Flour 1 2/3 cup 2 cup 1 1/3 cup 1 1/8 cup
Sugar 2/3 cup 2/3 cup 1/3 cup 3/8 cup
Brown sugar 2/3 cup 2/3 cup 1/2 cup 3/8 cup
Baking soda 5/8 tsp 1 tsp 1/2 tsp 1/2 tsp
Baking powder 3/4 tsp
Salt 3/4 tsp 1/2 tsp 1/2 tsp 1/2 tsp
Vanilla 1 tsp 2 tsp 3/4 tsp 1/2 tsp
White vinegar 1 tsp
Choc. chips 8 oz 12 oz 6 oz 6 oz
Oven temp 350F 375F 350F 375F
* A couple adaptations I'm entirely responsible for: I halved the recipe from the Times for easier comparison to the other recipes, and I used AP flour instead of a combination of bread flour and cake flour as the recipe called for – I sort of think the reason we have AP flour is so we don't have to mix flours all the time! You can see the recipes in their original format here (NYTimes) and here (King Arthur Flour)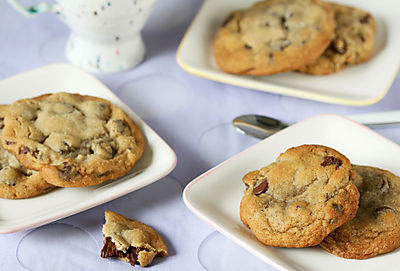 Clockwise from left: King Arthur Flour, New York Times, mine
Ok, lots of interesting observations and notes here:
First, the recipes for the Times and King Arthur Flour are not too different, with the exception of the 1/2 cup of shortening. While doubling the fat content would seem to lead to very dissimilar results, the cookies I got were pretty close appearance wise: fat, crinkly-surfaced guys with deep brown edges and a lovely golden center.
The Times cookie is undoubtedly very very tasty. Salt, the savory chef's best friend, is such a subtle and unappreciated player in the baking world. If you've ever baked a loaf of bread and forgotten to add salt, you know exactly how important its role is, yet in so many "sweeter" recipes like cakes, tarts, and cookies, it's easy to forget how a judicious pinch of salt can make highlight flavors, make them bloom to their full potential. I made the cookies both with and without the salt on top, and with the "salted" ones the flavor is definitely more vibrant, along with pleasing crunchy contrast of the salt crystals. Of course, all that salt is probably what helps make them so addictive!
There is a long discussion in the Times article about why a big cookie is essential because it allows for the development of different textural "zones" – from crispy edges to a chewy middle ring to a soft, just-baked center. It would seem that this cookie intends to cover all the bases for preferences! The recipe calls for 3 1/2 ounce balls of dough, which bake into a good 5 inches across – dear readers, that is large. Marion Nestle calculated that one cookie would contain about 500 calories!
I'm all for cookies that can encompass the entire range of textures, but I typically make my cookies about 44 g, which is about 1 1/2 ounces (yes, I use a scale to weigh them out!) Even one of these 1 1/2 ounce cookies leave me completely full and satisfied, so I suppose a 5″ diameter cookie would sadly be wasted on me. I do appreciate the sensory satisfaction of biting into a crispy-edged cookie and working your way to the soft and chewy center, and I think it's possible to achieve that in a smaller cookie – the ones I made definitely showed such transitions and were thoroughly enjoyable. It depends on your recipe: my cookie recipe bakes up with a much more even and fluffy quality throughout; I might tweak it to let it spread out more and develop a more heterogeneous texture.
As for the chilling tip: in the interests of performing a thorough and rigorous study, I baked some of the batches of dough immediately after making them, then refrigerated the rest for 36 hours and baked them off. There was an increased richness of flavor in all three doughs, so I really think the Times is on to something here. However, the cookies that I baked right away were also quite delicious and by no means "bad". So for those of you that need your cookie fix and can't imagine waiting 36 hours to bake them, I think the lesson to take away is that cookie dough can keep quite well. The ideal scenario is to have a batch of dough, bake off the amount you need, and save the rest to bake over the next couple of days. Then, instead of having a large batch of cookies slowly going stale, you can have fresh-baked cookies every day for 2 to 3 days. Note the Times recipe does say to use the dough within 72 hours; cookie dough will start drying out if you keep it for too long, and it's better to freeze it if you don't intend to use it within a few days.
The King Arthur Flour recipe is also a very good one: for those of you who believe in the virtues of the sadly unfashionable shortening, this cookie has a combination of soft, almost-chewy interior and light crisp exterior that only shortening can provide. To me, the Times and King Arthur Flour cookies tasted pretty similar right after baking, but after a day or so King Arthur Flour cookies had a more generally soft texture while the Times cookies had a firmer, chewier texture. They're really both fabulous cookies and I wish they'd been around for my first bakeoff.
If you compare the recipes to the ones I tested before, from Dorie Greenspan's, Kate Zuckerman's, Sherry Yard's, and Regan Daley's cookbooks, you'll also notice an interesting progression in cookie trends. Like anything else, chocolate chip cookies evolve and change to reflect current trends. Last year, there was a definite trend towards thin, chewy cookies with deep brown sugar-caramelly notes. My cookie is more of an old-school, classic style, that is thicker, cakier, and not as sweet. It seems like this new breed of chocolate chip cookie is kind of a supersized, "have-it-all" ultra cookie – it's chewy and crisp, sugar-sweet and vanilla-rich, punched up with salt, and uber-chocolately. If you look at the venerable Nestle Toll House recipe and compare ingredient amounts, there's just more of everything – very fitting for today's bigger-better-faster world.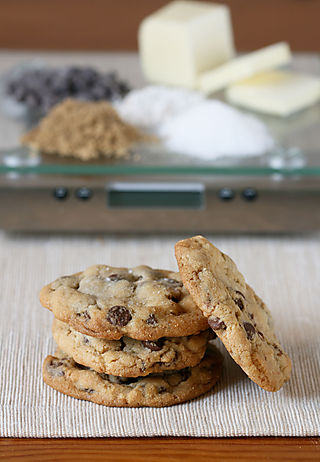 With this second testing go-round I think you all now have a full library of chocolate chip cookie recipes to play around with. Big, small, thick, thin, intense, subtle – they're all part of the ever expanding galaxy of cookies, each with their own mysteries and charms. And there's no knowing how many more cookies are out there waiting to be discovered. Who knows – perhaps in another year there will be another chocolate chip cookie update, as the quest continues on and on…