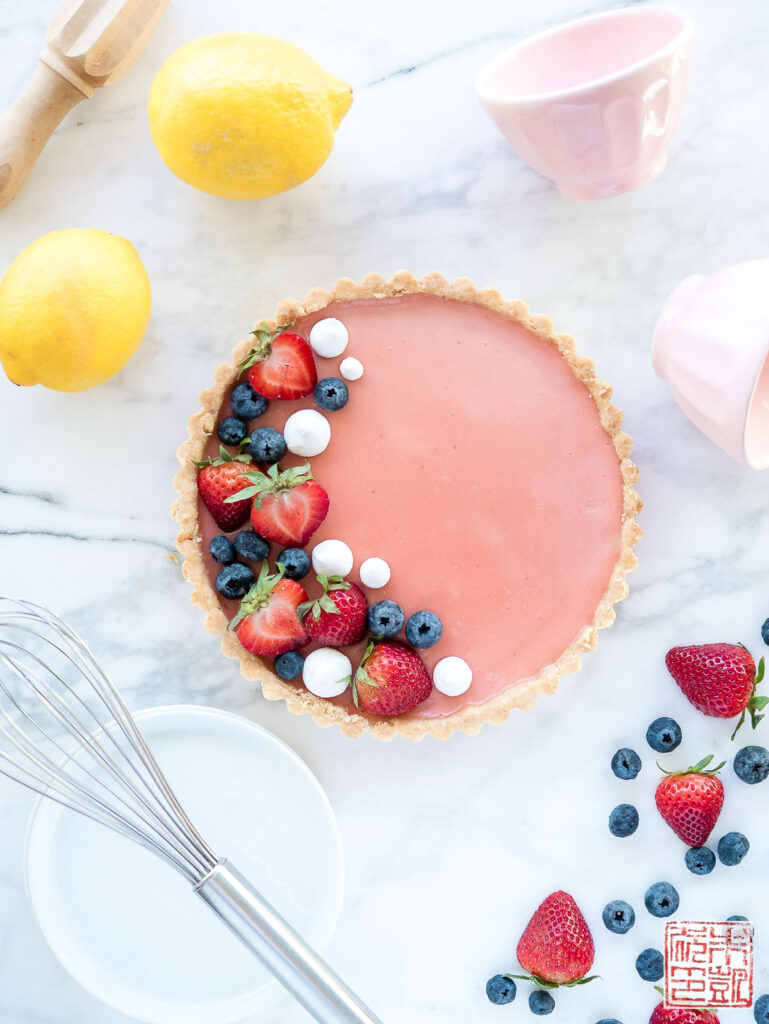 This strawberry lemon curd tart is as refreshing as a glass of strawberry lemonade in this warm summer weather. When this time of year comes around, all I want to make is fruit tarts. I've made so many other fruit curds before, but I'm surprised I never mixed strawberries and lemons together. We're in the middle of strawberry season right now, so this is a simple and beautiful way to enjoy (and preserve) some of them.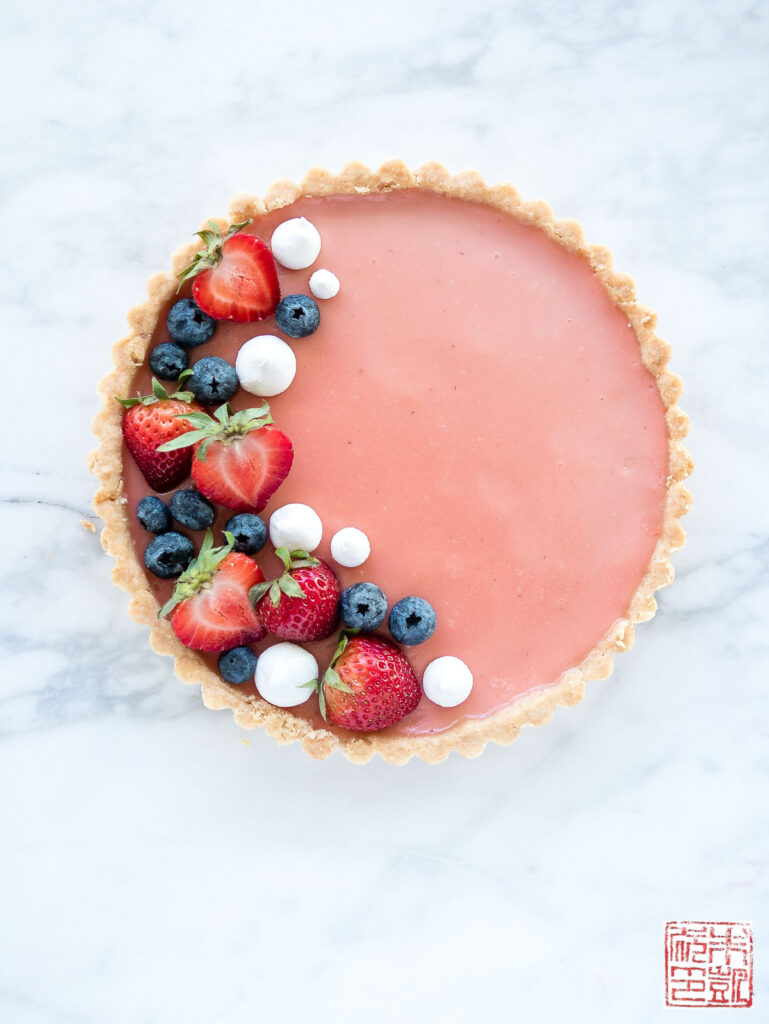 This strawberry lemon curd is the most perfect, delicate shade of pink, and it doesn't lose its color while being cooked, so don't worry! I used my favorite classic lemon curd recipe and adjusted it to add some perfectly ripe strawberries. You can use frozen strawberries instead of fresh, just make sure you cook them in a saucepan on the stove for several minutes to defrost and soften them before using them. 
Because of the added liquid from the strawberry puree, this curd may take longer to cook than the lemon-only curd, and it won't firm up as much in the saucepan. Make sure to cook it gently, stirring constantly, until it reaches 180 degrees F;  resist to urge to turn up the heat up high to make it cook faster. It should thicken but it will be looser than a custard. The curd will firm up more once it's chilled in the refrigerator for a while. I found that the curd will also firm up considerably more once it's spread in a thin layer into the tart shell, so if you're making this curd to use as a tart filling, I would go with three eggs. If you want to use it as a spread and want a more cohesive, spreadable consistency, you can add another egg to the curd when making it. Like many recipes involving fruit, you can adjust based on the actual fruit you're working with.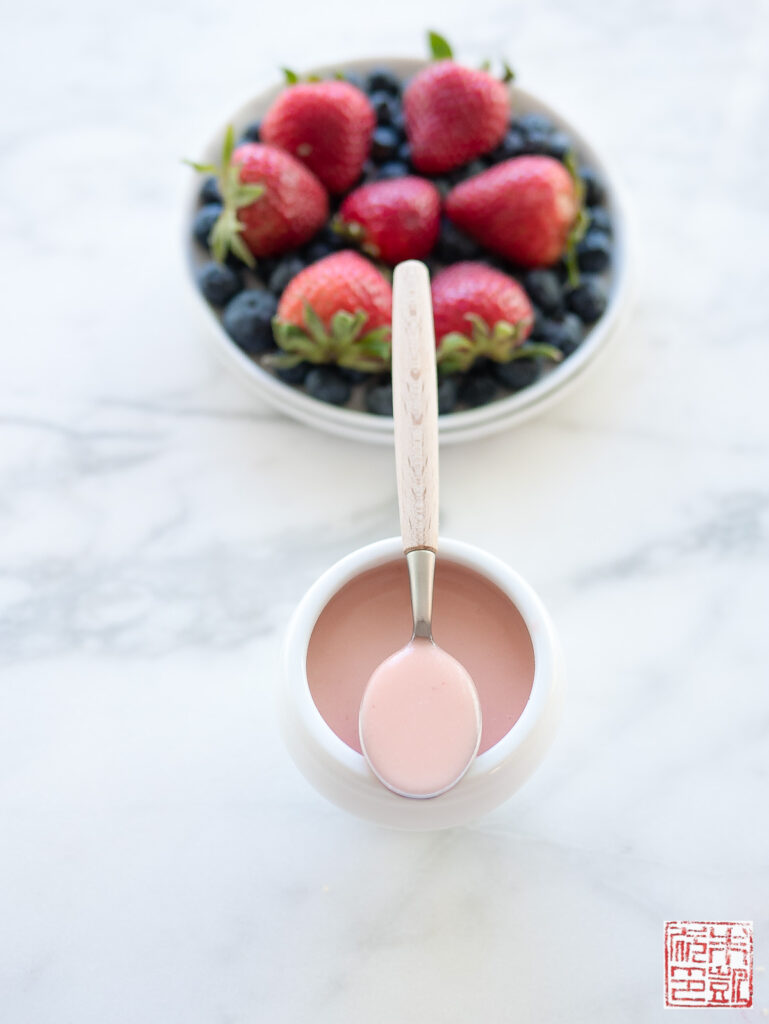 The result is both tart and sweet at once, and wonderful on anything from toast to scones. Spooned into a crisp, buttery tart shell and topped with some fresh berries, it tastes like summer concentrated into a candy. And the color just makes me happy (i'm partial to pink, if you haven't guessed).
This summer looks a little different in our home: no traveling, no summer camp, no pool parties. But I'm still looking for ways to make the most of it, by exploring locally and taking advantage of more time together at home to involve my daughter Isabelle in my interests. She's really taken an interest in baking with me; we made this strawberry lemon curd together, and afterwards she even helped clean up! I think I've found my baking assistant for the summer.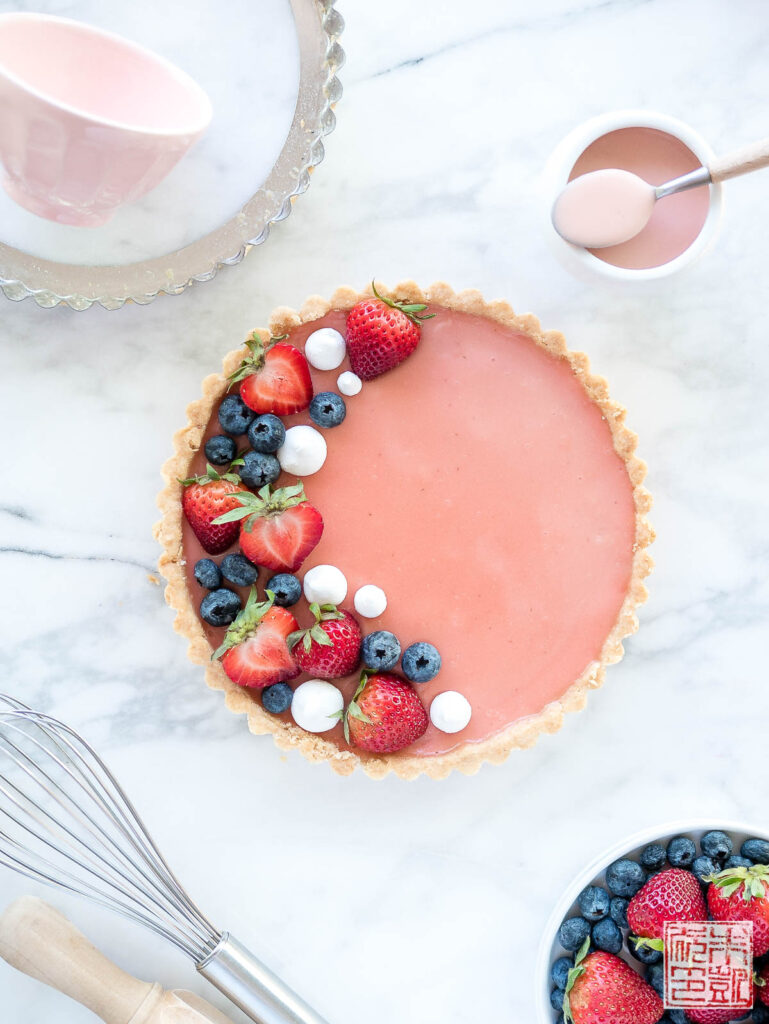 Strawberry Lemon Curd Tart
Serves:
(1) 8" round tart
Ingredients
Tart Crust
1 cup(125 g) all purpose flour
1 tablespoon dark brown sugar
¼ teaspoon salt
1 teaspoon lemon zest
8 tablespoons (110 g) cold unsalted butter, cut into ½ inch pieces
1 tablespoon cold water
½ teaspoon vanilla extract
¼ teaspoon almond extract
Strawberry Lemon Curd
1½ cups strawberries
¾ cup sugar
zest of two lemons
½ cup freshly squeezed lemon juice, from 3-4 lemons
3-4 large eggs (more eggs will give you a firmer curd)
6 tablespoons unsalted butter, cut into 1 inch pieces, softened but not melting
Instructions
For the tart crust:
Combine flour, sugar, salt, and lemon zest in a food processor. Pulse to combine.
Add in butter and pulse until butter is in pea-sized pieces.
Combine water, vanilla, and almond extract and drizzle over the mixture. Pulse to combine until the mixture resembles coarse crumbs – it should not be fully combined into a ball.
Turn out mixture onto a piece of plastic wrap and form into a disk about 1 inch thick. If you have trouble making it stick together add a few more drops of water.
Turn out dough onto a lightly floured surface. Gently press and form into the bottom and sides of an 8" round tart pan. Make sure to spread the dough out and up evenly to prevent an overly thick bottom or sides. You may have leftover dough.
Chill tart pan in refrigerator while preheating the oven to 375 degrees F.
Line the dough with foil and fill with pie weights. Bake tart shell for 15 to 20 minutes.
Remove the foil and bake until golden, 12 to 15 minutes more.
Remove tart shell from oven and let cool.
For the strawberry lemon curd:
Puree the strawberries in a food processor until smooth. Set aside.
Create a water bath by placing a saucepan of water over heat to simmer and placing a metal bowl unto the pan so its bottom does not touch the water.
Combine the sugar and lemon zest together with your fingers and add to the metal bowl.
Whisk in the eggs and lemon juice. Whisk in the strawberry puree.
Cook the mixture over the simmering water, whisking constantly, until the cream reaches 180 degrees and thickens. Keep whisking while the mixture is heating up to prevent the eggs from cooking.
Take the cream off the heat and strain it into the bowl of a food processor or blender. Let the cream rest for a bit until it cools to about 140 degrees.
Add in the butter pieces a few at the time and combine on high speed. Once all of the butter has been added, let the mixture combine for a few minutes longer to ensure the mixture is perfectly smooth.
Once the cream is finished pour it into a container and let it chill in the refrigerator for about half an hour before assembly.
To Assemble:
Spoon the strawberry lemon curd into the tart shell and spread out evenly with a small offset spatula or back of a spoon. Place back into the refrigerator for another hour to let the curd firm up more.
Decorate top with fresh berries. Serve soon after assembly.