Among my backlog of posts to finish are a bunch of cookbook reviews (I swear, the only thing that seems to multiply faster in my place than dust bunnies and kitchen equipment is cookbooks). One I've been particularly eager to share is Bill Yosses's The Perfect Finish
, which came out about a month ago.
Yosse, whose illustrious career includes stints under Daniel Boulud and Thomas Keller, is currently the executive pastry chef for the White House. So if you ever wonder what might be showing up for dessert on our President's dinner table, I'd suggest a look at this book!
The admirably wide-ranging set of recipes in The Perfect Finish are categorized into some intriguing-sounding chapters: Come For Brunch, I'll Bring Dessert, Straight From the Oven. I like that: the titles suggest all manner of sweet situations (although I can imagine few situations that couldn't be improved by something sweet). A glance at through the offerings is like a quick survey of all the places Yosses must have worked at during his career: everything from a Gingery Pumpkin Breakfast Bundt to Candied Bacon Peach Cobbler (which I am dying to make!) to Chocolate Halvah Marjolaine. There are selections from virtually every category of baked goods, from simple to complex, so whether you feel like tackling a complex project like sachertorte, or just have a cookie craving, there will be something to entice you.
I was looking for an opportunity to try out something from the cookbook, and the occasion turned out to be the Fourth of July weekend. Mike and I had my sister and her husband over for a little barbecue action, and it's probably not too hard to guess which course I volunteered to oversee, hmm?
I already had a vanilla- ollalieberry swirl made with leftover ollalieberries (yes, I haven't blogged about that yet!!) but knowing my sister has a preference for things chocolate-y, I flipped through the pages of the book until I hit on the Chocolate Caramel Tart with Sea Salt. That pretty much hits the decadence trifecta for me: perfectly smooth and creamy ganache, wickedly liquid caramel, and sea salt crunch-bombs.
The crust is a crisp pâte sablée which corrals a puddle of golden caramel. A bittersweet chocolate ganache fills out the top, along with a final stardusting of sea salt. All such simple components, but combined together alchemize into pleasure sublime.
A rare shot of chocolate metamorphosing into ganache (rare because I'm seldom prepared enough to take in-process shots!)
I actually nicknamed it the Twix Tart, because the textures and flavors reminded me of that classic candy bar: the cookie-like crust, the gooey caramel filling, the chocolate covering. Only, believe me, this is several magnitudes better!
I also loved the ease of execution: The only component that requires real planning ahead is the tart dough – if you can bake off the tart shell in advance, you can virtually assemble the entire tart an hour or so before dinner, and then forget all about it. It will happily cool and set on its own and be ready to devour at the end of the evening.
The recipes in The Perfect Finish are clearly laid out and a cinch to follow; I also really enjoyed the extensive headnotes, which often include anecdotes from his pastry career. There are several sidebars that include step-by-step tutorials for such processes as frosting a cake or making pie crust, a welcome addition for many bakers, I'm sure.
The Perfect Finish is perfectly accessible to home bakers, and an elegant inspiration for more experienced ones as well. That Candied Bacon Peach Cobbler is certainly next on my list of things to make!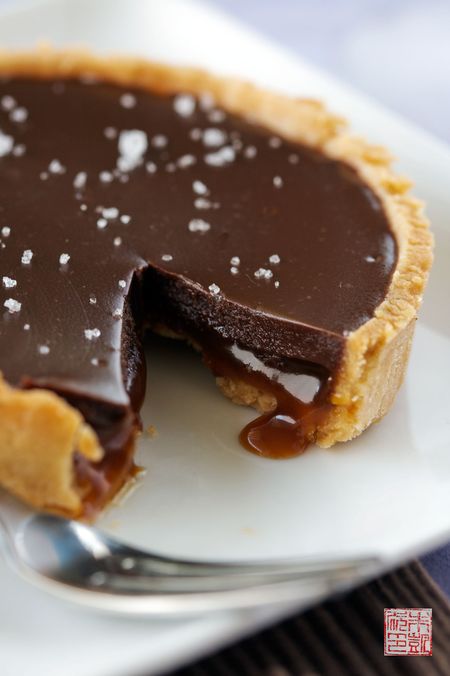 Disclosure: I was sent a review copy of The Perfect Finish by the publisher.
Chocolate Caramel Tart with Sea Salt
adapted from The Perfect Finish
makes (1) 9-in tart or (6) 3 1/2-in tartlets
Pâte Sablée
10 tablespoons (5 ounces) unsalted butter, room temperature
1/2 cup (3 1/2 ounces) sugar
2 eggs, room temperature
2 cups (8 1/2 ounces) all purpose flour
1 teaspoon salt
Caramel
1/2 cup (4 ounces) heavy cream
1 cup (7 ounces) sugar
pinch of Maldon sea salt (I used Camargue as that's what I had on hand)
Chocolate Ganache
12 ounces bittersweet (60%-66%) chocolate, coarsely chopped
2 cups (16 1/4 ounces) heavy cream
For the pâte sablée: Cream butter and sugar together in a stand mixer.
Add eggs and mix just until incorporated.
Add flour and salt and mix on low just until incorporated.
Scrape out dough onto a piece of plastic wrap and form into a disk. Wrap fully and refrigerate for at least 1 hour or overnight.
Flour work surface and roll out dough to 1/4″ thick. Lay into a 9″ tart pan or tart rings of your choosing and trim excess dough with a knife. Refrigerate for an hour before baking.
Preheat oven to 350 degrees F. Line tart shell with foil and fill with dried beans or pie weights. Bake for 30 minutes (check earlier if you are baking individual tarts), turning halfway through.
Remove foil and weight and bake for 10 more minutes (individual tarts may not need additional baking time). Tart shells should be lightly golden. Remove from oven and let cool fully on wire rack before filling.

For the caramel: Place cream in a small saucepan and bring to boil. Set aside while you cook the sugar.
Combine sugar with 5 tablespoons of water in a heavy saucepan. Cook over high heat, stirring, until sugar dissolves.
Bring mixture to boil and cook withou t stirring for about 4 minutes until it turns dark amber. Swirl to ensure it cooks evenly.
Take mixture off stove and pour cream slowly into the sugar (it will boil up so don't pour in all at once.)Stir until incorporated and smooth.
Add in salt. If caramel has cooled too much and become thick, place over heat and warm until it is liquid enough to pour.
Pour the caramel into the tart shell, covering the bottom evenly. Let cool until it firms and is no longer shiny. You can place the tart shell in the refrigerator to speed up the process.
For the ganache: Place chocolate and salt in a heatproof bowl.
Place cream in a small saucepan and bring to a boil on high heat on the stove.
Pour cream over the chocolate and let sit for a few minutes. Then whisk slowly and gently to combine. Do not stir too vigorously as this incorporates air into the ganache and gives it a less smooth and velvety texture.
Pour the ganache into the tart shell over the caramel. Let set at room temperature for at least 3 hours or up to 12 hours. (If you place the tart with warm ganache into the refrigerator, the ganache can cool too fast and end up cracking – unsightly but still edible, of course).
Sprinkle with sea salt before serving.