Sometimes it seems like the Bay Area is ground zero for chocoholics: new local artisan chocolatiers popping up every month, whole stores dedicated to chocolate from around the world…when burnt caramel and pink peppercorns are commonplace, it's enough to make the pickiest of connoisseurs feel spoiled for choice.
A very fine, recent example: I was lucky enough to attend a chocolate launch party for Madécasse, an up-and-coming chocolate company based in New York making its San Francisco debut. In the world of chocolate, where buzzwords like "fair trade" and "single origin" are thrown about like sea salt on caramel, Madécasse is laying claim to a unique niche.
All of Madécasse's chocolate bars are made in Madagascar, with locally grown cacao. Madagascar is one of world's major sources of cacao, yet the cacao is usually exported, turned into chocolate in factories elsewhere in the world. Madécasse's mission is to create new opportunities for the local Malagasy population in Madagascar, by training them to create chocolate, from bean to bar. Cacao is harvested, then dried, then turned into chocolate bars in local factories. As the website explains, keeping the production of chocolate in Madagascar lets the local community retain much more of the profits – up to four times more than simply producing and selling fair trade cacao.
Madécasse was founded by Brett Beach and Tim McCollum, who worked for 10 years in the Peace Corps in Madagascar. Their dedication to improving the life of the Malgasy people is heartwarming and inspiring. And, their bars are quite good – a valuable addition to the growing library of global chocolate.
We got to try all seven of their bars; five of them are straight dark chocolate, ranging from 63% to 80%, while a milk chocolate and sea salt nibby bar round out the collection. The 67% and 70% hit my sweet spots – the 63% was nicely buttery and smooth, with a supple curl of a finish, while the 70% has wonderful tart fruit notes up front, slightly more astringent in the finish. The 75% and 80% are excellent for those who love their dark chocolate dark and dry. I highly recommend these bars  – not only will they satisfy your chocolate craving, but you'll be supporting a truly worthy endeavor in Africa.
Madécasse also features Madagascar's other famous culinary product: vanilla. I was gifted Madécasse's entire line of vanilla products – vanilla extract, vanilla beans, vanilla cane sugar, and vanilla powder. Now, I've used versions of the first three products before, but I'd never tried vanilla powder! It's essentially vanilla beans ground to a fine powder: many recipes I found simply use the powder as a substitute for extract. Unscrewing a bottle of vanilla powder is like opening a bottle of perfume: that florid, intoxicating scent virtually leaps out at you. Although I could simply use it in lieu of extract, I was really curious to emphasize its powdery form.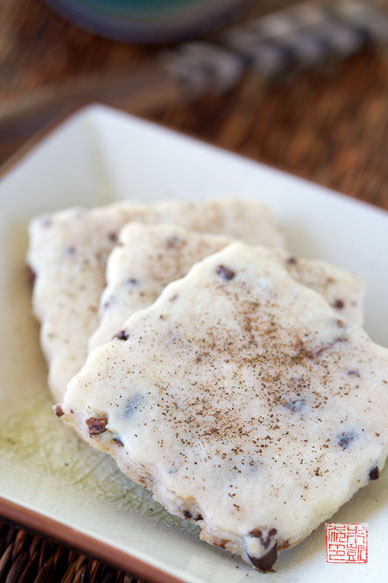 I remembered in Alice Medrich's Pure Dessert
how she experimented with dusting freshly baked goods with spices instead of incorporating them into the batter; the difference in taste was surprisingly intense. I took that inspiration to make a batch of my favorite shortbread, shot through with cacao nibs and sprinkled with vanilla powder.
I've written enough odes to shortbread that a mere gushing should suffice here: I really like the cacao nibs in the shortbread. They taste like chocolate chips from the wild, crunchy little shards of elemental chocolate-ness in a golden buttery sea.
I did my best to be a good culinary scientist and tried sprinkling the vanilla powder on the cookies before baking and right after baking. The addition of vanilla powder certainly bumps up the flavor in the shortbread, but I found a dusting it on after they came out of the oven does allow the vanilla to come out while maintaining its distinctness. There's a lovely sensuousness to it: the fine grains of vanilla unfurling on oven-warm shortbread, dissolving lightly on the tongue like flecks of a faraway paradise. You might try it, even if you don't have vanilla powder, with your favorite spice – nutmeg, cinnamon, cardamon? Just be sure to sprinkle with a light hand: a mini sifter might be handy to avoid dumping a pile of spice atop your awaiting cookie!
So there you have it – chocolate and vanilla, two of the oldest dessert flavors under the sun, and yet there's always a new way to appreciate them. Thanks, Madécasse!
Cacao Nib Shortbread
Makes 36  2 inch by 1 ¼  inch cookies
1 ½ cups all purpose flour
½ cup rice flour
1 cup (8 oz) unsalted butter, room temperature
½ cup granulated sugar
1 tsp vanilla extract
¼ tsp salt
1/3 cup cacao nibs
vanilla powder for sprinkling
Whisk both flours together in a bowl  and set aside.
In the mixing bowl with the paddle attachment, cream together the butter, sugar, salt and vanilla extract on medium speed until light and fluffy.
Remove bowl from mixer and mix in the flours by hand with a wooden spoon, until combined. The dough should be homogeneous and stick together as one lump, but try to mix as little and gently as possible – this will make the shortbread more tender. Stir in the cacao nibs.
Place dough on a piece of plastic wrap and flatten into a ¾ inch thick  rectangle.
Refrigerate for 2 hours to firm up the dough. At this point the dough can be double wrapped and frozen for up to 2 weeks. Defrost frozen dough overnight in the refrigerator.
Preheat oven to 325 degrees F. Grease several cookie sheet pans or line with parchment paper.
On a floured board, place dough and dust with flour. Gently roll out dough to ¼ inch thickness and cut into desired shapes. If dough gets soft, place back into refrigerator for 5 minutes.
Place on sheet pans leaving 1 inch space between cookies. Dock centers of cookies with the tines of a fork twice.
Bake for 15-17 minutes or until edges a lightly golden in color. Remove from oven and place on wire racks. Dust lightly with vanilla powder and let cool before eating.