Edited 9/19/08: Go right below the last photo to see the text I added about Robert Steinberg, co-founder of Scharffen Berger Chocolates.

I'm no fashionista by any means – you'll sooner find me in Sur La Table than in Saks, and when in bookstores I go for the cooking magazines over the fashion glossies. However, it has not escaped even my offhand attention that purple seems to be quite the popular shade for fall – in every store window I pass by there seem to be clothes in hues of mauve, eggplant, violet, and plum.
Well, my wardrobe may not be on-trend for fall, but my kitchen is: I've been hoarding plums of every variety that I can find at the market. Their dramatic, jewel-toned skins give them star presence on my table: every day they remind me that I ought to use them properly, in a way befitting their gorgeous succulence.
I'd been wanting to make a galette, and what better showcase for delicately thin slices of plum, fanned out in a golden, ruby-edged sunburst?
Interestingly, galette can mean many things in France, depending on the region. It can be a flaky, sablé-style butter cookie. It can be a crêpe, especially a savory one. It can be a round, pastry-like cake – King's Cake is known as galette des rois, and I made it in pastry school – what a time-consuming task that was! But galette can also mean a freeform, open-faced tart, and that also seems to be the most popular incarnation of the term over here in the states. To me, the casual, almost deceptive rusticity of a galette is what makes it so charming: it simultaneously embodies the spontaneity of making use of what's fresh at the moment, and it's also a really tasty way to enjoy some really delectable fruit.
I kept the galette as simple as possible: my favorite blitz puff for a light, flaky, buttery crust, spread with a little frangipane to add some nutty dimension, and a topping of plum slices – nothing else required. 
However, just as in fashion you choose the styles that appeal to you (or least pick the ones that suit you best so you don't end up a fashion victim!), so I've made two variations of the galette, so you can select which one catches your fancy.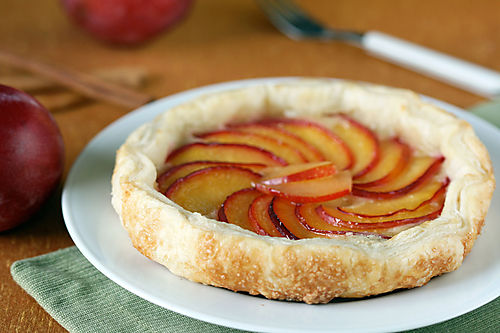 Modern Classic: This is traditional, tried-and-true, and never out of style: buttery puff pastry, almond frangipane laced with vanilla bean and cinnamon, and sweet, juicy plums on top. Notice the puff pastry got so puffy it nearly unfolded itself!

Edgy Sophisticate: This number adds a few unexpected twists for a different sensibility. The puff pastry has cocoa powder added for a bittersweet chocolate richness, and the frangipane is flavored with star anise. Combined with the plums, this makes for a decadent and no less delicious experience.
I found both of them worked quite well with the fruit without overpowering it. Flaky, delicate, fruity, sweet, rich – everything I was looking for. And it was so simple to put together, it's easy to experiment with other additions and combinations. I hope you try your own combinations of flavors with this galette. Who knows, you may find your signature style!
Added 9/19/08: When I took the photo above a day ago, I had not heard the news yet that Robert Steinberg had passed away on Wednesday. A sad coincidence that I used his chocolate in my latest photo, but I hope to turn it into a belated tribute to him.
When Robert Steinberg and John Scharffenberger joined together to form Scharffen Berger Chocolate Maker, Inc. in 1996, they were at the forefront of the American artisan chocolate revolution. As their chocolate bars made their way into stores across the country, Americans learned about where cacao comes from, how it is turned into chocolate, and what makes a good chocolate. Before them, most home bakers could only find Hershey's and Nestle chocolate in the stores. Now bakers everywhere can find Scharffen Berger and Guittard and Valrhona in the supermarket, and they have Scharffenberger and Steinberg to thank for that.
I have Scharffen Berger's book, Essence of Chocolate – see this post for my in-depth thoughts on it. It's one of my favorite cookbooks, because you can really feel the passion of these two men for chocolate. It's not just a vanity cookbook with some recipes – there are in-depth, heartfelt discussions of the cacao industry, on how chocolate is made, and on the joy that making and eating chocolate can bring. The two of them have made an indeliable contribution to the world of fine chocolate – and I'm so proud that the company is in the Bay Area, right in my backyard.
It is a sad day for chocolate lovers everywhere. You can also read the offical statement by John Scharffenberger and the New York Times article on this chocolate visionary. I hope you remember Robert Steinberg the next time you eat or bake with some fine chocolate – I'm going to have a piece of Scharffen Berger 70% in his memory.
Plum Galettes
makes (4) 7" round galettes
3-4 plums
1 recipe Blitz Puff, see below
1/2 cup frangipane, see below
Egg white for egg wash
Turbinado sugar for sprinkling
Apricot jam for glaze
Preheat the oven to 375 degrees F. Line a couple baking sheets with parchment paper or Silpats.
Halve and pit the plums. Slice them thinly.
Divide the puff pastry in four parts and return three pieces to the refrigerator to keep them cold. Roll out the fourth piece on a lightly floured surface to about 1/4" thick (not too thin).
Using a sharp knife, cut the pastry into an approximately 8"-9" circle, depending on how big the plum slices are. There should be about 1/2" between the edge of the pastry and plums after you lay them out.
 Spread a thin layer of the frangipane on top of the puff pastry, leaving a 1/2" border clear. Do not make the frangipane too thick or it will puff out and make the galette lose its shape.
Arrange the plum slices in a circle on the frangipane.
Fold the border of the pastry up and over the fruit, pleating the edges together. If you want, you can brush the edges with a little beaten egg white and sprinkle turbinado sugar over them.
Bake in the oven for 15 to 20 minutes, rotating halfway through. The puff pastry should puff up and turn golden brown. Place galettes on a wire rack and brush lightly with apricot jam. Let cool slightly before serving.
Blitz Puff Pastry

makes (4) 9" ci rcles

10 ounces all purpose flour
10 ounces unsalted butter, very cold, cut into 1-in pieces
3/4 tsp salt
90 ml water, ice cold
For chocolate puff pastry, add 1/2 cup cocoa powder to the flour before combining with the butter.
Combine the flour and butter in the bowl of a stand mixer. Mix the ingredients together on low speed  until the mixture is shaggy and resembles cornmeal, with visible pieces of butter still. Do not let the flour and butter turn into a solid ball of dough – if the components are completely mixed you will not have the layering of flour and fat needed to form the flaky layers!
Add the salt to the mixture. Pour in the water and mix on low speed just until the dough starts to come together; again, don't let the dough turn into one solid lump. There should still be little pieces of butter and the dough should be sticky.
Turn the dough out onto a well-floured surface and form into a square. If the kitchen is warm and the dough is very soft and sticky, place it on a sheet pan and chill in the refrigerator for about 10 minutes until it firms up enough to work with.
Using flour as necessary to keep the dough from sticking, roll out the dough about 1/2 inch thick and in the shape of a rectangle. The dimensions are not important – a roughly rectangle shape is fine, but try to keep the edges straight and square with each other so when you fold the dough over the edges will line up evenly.
To do a single turn on the dough, imagine the long side of the rectangle divided into thirds. Fold one end third over onto the middle third, then fold the other end third over on top, making a trifold. Make sure the edges are lined up as evenly as possible.
Roll the trifold out again to about 1/2" thickness and in the shape of a rectangle, switching the directions of the long and short sides – in other words, the folded sides of the trifold should become the long side and the open sides should become the short side.
Do another turn (trifold) with this rectangle.
Repeat this process one more time so you have done a total of three turns. If at any point the dough starts becoming very soft or rubbery, let it rest in the refrigerator for a little bit before working on it some more.
Roll the dough out into a rectangle. This time, do a double turn – imagine the long side of the rectangle divided into fourths. Fold both end fourths over onto the center fourths, then fold the two sides together again so all four layers are stacked on top of each other. Wrap the dough up completely in plastic and refrigerate until ready to use.
Frangipane (adapted from Nick Malgieri's How to Bake
)
3/4 cup blanched almonds
1/2 cup sugar
1 teaspoon almond extract
2 eggs
4 tablespoons unsalted butter, cut into small pieces
1/4 cup flour
If you want to flavor the frangipane, you can add: 1 teaspoon vanilla bean paste, 1/2 teaspoon cinnamon, 1/2 teaspoon grated star anise. Add more to taste.
Place almonds and sugar in a food processor. Process until almonds are very fine.
Add almond extract and one of the eggs and process until smooth.
Add the butter and process until fully combined and the mixture is smooth.
Add in the egg and process just until incorporated.
Add in the flour and process just until incorporated.
You can use the frangipane immediately or store in the refrigerator for up to 3 days.