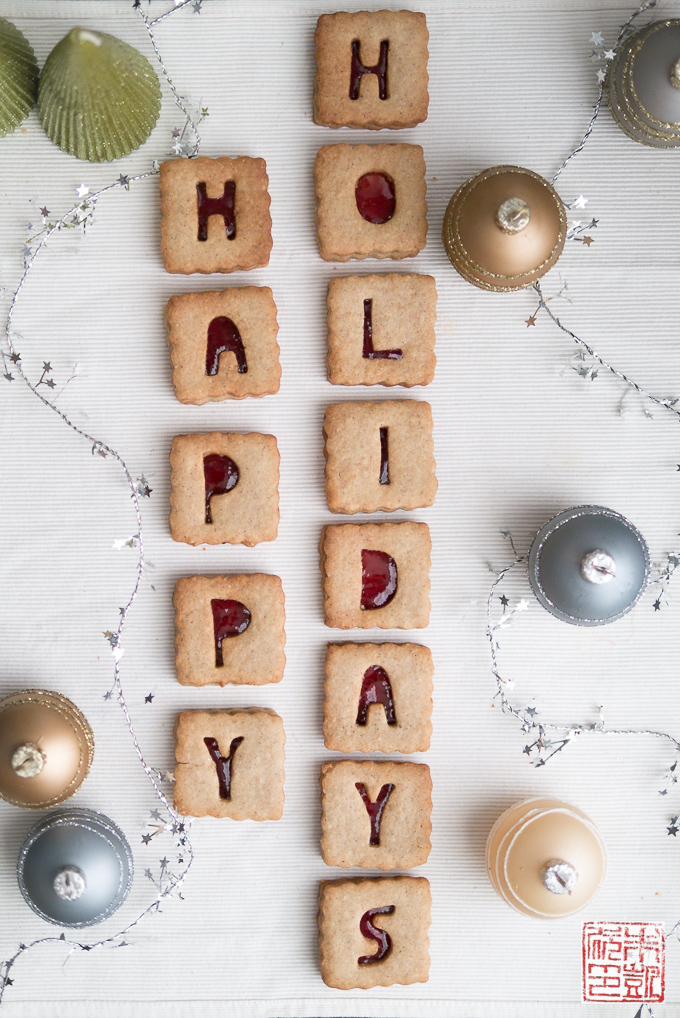 Alphabet cranberry linzer cookies – the classic holiday cookie updated with a spiced cranberry filling and letter cutouts to spell your warmest holiday wishes.
Cookie swaps are one of my favorite parts of the holiday season: since I never have enough time to make all the different cookies I've been dreaming of, going to parties that are all about sharing and eating as many cookies as possible is the best alternative. Better, actually, since I get the company of friends as well and I won't be stuck at home with twelve dozen cookies that I have to try and give away before I binge eat them all.
This year I'm happy to be part of a virtual cookie swap: Rodelle's 21 Days of Cookies. I and 2o other lovely food bloggers are each sharing a holiday cookie recipe to celebrate the season. Hopefully this will give you plenty of inspiration for your own parties and gift giving!
Linzer cookies have always been one of my favorite cookies to take to holiday parties: they're just so inherently festive with their warm spicy scent and Christmas ornament-hued fillings. I also love the endless shapes you can make with them; the partridge in a pear tree remains one of my most favorite cookie cutter discoveries. A few years back I made linzer cookies for a cookie swap and cut out letters in the cookie tops. They ended up being a hit at the party as people turned the cookies into an impromptu game of Scrabble. I've revisited and reworked that recipe so you can get your own game going at your next party.
This updated linzer cookie is a bit of a cross between traditional linzer cookies and sugar cookies. They're a bit sweeter and less nutty, which lets the vanilla and spices shine through. The almond meal still makes the dough quite soft, so you still do need to give it a chill before rolling it out. It bakes up lovely and buttery-crisp, firm enough for sandwiching some jam but still tender enough to crumble satisfyingly under the bite. Just like macarons, a bit of aging after you fill the cookies will only make them tastier.
I made the cookies with a combination of a fluted square cutter – the smallest one in this square cutter set (about 1 3/4″ across) and this alphabet cutter set
, so they really do look like game tiles. Everyone seems to love them, but especially kids, who seem to obsess an extraordinary amount of time over just the right letter to pick. You may want to make a few extra letters so people can spell out their names or other messages.
Although any jam will work great as a filling, I made my own with some cranberries cooked down with some orange zest and a cinnamon stick – the very scents of the season filling the kitchen. The tartness of the cranberries pairs well with the sweet cookies, and all the spices just put me in the holiday mood.
I'll be back in a day or so with my holiday baking cookbook roundup! In the meantime, be sure to visit all the other bloggers in Rodelle's 21 Days of Cookies, and I hope your kitchen is filled with sweets and sugarplums!
Disclosure: I was not compensated for this post. All opinions are my own. There are Amazon affiliate links in this post – thanks for supporting Dessert First!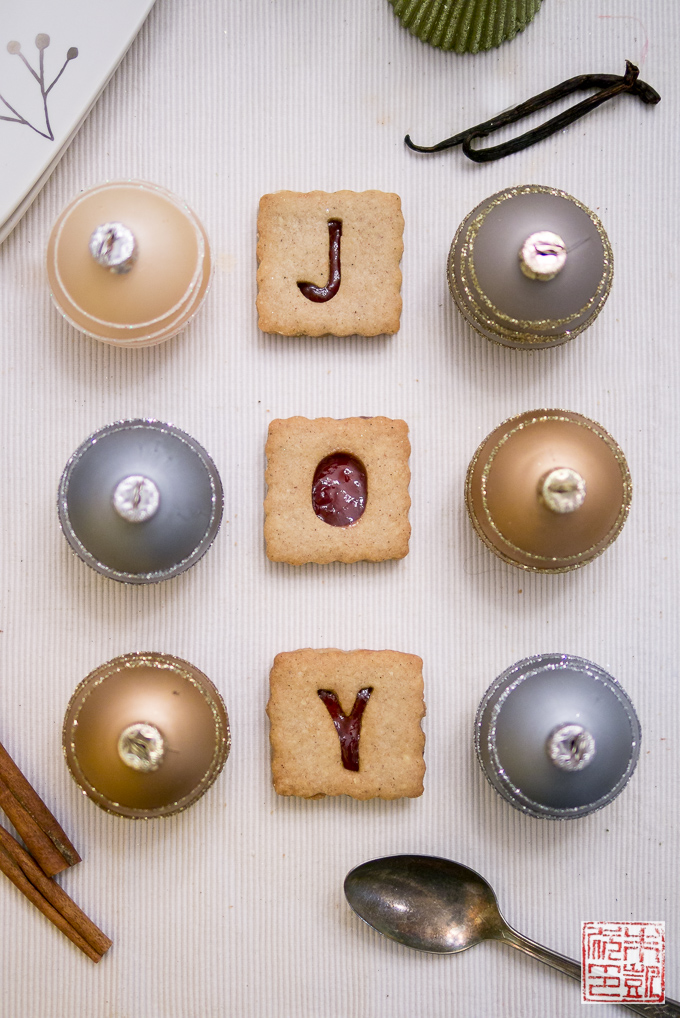 Alphabet Cranberry Linzer Cookies
Serves:
about 40 linzer cookies
Ingredients
Linzer Cookies
2¾ cups (344 g) all purpose flour
¼ cup (30 g) almond meal or ground almonds
2 teaspoons ground cinnamon
½ teaspoon ground cardamon
1 teaspoon baking powder
¼ teaspoon salt
1 cup (226 g) unsalted butter, room temperature, cut into 1-in pieces
¾ cup (150 g) sugar
1 egg
1 teaspoon Rodelle vanilla extract
about ¼ cup (30g ) confectioners' sugar for dusting if desired
Cranberry Filling
12 oz (340 g) cranberries
1 cup (200 g) sugar
zest of an orange (or 1 teaspoon orange extract)
1 Rodelle cinnamon stick
Instructions
For the cookies:
Combine flour, almond meal, spices, baking powder, and salt in a bowl and set aside.
Combine butter and sugar in food processor and process until light and fluffy, a couple minutes.
Add egg and process until combined. Add flour mixture and beat on low speed until the dough just comes together.
Turn out dough onto a clean surface and form into a flat rectangle about 1 inch thick. Wrap in plastic and refrigerate at least 2 hours until firm.
Preheat oven to 350 degrees F. Line several cookie sheets with parchment paper or silicone baking mats.
Roll dough to about 1/16 inch on lightly floured surface. Cut out shapes with a 2-inch wide cookie cutter. Use a small cookie cutter to make cutouts in half of the cookies, so when you make sandwiches the filling will show through. Arrange cookies on cookie sheets about 1 inch apart.
Chill cookies on the sheets for about 15 minutes before baking (This will prevent them from spreading).
Bake for 9 to 11 minutes, until cookies turn golden brown and smell like toasting nuts, rotating sheets halfway through. Cool sheets on wire racks.
Wait until cookies are completely cool before assembling them.
For the filling:
Combine all ingredients with ¾ cup water in a heavy saucepan. Cook over medium-high heat until mixture comes to a boil.
Turn down heat to keep mixture at a low simmer and cook for another 20 minutes, stirring occasionally to burst cranberries, until mixture is smooth and thick.
Let filling cool completely before using.
Stir the filling to soften it, and spread over half the cookies. Sift the confectioners' sugar over the rest of the cookies if desired and place them on top of the jam covered halves.