Alphabet Cranberry Linzer Cookies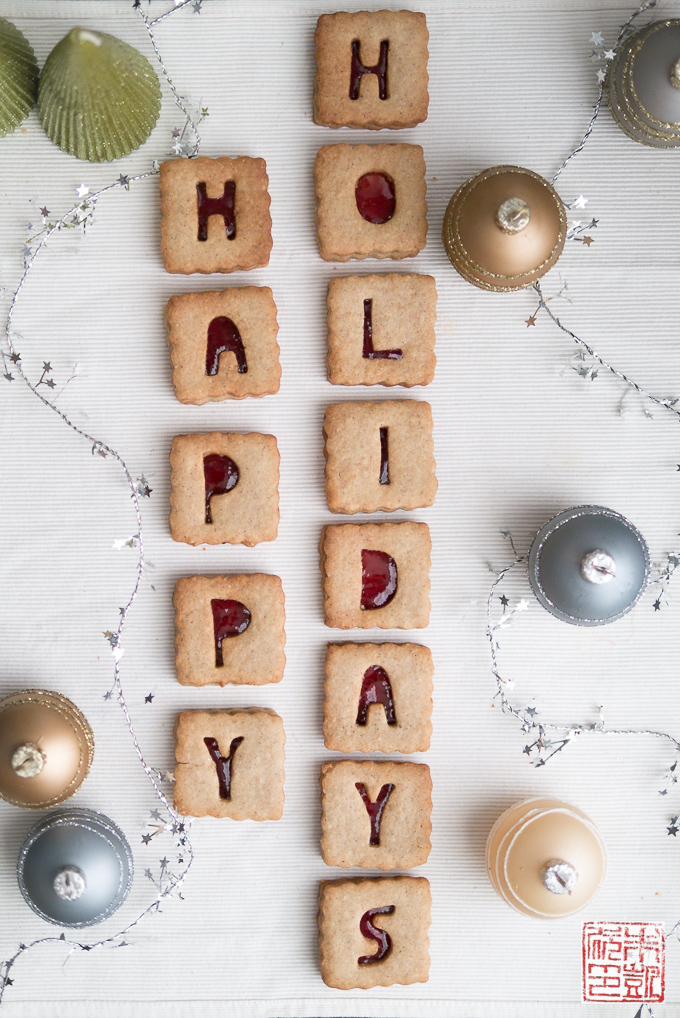 Serves:
about 40 linzer cookies
2¾ cups (344 g) all purpose flour
¼ cup (30 g) almond meal or ground almonds
2 teaspoons ground cinnamon
½ teaspoon ground cardamon
1 teaspoon baking powder
¼ teaspoon salt
1 cup (226 g) unsalted butter, room temperature, cut into 1-in pieces
¾ cup (150 g) sugar
1 egg
1 teaspoon Rodelle vanilla extract
about ¼ cup (30g ) confectioners' sugar for dusting if desired
12 oz (340 g) cranberries
1 cup (200 g) sugar
zest of an orange (or 1 teaspoon orange extract)
1 Rodelle cinnamon stick
Combine flour, almond meal, spices, baking powder, and salt in a bowl and set aside.
Combine butter and sugar in food processor and process until light and fluffy, a couple minutes.
Add egg and process until combined. Add flour mixture and beat on low speed until the dough just comes together.
Turn out dough onto a clean surface and form into a flat rectangle about 1 inch thick. Wrap in plastic and refrigerate at least 2 hours until firm.
Preheat oven to 350 degrees F. Line several cookie sheets with parchment paper or silicone baking mats.
Roll dough to about 1/16 inch on lightly floured surface. Cut out shapes with a 2-inch wide cookie cutter. Use a small cookie cutter to make cutouts in half of the cookies, so when you make sandwiches the filling will show through. Arrange cookies on cookie sheets about 1 inch apart.
Chill cookies on the sheets for about 15 minutes before baking (This will prevent them from spreading).
Bake for 9 to 11 minutes, until cookies turn golden brown and smell like toasting nuts, rotating sheets halfway through. Cool sheets on wire racks.
Wait until cookies are completely cool before assembling them.
Combine all ingredients with ¾ cup water in a heavy saucepan. Cook over medium-high heat until mixture comes to a boil.
Turn down heat to keep mixture at a low simmer and cook for another 20 minutes, stirring occasionally to burst cranberries, until mixture is smooth and thick.
Let filling cool completely before using.
Stir the filling to soften it, and spread over half the cookies. Sift the confectioners' sugar over the rest of the cookies if desired and place them on top of the jam covered halves.
Recipe by
Dessert First
at https://dessertfirstgirl.com/2015/12/alphabet-cranberry-linzer-cookies.html