I got a call from my mom reminding me that the Mid-Autumn Festival was coming up: since its date is tied to the lunar calendar, it falls on a different day on the Western calendar every year, but usually some time in late September. This year it falls on Sunday, September 14, when the moon will be at its fullest, most lucent beauty.
If you've read my previous Mid-Autumn post, or you celebrate it yourself, you know what Mid-Autumn means foodwise: mooncakes, those elaborately molded little cakes that hide a gleaming whole egg yolk inside, a tribute to the shining full moon overhead. Every bakery, and grocery, in Chinatown has tins of these delicacies piled high, ready for buying and gifting.
Perhaps because of the ubiquity of these cakes at Mid-Autumn time, I've never thought to recreate them at home. There's another, less pretty reason as well: I'm not the biggest fan of mooncakes. They are dense, rich, heavy, and the salted egg yolk has just never made it onto my list of favorite tastes. However, my very American boyfriend quite enjoys them! Go figure.
So, in lieu of trying to make mooncakes at home, I'm making a different lunar-themed dessert to celebrate the holiday. The Mid-Autumn Festival is all about appreciating the beauty of the luminescent, equinoxal moon, so what I made was a black sesame panna cotta that hopefully alludes to the speckly, variegated surface of the moon.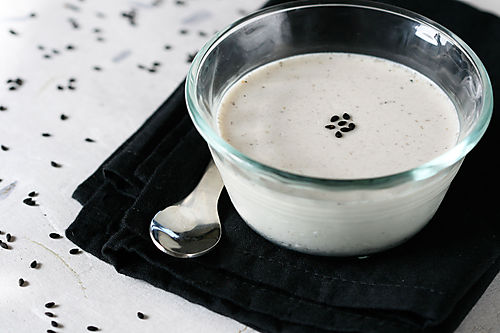 Black sesame is a classic Chinese flavor, especially in desserts, so it's a natural to add to a basic panna cotta, which takes flavors so well. Here, the delicate, slightly smoky taste of toasted black sesame is perfectly showcased in a unctuous, just barely set, creamy panna cotta.
You can find black sesame powder in most Asian groceries; it's often mixed with milk or water, similar to chocolate powder, so it works beautifully here in the panna cotta. You can also find black sesame paste, although I haven't used so I don't know what the results would be like: I imagine you may get a more uniformly black color, and it might be sweeter from the extra sugar in the paste. Finally, if you can't find either, you can always resort of grinding together black sesame seeds, which I did! It does work, although unless you've got an amazing food processor or are a whiz with the mortar and pestle, you will probably want to strain the panna cotta mixture after you cook it to get rid of any large bits of sesame, which would totally defeat the perfect, silken texture you're aiming for.
I also haven't figured out how to manipulate those specks of sesame so form a man-in-the-moon pattern, or the Chang'e and the Jade Rabbit: Chang'e is the Chinese goddess of the moon, and her companion is the Jade Rabbit, who can be seen pounding out the elixir of life on a stone. Nevertheless, I think the panna cotta is suitably celestial-seeming, and tasty to boot!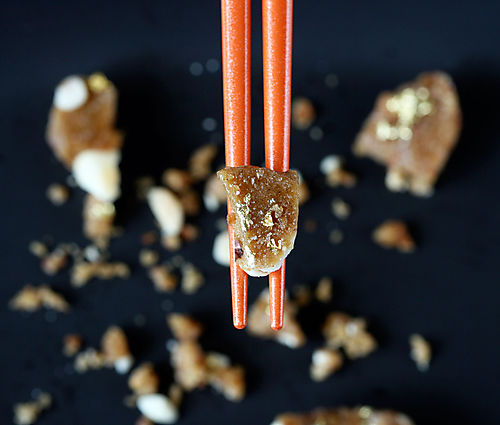 In Chinese desserts, sesame and peanut are a natural pairing, so to go with the panna cotta I made a five-spice peanut brittle. It's crunchy, buttery, sweet, and has just a lick of spice from the addition of Chinese five spice. This Chinese kitchen staple is a combination of five spices that is meant to hit all five basic flavors in Chinese cooking – sweet, salty, sour, bitter, and savory. The actual spices can vary, although the most common ones are cassia (Chinese cinnamon), fennel seed, star anise, ginger, and cloves. It gives off a distinct, earthy aroma when used in cooking, and it lends a fabulous, exotic dimension to the peanut brittle. Broken into pieces, the brittle makes a lovely complement to the panna cotta, scattered about like shining stars in the inky night sky.
Happy Mid-Autumn, and be sure to enjoy the full moon this weekend!
Oh, and since I made this for a celebration, it seems appropriate to make this my contribution to Susan's Blogiversary Bash at Sticky, Gooey, Creamy, Chewy. Happy blogiversary, dear!
The Mid-Autumn Festival is always on the 15th day of the 8th lunar month. This year it falls on September 14th.
Other Recipes to Try
Sesame Balls with Chocolate Filling
Wasabi Ginger Truffles with Black Sesame
P.S. You may notice that I've done some tinkering with the page layout – things have been moved about, doodads and widgets added, but nothing's been taken away, I think! Now there's a direct link to my upcoming book on Amazon and Chronicle Books, as well as to my Amazon store. Hope you enjoy the refresh!
Black Sesame Panna Cotta
makes 6 servings
2 teaspoons powdered gelatin
1 1/2 cups heavy cream
1 1/2 cups whole milk
1/2 cup sugar
pinch of salt
2 1/2 tablespoons black sesame powder
Fill a small bowl with about 6 teaspoons of cold water. Sprinkle the gelatin over the water and let it turn into a gummy paste.
Combine the cream, milk, sugar, and salt in a medium saucepan and bring just to a simmer on the stove over medium heat. Do not let it come to a boil; it should be steaming hot and just starting to bubble.
Remove from heat and stir in the gelatin, stirring until it dissolves fully.
Stir in the sesame powder. Let the mixture cool to room temperature.
Strain the mixture if necessary. Pour the mixture into individual glass dishes or ramekins. Cover with plastic wrap and refrigerate overnight.
When you are ready to serve the panna cotta, dip the dishes briefly in hot water to loosen the panna cotta and invert onto a plate.
Five Spice Peanut Brittle
2 cups sugar
1/2 cup water
1 cup corn syrup
2 cups raw peanuts
1 tablespoon butter
2 1/2 teaspoons five spice powder
2 teaspoons baking soda
Prepare a surface to pour the brittle onto – you can cover a marble surface with cooking spray or butter, or line a sheet pan with a silicone baking mat.
Combine sugar, water, and corn syrup in  medium saucepan, making sure the sugars are completely covered by water.
Bring to a boil over high heat, brushing down the sides of the pan with a wet brush if necessary to prevent crystallization.
Continue cooking syrup until it reaches 238 degrees F (soft ball stage)
Add in the peanuts and continue cooking until it reaches 300 degrees F. Stir occasionally to prevent burning.
Remove pan from heat and stir in the butter, and then the five spice powder.
Stir in the baking soda – be careful as the mixture may start bubbling up. It will turn very thick and light-colored.
Pour the mixture onto the prepared surface. Use an offset spatula to spread it out thinly.
Let the mixture set, about 45 minutes, before breaking into pieces.