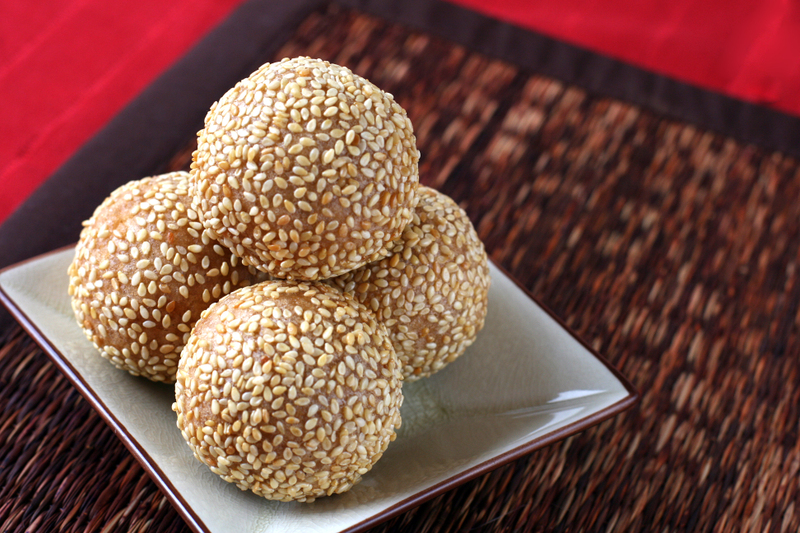 The Sunday just past (Feb. 18) marked the first day of the Chinese New Year 4705, or the Year of the Pig. There have been firecrackers going off late into the night, lucky oranges and plum blossoms in shop windows, and a lot of red and gold decorations everywhere.
Many Chinese holiday traditions are heavily steeped in symbolism – beyond the typical associations between shapes, colors, etc., the large number of homophones in the Chinese language has made the Chinese particularly fond of puns and wordplay. For example, the word "fish" in Chinese sounds very similar to the word for "surplus" or "extra" – so if you eat fish at New Year's you are hoping for a year of abundance, or surplus. Oranges and tangerines are often given as gifts at New Year's since the words for these fruits sound like wealth and luck, respectively.
You will often see Chinese put up little red diamond-shaped posters with the character 福, meaning auspiciousness, on their doors. However, the poster is always upside down, which used to puzzle me as a child until my mom explained that the word for "upside down" sounds similar to the word for "arrive" – meaning you're inviting good fortune and prosperity into your home.
There are many other New Year's traditions, from not washing or cutting your hair on New Year's Day (as it symbolizes washing or cutting away your luck), to the always enjoyable (at least for children and single adults) receiving of lucky money in red envelopes. But really, the best part of New Year's, like any other holiday, is the chance to celebrate with your family and friends. You don't need to know the meaning behind the plum trees or the noodle dishes to feel the festive spirit in the Chinatown streets. This year of the Pig is said to bring good luck and prosperity, although natural disasters increasing worldwide have also been predicted (hmm, rather typical of many horoscopes that like to cover all the bases??) Also, children born in the year of the Pig are said to have comfortable, easy lives (like the pig!) so there has been a noticeable baby boom reported in Asia as hopeful parents try to get every last life advantage possible for their offspring!
To celebrate this Chinese New Year, I made another traditional New Year's treat – sesame seed balls, or jien duy. These sweet, deep-fried puffs of dough coated in sesame seeds are a mainstay of dim sum houses, but at New Year's they take on special meaning. Their round shape and golden color are considered lucky, and the fact that the dough balls swell as they're fried and increase several times in size is a happy metaphor for a small venture growing and bringing back a large return. Sesame seed balls are traditionally filled with a bit of sweet red bean paste – they're pretty much the Chinese equivalent of a jelly doughnut, only lighter and fluffier – but I put a few discs of chocolate in some of my sesame seed balls, turning them into a profiterole-like dessert.
Best wishes for a happy and prosperous New Year – the celebration traditionally lasts for fifteen days, so you've plenty of time to bestow some good luck on your friends and family!
Sesame Seed Balls
makes about 20
1 lb glutinous rice flour
1 1/4 cup dark brown sugar
1 1/4 cup water
1/2 cup red bean paste or 3 oz dark chocolate, chopped into small pieces
1 cup sesame seeds
oil for deep frying
Put the rice flour into a large bowl. Bring the water to a boil and add the brown sugar, stirring to dissolve.
Pour the sugar water over the rice flour and stir together with a wooden spoon to combine. You can add up to 1/3 cup more water if the mixture seems dry and isn't coming together. Once the dough is cool enough to touch with your bare hands you can stop using the spoon and just knead the dough – don't overwork it or it will become tough.
Once the dough is soft and smooth, break off a piece about the size of a golf ball and roll between your hands to form a ball. Place in a dish and cover with some plastic wrap, then repeat with the remaining dough.
Take one of the dough balls and make a well in it with your thumb. Place either a teaspoon of the red bean paste or a few pieces of the chocolate in the well, then push the dough together to cover up the filling. Roll the ball between your hands again to make it smooth and round without cracks.
Wet your hands with water and roll the dough ball in a dish of the sesame seeds, pressing gently to get the seed to adhere to the dough ball. Place the ball back under the plastic wrap and repeat with remaining balls.
Pour the oil in a wok or other pan so it is deep enough to cover the dough balls when you fry them. Heat over medium heat until it is 350 degrees.
Place a few dough balls (about 4-5) in the hot oil and let cook. Use a ladle or wooden spoon to press the dough balls against the side of the pan to rotate them – this is important to help them cook evenly and prevent spots from burning.
When the seeds start turning golden and the dough balls start floating to the top of the oil, the balls should be done – about 5 to 6 minutes. You might want to fish one out and cut it in half to make sure the dough has cooked all the way through.
Remove the balls and drain them on paper towels, then repeat with the rest. The sesame seed balls should be served as soon as possible to preserve freshness.
Tagged with: Chinese New Year + sesame seed balls
Stumble this post!