This simple bacon and spinach quiche is absolutely one of my favorite comfort meals, and also a dish that looks complicated but it much easier than it looks. It was inspired by my grocery delivery from Zero, the first plastic-free grocery delivery service. All of the groceries ordered from Zero come in jars, bags, and other sustainable packaging. You can recycle the packaging, reuse it, or give back the jars to Zero at your next delivery. Ordering is as simple as going to their website and browsing through their selection; they offer everything from fresh produce to pantry staples to prepared foods. Your order is delivered straight to your door; usually you can get next day delivery if you order before 5 pm. Zero gave me the opportunity to try out their services and I was pleased to be able to put together a perfect little brunch to brighten up our weekend!
Click here to jump to recipe
Disclaimer: I was offered a credit to shop at Zero but was not recruited or compensated for this post. All opinions in this post are my own.
This bacon and spinach quiche is kind of a cross between the classic quiche Lorraine (bacon) and quiche Florentine (spinach and Swiss cheese). To make the crust, I used some butter, sugar, and flour I ordered from Zero. For the filling, some of their eggs, cream, smoked applewood bacon (which was fantastic) and some fresh organic baby spinach. I finished off this brunch centerpiece with some fresh berries and croissants from Starter Bakery – everything in the top photo except the cheese was ordered from the site. We ate well that morning!
The tart crust I used is called pâte à foncer, which is a version of the classic tart dough pâte brisée with an egg added. To take another step back and get technical: pâte brisée is the French equivalent of American pie crust, made with cold butter cut into flour, and a little water added. Pâte brisée is used for many savory tarts as it's not sweet, but more buttery in flavor, and it has a lovely flaky texture similar to pie crust. Adding an egg makes it a little richer and sturdier – when I make pâte à foncer, I don't have a lot of fear of the crust not coming together or falling apart when I fit it in the pan. It's more forgiving, so it's great for low-stress baking. The key point is to chill the tart shell completely, at least 30 minutes or longer if possible, so the butter is completely firmed up. That's what will ensure its flaky texture.
The other thing I love about quiche is how flexible the ingredient fillings can be. Quiche straddles the line between cooking and baking; it's technically a baked item but I feel like I'm much more freewheeling with the filling. Although you can put raw spinach into a quiche filling (just make sure you wash and dry it to avoid excess water), I cooked mine with some chopped onion in some of the leftover grease from frying up the bacon, for maximum flavor. A side benefit of cooking with bacon in a recipe! For the cheese, Gruyere is my favorite: it's salty and a bit nutty, but still mild and creamy enough to not overpower the quiche. Other cheeses that work well are Swiss or Emmental cheese, or if you want a stronger cheese flavor, cheddar or parmesan cheese.
You want to arrange your other ingredients in the tart shell, then pour in the filling until it's just under the edge of the shell. If you use more ingredients you'll have less room for the filling – with the amounts I gave in the recipe below, I had some filling left over when using a standard 1″ deep tart tin, so you can save it for another quiche, or you can bake it up into a frittata. I usually add another egg if there's about a third or a quarter of the filling left, mix it up with some of the same ingredients like bacon and spinach, and bake in a baking dish at 450 degrees F for about 20-25 minutes. That's a bonus recipe!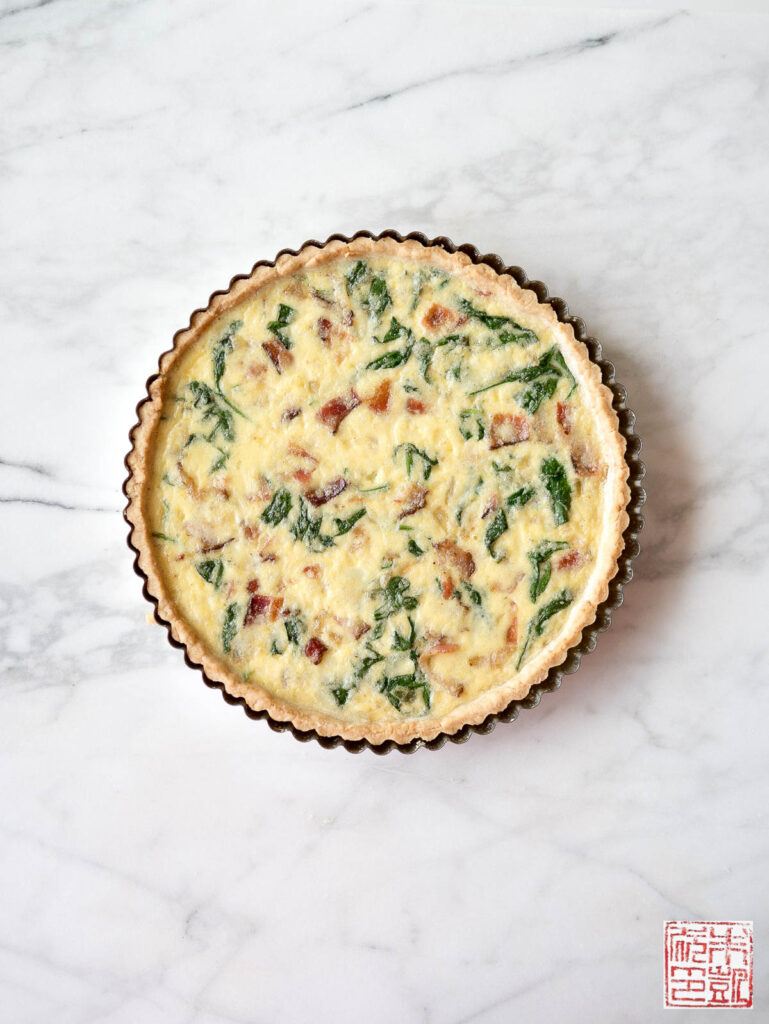 When you bake your quiche, you want the center to be just set – it should jiggle just slightly when you move the pan. I've seen some varying baking times when looking at different quiche recipes; my guess is that if you're using a deeper tart tin or a pie dish (closer to 1 1/2″ deep), it'll naturally take longer to bake. Again, making a quiche is much more relaxed than it may seem – I usually the timer for the lower end of the baking time (around 20 minutes), and if it doesn't seem done, I just keep baking for 5 minute increments until it does. Just cooled, fresh out of the oven, it's hard not to inhale the entire quiche. I wasn't finished with this one and I'm already wanting to make another one.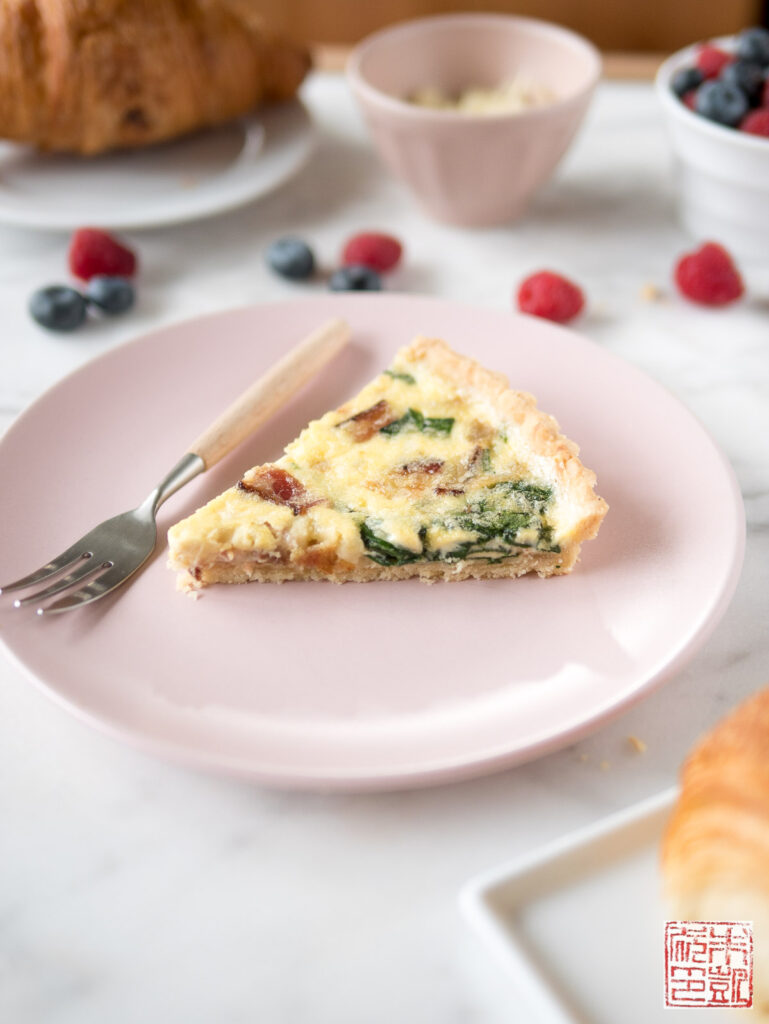 Thanks again to Zero for letting me experience their service! When I made this bacon and spinach quiche, I was surprised to realize how long it'd been since I'd made my own. It's so easy to just order it on a weekend out at brunch, but now that we're eating at home it's a pleasure to re-discover how many things I still remember how to make. It's definitely going back on the baking rotation! Hope you are all staying well.
Bacon and Spinach Quiche
Serves:
(1) 9" round quiche
Ingredients
Pâte à foncer
2 cups (250 g) all-purpose flour
2 teaspoons sugar
¼ teaspoon salt
9 tablespoons (128 g) unsalted butter, cold, cut into 1-in pieces
1 large egg yolk
1-2 tablespoons ice cold water
Quiche Filling
130 g (approx 3-4 strips) bacon
¼ onion, chopped into small pieces
2 cups (about 50 g) baby spinach (you can also use thawed and drained baby spinach)
1½ cups (345 g) heavy cream
3 large eggs
salt and pepper
½ to ⅔ cup (50 g to 66 g) grated Gruyere cheese (Swiss also works)
Instructions
For the tart shell:
Combine flour, sugar, and salt together in a food processor and process briefly to combine.
Add in the butter and process until mixture resembles pea-sized crumbs. Do not overmix and let the dough come together.
Add in the egg yolk and one tablespoon and process just until dough starts to come together. If the mixture seems dry, add another tablespoon. Stop before the dough is fully combined.
Turn out dough onto a piece of parchment paper and lay another piece on top. Roll out gently to about ⅛" thickness. If the dough is very soft, refrigerate for about 20 minutes - you don't want the butter to melt.
Peel off the top layer of parchment paper and roll the dough carefully around the rolling pin.
Carefully unroll over a 9" round fluted tart tin and gently press the dough into the bottom and up the sides of the pan. Try not to overwork or stretch out the dough or it will shrink and become tough. Use pieces of dough to patch any open areas.Trim off excess dough.
Refrigerate tart shell for at least 30 minutes.
Preheat oven to 375 degrees F. Line the tart shell with parchment paper and fill with pie weights or dried beans to weigh down the crust. Bake tart shell for 20 minutes.
Turn oven temperature down to 350 degrees F, remove the pie weights, and bake for another 10 minutes until shell is golden and dry to the touch.
Remove from oven and let cool while you make the filling.
For the filling:
Preheat oven to 350 degrees F.
Cook bacon strips. Remove from pan and drain the grease from the pan, leaving a little to saute the onions.
Saute onions in the pan until they turn translucent. Add the spinach and saute until spinach is wilted and reduced, but still green. Remove from heat.
Whisk cream, eggs, salt and pepper together in a bowl.
Chop the bacon into small pieces. Combine with the spinach and spread over the bottom of the tart shell. Sprinkle the cheese over the top.
Place tart pan on a baking sheet. Pour the egg mixture into the tart shell, covering the other ingredients and filling to just under the edge of the shell.
Cook quiche in the oven for 25-30 minutes, until the quiche is just set - the edges should be firm but the center should still be slightly jiggly.
Remove from oven and let cool on wire rack.