Hello and happy April! So much has happened since the last post, I always feel now that I have a million news items to get through before I can get on with the main topic of the post!
First off, a big hug to Jen of the ridiculously gorgeous Use real butter for featuring my kitchen on her Kitchen Tour. Jen is a real sweetheart and I can't imagine all the work she put into processing all the photos we sent her and writing up her interviews with each of us. I'm truly flattered that she chose me as one of the kitchens to feature. For all of you curious readers out there, now you can see where all my baking occurs! Yes, it is a tiny place, and sometimes I literally have no flat surfaces left for anything! But I have my fingers crossed that there may be a bigger kitchen in my near future – so perhaps you will see an updated tour sometime! (P.S. Are you all jealous of Peabody's kitchen as well?)
Second, the cupcake class I taught last week went wonderfully – a class of enthusiastic and intelligent students, and counters of creatively decorated cupcakes at the end of each day. I was very surprised and gratified to find that some of the students had visited my blog ( a little nervous, too, hoping I could live up to whatever expectations my blog may have fostered in them). I discovered one of my students, Patricia, has her own baking blog, and blogged about my class! Since I was way too occupied during the class to take any photos, I'm indebted to her for providing a (very generous) summary! Do check out her blog! As to whether I'll be teaching again, I'm considering it – and I'll keep you all posted!
With the class and my candy book happily behind me (I'll give more details about the book in the next post), I could finally, fully turn attention back to my personal pile of baking inspirations – and have I got a lot!
One ingredient in my pantry I've been aching is use is courtesy of a dear friend who recently went to Africa as part of her job – I'll admit to dreamily living vicariously through her lyrical online accounts of visiting local villages, spying gorillas in the bush, and immersing herself in the rhythms of this far-off country. When she returned to the states, she very thoughtfully brought back some goodies for me, so that I could have a little bit of Africa for myself!
Along with a beautifully handmade wooden spoon (you can glimpse it in above photo), I also got a jar of lychee honey, described by my friend as "smoky-flavored". The honey is a luminous, pale gold – the color, I imagine, of afternoon sun falling over the African veldt. Just a spoonful of this elixir carries the distinctive sweet tang of lychees, and it does, indeed, have a exotically smoky taste. 
I knew what I wanted to use this honey in – the financiers I'd demonstrated for my cupcake class. Although most of my recipes were traditional creamed-butter-and-sugar cupcakes, I wanted to include the financier as an example of another single-serving treat. We even decorated some of the financiers with frosting, for a real American spin on a French classic.
Every time I make financiers, I always wonder why I don't make them more often. They are a snap to make, completely addictive straight out of the oven, and I love filling my kitchen with the scent of browned butter. The batter keeps like a dream in the refrigerator for about half a week, making a perfect make-ahead treat; in fact, some recipes suggest an overnight chill of the batter to improve its texture. 
The following recipe is adapted from my Field Guide to Cookies – yes, I love financiers so much I had to include them in the book! Classic financiers have a delectable, nutty taste from the browned butter and a very thin, crisp outer crust that contrasts with the tender, fluffy interior – as I mentioned, divine when fresh and still-warm. The addition of honey gives it a moister, denser crumb, so I decreased the butter a bit and left them in the oven for an extra minute or so. I also didn't brown the butter as much as I usually do – the darker the browned butter, the more intense the flavor – as I wanted to make sure the honey flavor would come through. Incidentally, I've got a video on Chow demonstrating how to brown butter! It's a fabulous technique to have in your pastry arsenal.
Although the traditional form of financiers is rectangular and ingot-like, I'm partial to the little round gems produced by the mini muffin tin, since they look even more snackable. Another wonderful quality of financiers: after cooling and sitting overnight, they will typically lose their light, airy texture, but pop them in the oven for a couple minutes and they will bounce right back. Who says financiers can't make a tasty breakfast, especially spread with jam or a little honey? I know what I'm eating for the next couple of days! 
So, I'm hoping for more regular updates now that I'm firmly ensconced in the kitchen again. Also, I know I've been dreadfully delinquent in responding to e-mails  - please, if you've sent me a message and I haven't responded, please try again and I promise I'll be paying more attention to my inbox!
I hope you all are enjoying sunshine, flowers, and spring!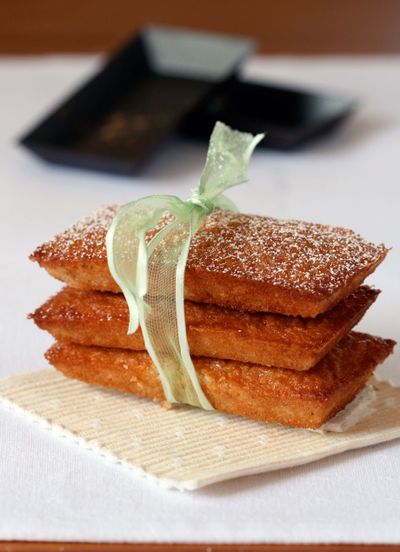 4 tablespoons (2 ounces) unsalted butter
1/2 cup sugar
1/2 cup blanched almonds, finely ground
1/3 cup all-purpose flour
1/8 teaspoon salt
3 large egg whites
1/3 cup honey
Preheat oven to 350 degrees F. Spray a mini muffin tin or financier tins with cooking spray.
Cut butter into pieces and place in a skillet or saucepan. Melt over medium heat on stove, swirling occasionally, until it starts to turn brown and smells nutty. Do not let the butter get too dark or it will burn. Strain butter into a clean bowl.
Whisk sugar, ground almonds, flour, and salt together in a medium bowl. 
Add egg whites and whisk to combine. 
Add butter and whisk to combine. It should be a thick, smooth batter.
Add honey and whisk to combine.
At this point you can cover the batter and store it in the refrigerator for up to 3 days.
Divide the batter among the prepared tins, filling almost to the top.
Bake for 12 to 14 minutes, rotating tins halfway through. The financiers should be golden brown and just firm to the touch.
Let cool on wire rack for a few minutes before unmolding.