The last few times I've posted about ice cream, I always get a few e-mails from people bemoaning the fact that they don't have an ice cream maker and therefore can't try making the recipe. In the interest of providing equal access to sweet, frozen, creamy treats to all regardless of whether you've got one of these little babies, I decided to try making that magical dessert known as semifreddo.
Semifreddo means "half cold" in Italian, and like its name this creation seems to straddle various dessert categorizations, defying easy definition. It typically means a semi-frozen dessert made by chilling a light custard in the freezer. To prevent the custard from freezing solid and to keep it edible, air is incorporated into the mixture, usually by folding in a meringue or some whipped cream. This gives the final result a fluffy, mousselike texture similar to ice cream without it needing to be churned in an ice cream maker.
True to its name, semifreddo is softer, less frozen than ice cream, and melts quickly in the mouth, leaving only the lightest and airiest of sensations; eating the semifreddo I made on a warm day was like catching the sweetest of snowflakes on my tongue – a little pleasant tickle of winter to chase away the heat.
There are several ways to make semifreddo: most involve making a classic crème anglaise of milk, eggs, and sugar or a sabayon (zabaglione if we're staying Italian) of egg yolks and sugar, and combining that with a meringue or whipped cream. There are also versions using simply an Italian meringue enriched with whipped cream with no egg yolks at all. However, with all these various methods once you've made the mixture you're practically there; all that's left is to pour the mixture into your desired mold, leave in the freezer for a few hours, and then you've got some frosty, frothy bliss.
The semifreddo I made is taken from Sherry Yard's The Secrets of Baking
, and she makes hers with a crème anglaise, enriched with both a meringue and whipped cream, plus a bit of mascarpone cheese swirled in for richness. It's a bit more complicated than most, but I found the result satisfying substantial to the taste and meltingly ephemeral in the mouth.
You can make semifreddo in any form you like – you can even freeze the entire batch in a large container and scoop it out to serve just like ice cream, but I found a trick that works well is to pour then into individual waxed paper cups. After the semifreddo has firmed up, you can simply peel off the paper and have some very cute little cups of cold ready to be eaten.
As we are getting some beautiful strawberries at market, and I am helpless before anything including them, making this sweetly pink semifreddo has been a marvelous way to embrace the ongoing flowering of spring – no ice cream maker required.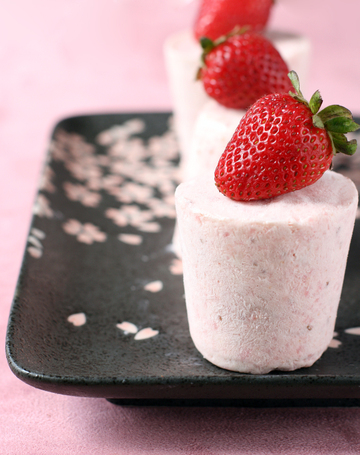 Strawberry Semifreddo
adapted from Sherry Yard's The Secrets of Baking
makes about 8 3-oz cups
1 pint strawberries
1 tablespoon (1/2 oz) sugar
1 tablespoon lemon juice
1/2 cup (4 1/4 fl oz) milk
2 large egg yolks
1 3/4 oz sugar
pinch of salt
1 large egg white
pinch of cream of tartar
1 tablespoon (1/2 oz) sugar
1/4 cup mascarpone
1/2 cup (4 1/4 fl oz) heavy cream
Wash, hull, and slice the strawberries in half. Combine them in a large bowl with sugar and lemon juice and let sit for about 20 minutes.
Puree the strawberries in a food processor or blender until smooth. Set aside.
Bring the milk to a boil in a saucepan over medium heat on the stove.
While the milk is heating, whisk the eggs, sugar and salt together in a bowl.
When the milk is boiling, pour about half of it into the egg mixture while whisking vigorously.
Pour the tempered eggs back into the rest of the milk and place the saucepan back on the stove.
Heat the milk and egg mixture over low heat, stirring constantly with a wooden spoon to prevent eggs from cooking, until the mixture reaches 170 degrees F. The mixture should thicken into the consistency of heavy cream, and if you draw your finger down the back of the spoon coated with the mixture, you should leave a clear trail.
Remove the saucepan from heat. Stir in the strawberries and mix with the spoon to combine.
Pour the mixture into the bowl which contained the strawberries and place into a ice bath (made by filling a larger bowl with ice cubes). Let the mixture cool to about 40 degrees F.
While the strawberry mixture is chilling, whip the egg white in a stand mixer with the whisk attachment until frothy.
Add a pinch of cream of tartar and continue whipping until medium peaks form.
Scrape the whipped white into a bowl and set aside.
Place the mascarpone and heavy cream into the mixer bowl and whip with the whisk attachment until soft peaks form.
When the strawberry mixture is cool, fold in the whipped egg white very gently with a rubber spatula.
When the egg white is almost incorporated, add the whipped cream and mascarpone and gently fold to combine. Be as gentle as possible to avoid deflating the mixture and losing air.
Pour the mixture into a large container or molds of your choosing, cover, and place in the freezer for about 4 hours or until firm.
The semifreddo will keep covered in the freezer for about 2 weeks.
Tagged with: Sherry Yard + strawberry semifreddo + Secrets of Baking
Stumble this post!