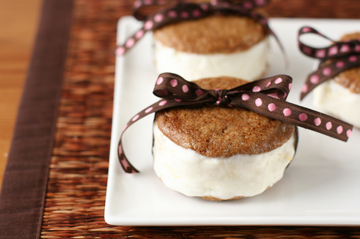 We had an unexpected surge in the temperature over the weekend – a shockingly blazing sun in a shiny blue sky, making people scramble in their drawers for tank tops and causing all the green grassy parks to be suddenly carpeted with sunbathers. It's supposed to be colder in San Francisco when summer approaches, not brutally scorching.
As I opened the apartment window in the morning to the feel of already-warm air on my face, I knew this did not bode well. Far earlier than I anticipated, I needed something cool and refreshing to combat the incipient heat. I needed to make ice cream.
Of course, what better inspiration than Emily Luchetti's A Passion for Ice Cream
? I zeroed in on a recipe I'd earmarked earlier, for some ice cream sandwiches made from lemon ice cream spread between gingersnaps. Icy, tart, lemon sounded just perfect to combat the heat, and gingersnaps are my sweetie's favorite cookie, so this was a no-brainer. Or so I thought.
When I told him what recipe I going to make, my boyfriend sounded a little hesitant, then admitted he wasn't so sure about the lemon ice cream. Couldn't I make it another flavor? Normally, I would have indulged him, but this time I was surprised. Who doesn't like lemon? Tall, frosty glasses of lemonade, jewelike French lemon tarts, sour lemon candies…I was going to convince him to try it!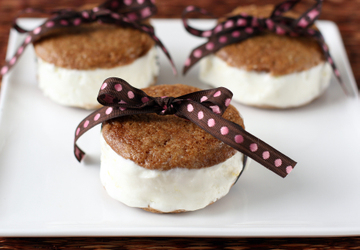 Upon starting the recipe I decided to make a lemon sherbet instead of an ice cream as it sounded even cleaner and more refreshing. I was very pleased with this version, as it is beyond simple to make – no stovetop required, just a combining of milk, cream, sugar, and lemon – and a marvelous restorative in hot weather. Pleasantly tart, luxuriously light and creamy, it slides effortlessly down your throat, sending the sweetest of frissons down your spine. With my new ice cream machine, I didn't even have to chill the mixture beforehand – it churned perfectly in just 30 minutes!
The gingersnaps prove worthy bookends to the sherbet – comfortingly sturdy, crackling satisfying under the bite to provide a crisp contrast to the smooth filling. The spicy flavors of the cookie also work well against the clean, citrusy taste of the sherbet. Combined, these two parts form the perfect antidote to a surprise of a sweltering day.
How did the boyfriend like the lemon sherbet? I gave him a spoonful straight from the ice cream maker and awaited his verdict.
"Can I have some more?" was the reply.
"No, you've got to wait until I make the cookies and we can put the sandwiches together." I replied. A wistful look was the only response. I'll take that as an endorsement of lemon sherbet!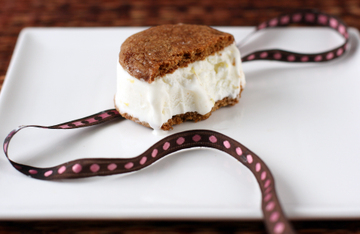 Lemon Sherbet
makes about 1 quart
1 cup lemon juice (about 2 lemons)
1 cup milk
1 cup cream
zest of 2 lemons
160 g sugar
Gingersnaps
adapted from Emily Luchetti's A Passion for Desserts
makes about 24 cookies
5 oz all purpose flour
1 teaspoon baking soda
1/2 teaspoon ground cinnamon
1 teaspoon ground ginger
1/8 ground white pepper
1/4 teaspoon ground allspice
1/4 teaspoon salt
8 ounces unsalted butter, room temperature
1 3/4 oz (1/4 cup) sugar
2 oz dark brown sugar
1 large egg
3 tablespoons molasses
For the sherbet: Put the lemon juice in a bowl. Add in the milk and cream together and stir to combine.
Add in the lemon zest.
Add in the sugar and stir to combine. Taste the mixture and add more sugar if necessary.
Freeze in an ice cream maker per manufacturer's instructions.
For the gingersnaps: Sift together the flour, baking soda, cinnamon, ginger, white pepper, allspice, and salt in a medium bowl.
In a stand mixer, combine the butter, sugar and brown sugar and beat until it is smooth and fluffy.
Add in the egg and combine.
Add in the molasses and combine.
Add in the dry ingredients in two additions, mixing until thoroughly combined. The dough will be very soft.
Wrap the dough in plastic and refrigerate until firm, about 3 hours.
Divide the dough into two pieces and wrap in plastic. Refrigerate for another 2 hours until very firm.
When the dough is firm, roll into two 1-in diameter logs on a lightly sugared surface.
To bake the cookies, preheat the oven to 350 degrees F. Line some baking sheets with parchment paper or Silpats. Fill a small bowl with sugar for dipping cookies.
Cut the dough logs into 1/2 slices (They look small but will expand in size in the oven).
Coat the slices in the sugar on all sides.
Place the cookies 2 1/2 inches apart on the prepared sheets and bake for about 12 minutes until the centers no longer look wet. Cool on a wire rack.
To assemble the sandwiches: Arrange the gingersnaps in pairs, with one cookie in each pair facing up.
Use a scoop to place portions of sherbet on the gingersnaps turned bottom side up. Top with the other cookie and press together.
Serve immediately or store in the freezer until ready.
Tagged with: Emily Luchetti + lemon sherbet + gingersnaps
Stumble this post!