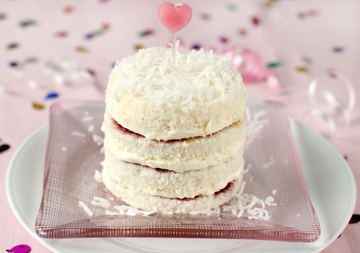 "Party for Me?" thought Pooh to himself. "How grand!"
Forgive me for drawing such attention to myself, but the thing about birthdays is that there is always birthday cake, and so I ask your kind indulgence by presenting to you a very special cake – in fact, a "Perfect Party Cake", as Dorie Greenspan so rightly names it in her Baking
tome.
Having unfortunately reached the point in my life where I may answer that it's not polite to ask a lady her age, I will just say I am accepting turning a year older, but what I'm really celebrating is a year full of baking and photographing and eating and blogging – and all the wonderful friends I've made through this little page.
While my birthday is tomorrow, I missed noting the anniversary of Dessert First, so this page is about a year and four months old now, and I can say that it is one of the very best things I've ever done. It's inspired me to continually challenge and improve my baking skills, to be more creative and confident in the kitchen, and to really appreciate the beauty of food, as I try to share in my photos. It's also caused me to spend a small fortune on baking books, ingredients and tools – it's a good thing I don't have a weakness for shoes, or I'd surely be in the poorhouse by now! Best of all, it's allowed me to meet all of you talented, like-minded people out there who also dream constantly of food and love sharing their creations. Thank you all for the lovely comments you leave, the e-mails, the gift exchanges, and for your own beautiful sites.
I wish I could have you all over to my place for a big birthday celebration, but I hope I can share with you at least a slice of dessert – Dorie's cake, which is a breeze to bake and assemble and tastes as special as a birthday cake should. The velvety white cake is moist, tight-crumbed, and flavored with lemon zest and extract – bakes up perfectly and slices like a dream. Layered with raspberry preserves and a silky, not-too-rich buttercream, topped with coconut, it looks like a tea-party fantasy (I always favored the white birthday cakes with fruit fillings, although thankfully I've outgrown the gaudy icing roses).
The recipe makes a typical 9" cake, but I've made little miniatures to highlight their adorableness. Even if you don't have a birthday coming up, I'd highly recommend it for any special occasion where you want a cake that looks and tastes like it took much more effort than it does.
My sweetie pie has already made this week quite a happy one for me, and I think there may be a few more birthday desserts in my near future, so I'll leave you all in hopes that you're having as wonderful week as I am! I look forward to making and sharing many more delicious desserts with you in the future!
Perfect Party Cake
adapted from Dorie Greenspan's Baking: From My Home to Yours
makes 12 to 14 servings
Cake
9 oz cake flour
1 tablespoon baking powder
1/2 teaspoon salt
10 3/4 fl. oz. buttermilk
4 large egg whites
10 1/2 oz sugar
2 teaspoons grated lemon zest
4 oz unsalted butter, room temperature
1/2 teaspoon lemon extract
Buttercream
7 oz sugar
4 large egg whites
12 oz unsalted butter, room temperature, cut into 1-in pieces
2 1/4 fl. oz. fresh lemon juice
1 teaspoon vanilla extract
For finishing
2/3 cup seedless raspberry preserves
1 1/2 cups sweetened shredded coconut
Preheat the oven to 350 degrees F. Spray or butter two 9" x 2" round cake pans. Line the bottom of each cake pan with a buttered parchment circle.
For the cake: Sift together the cake flour, baking powder, and salt.
Whisk the buttermilk and egg whites together in a separate bowl.
Combine the sugar and lemon zest in a stand mixer bowl and rub together with your fingers until the sugar is moist and smells like the lemon.
Add the butter to the mixer bowl and beat together with the sugar for 3 minutes on medium speed until the mixture is fluffy and light.
Add in the vanilla extract.
Add in the flour and buttermilk mixtures in alternating additions, starting and ending with the flour mixtures. Be sure each addition is fully incorporated before adding the next.
When everything is added beat the batter for an additional 2 minutes.
Divide the batter between the two pans and bake for 30 minutes in the oven or until the tops are set and springy, and a cake tester inserted into the centers come out clean.
Transfer the pans to wire racks and let cool for a few minutes, then flip and unmold the cakes (run a knife around the sides of the cakes if necessary). Peel the parchment off and flip the cakes back over right side up on the wire racks to finish cooling.
The fully cooled cake layers can be wrapped in plastic and kept overnight or frozen for up to 2 months.
For the buttercream: Combine the sugar and egg whites in a medium heatproof bowl and place over a pan of simmering water.
Whisk the sugar mixture constantly over heat until the sugar is dissolved and the mixture looks smooth and shiny, about 3 minutes.
Remove mixture from heat and pour into a stand mixer bowl. Whisk on medium speed for about 5 minutes until the mixture has cooled.
Switch to the paddle attachment and with the speed on low, add the butter a few pieces at a time, beating until smooth.
When all the butter has been added, beat the buttercream on medium-high speed for about 6-10 minutes until it is very thick and smooth.
Add in the lemon juice and beat until combined. Add in the vanilla.
The buttercream is ready to be used. Place a piece of plastic wrap against the surface until you are ready to use it to prevent it from drying out.
To assemble the cake: Using a sharp serrated knife, slice each cake layer horizontally in half – see this post for tips on cutting cake layers.
Stir the raspberry preserves until it is loose and spreadable.
Place a layer on a cardboard cake round, cut side up. Spread about a third of the raspberry preserves on the cake layer.
Spread a layer of buttercream on top of the preserves. Top with a second cake layer. I found that if you have problems with this, you can spread the buttercream on a second cake layer and flip it over onto the preserve-covered layer – but you have to be very careful doing this or you'll break your cake layer!
Spread preserves and buttercream on the second cake layer as you did with the first. Top with a third cake layer.
Spread preserves and buttercream on the third cake layer as you did with the second. Top with the last cake layer, cut side down.
Use the rest of the buttercream to frost the sides and top of the cake.
Press the coconut over the sides and top of the cake.
The cake is best served a couple of hours after it is assembled to let the flavors develop. You can refrigerate it for up to 2 days, but be sure it is well covered or the cake will dry out. You should also let the cake come to room temperature before you serve it as it does not taste as good cold.
Tagged with: Dorie Greenspan + party cake + birthday cake