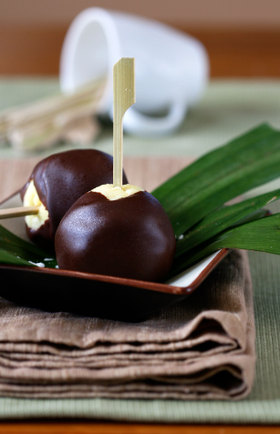 Elle of Feeding My Enthusiasms and Deborah of Taste and Tell, two blogs I totally adore, picked something quite playful and adorable for this month's Daring Bakers – cheesecake pops from Sticky, Chewy, Messy, Gooey
by Jill O'Connor.
Elle and Deborah gave us quite a bit of leeway in customizing our pops, which I'm sure has resulted in a dazzling display of creativity among all the Daring Bakers. For my part, I found this recipe an opportunity to play with an interesting new addition to my pantry: pandan leaves.
Pandan leaves, or screwpine leaves, as they as also called, come from Southeast Asia, and are used in a variety of ways, from flavoring savory dishes to scenting jasmine rice. Pandan possesses a uniquely nutty, floral flavor, quite unexpected from the leafy green fronds. This subtle sweetness also makes pandan a natural for baking: one classic dessert is pandan chiffon cake, a fluffy, angel-food like concoction distinguished by its spring green hue which comes from the pandan leaf juice itself.
So where are pandan leaves found outside of Asia? Surprisingly, they were almost under my nose – frozen pandan leaves are often carried in Asian supermarkets, and I actually found fresh ones in Chinatown! Another reason why I love living here – there's always something new to uncover. If you can't find pandan leaves, there is also pandan extract and pandan paste – in fact, many recipes will often call for these substitutes instead. Having found both at the supermarket, I purchased them to do a little comparison baking in the kitchen.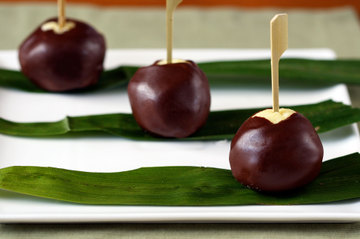 Onto the recipe itself: I must confess that this was not my favorite recipe. The cheesecake was easy enough to make and set nicely, but I had difficulty forming it into balls for dipping. The cheesecake was a little too soft to work with, although I think it was an excellent texture for cheesecake: if I had baked it longer, I think it might have turned rubbery. So it was a good cheesecake, but I just had trouble getting it into its final form.
Dipping the cheesecake balls in melted chocolate proved not too tricky either, but I think these pops might store better in the freezer than the refrigerator. Storing them in the fridge kept the cheesecake centers a little too soft so the wooden skewers did not stay in very securely. Ultimate verdict: this is a nice recipe, and very nicely adaptable, but I think I enjoyed it more for the chance to experiment with flavors than actually making them.
In working the pandan leaves, I wasn't convinced at all initially that these long leaves would actually work as described. They had a grassy smell (naturally), and after blending them with some water to get pandan juice, it still smelled grassy – and tasted that way too. I was certainly glad I had some pandan extract at this point!
I added the juice to half the batter, which fortunately did not change color – I was afraid I'd be breaking the challenge rules! Apparently it takes a lot of pandan juice to add color to a dish – many recipes call for food coloring or pandan paste in addition to achieve the verdant hue. Pandan extract and pandan paste usually have food coloring that will most certainly turn whatever they're added to quite green!
I added a teaspoon of pandan paste to the rest of the batter and sure enough, it immediately turned bright green. Here's an image of the two cakes for comparision:
Tastewise, I had yet another surprise. Both cheesecakes tasted very similar. I was so certain the one with pandan juice would taste grassy, but in fact it somehow transformed in the oven into a smooth, creamy cake with an elusive, sweet flavor almost like a floral vanilla – and it no longer smelled like grass. The cheesecake with pandan paste tasted a little stronger, perhaps because of the amount of paste I added, but the flavor itself was quite close. What a pleasant discovery! So I can recommend using pandan extract or paste if you can't find leaves, as the results are close enough to be indistinguishable.
I've almost used up the leaves, but the paste will last me a long time – and now I'm curious to keep playing around with this intriguing new flavor!
Thanks for another fun Daring Bakers Challenge!
Cheesecake Pops
Makes 30 – 40 Pops
5 8-oz. packages cream cheese at room temperature
2 cups sugar
¼ cup all-purpose flour
¼ teaspoon salt
5 large eggs
2 egg yolks
2 teaspoons pure vanilla extract
¼ cup heavy cream
Boiling water as needed

Thirty to forty 8-inch lollipop sticks
1 pound chocolate, finely chopped – you can use all one kind or half and half of dark, milk, or white (Alternately, you can use 1 pound of flavored coatings, also known as summer coating, confectionary coating or wafer chocolate – candy supply stores carry colors, as well as the three kinds of chocolate.)
2 tablespoons vegetable shortening
Assorted decorations such as chopped nuts, colored jimmies, crushed peppermints, mini chocolate chips, sanding sugars, dragees) – Optional
Position oven rack in the middle of the oven and preheat to 325 degrees F. Set some water to boil.
In a large bowl, beat together the cream cheese, sugar, flour, and salt until smooth. If using a mixer, mix on low speed. Add the whole eggs and the egg yolks, one at a time, beating well (but still at low speed) afte r each addition. Beat in the vanilla and cream.
Grease a 10-inch cake pan (not a springform pan), and pour the batter into the cake pan. Place the pan in a larger roasting pan. Fill the roasting pan with the boiling water until it reaches halfway up the sides of the cake pan. Bake until the cheesecake is firm and slightly golden on top, 35 to 45 minutes.
Remove the cheesecake from the water bath and cool to room temperature. Cover the cheesecake with plastic wrap and refrigerate until very cold, at least 3 hours or up to overnight.
When the cheesecake is cold and very firm, scoop the cheesecake into 2-ounce balls and place on a parchment paper-lined baking sheet. Carefully insert a lollipop stick into each cheesecake ball. Freeze the cheesecake pops, uncovered, until very hard, at least 1 – 2 hours.
When the cheesecake pops are frozen and ready for dipping, prepare the chocolate. In the top of a double boiler, set over simmering water, or in a heatproof bowl set over a pot of simmering water, heat half the chocolate and half the shortening, stirring often, until chocolate is melted and chocolate and shortening are combined. Stir until completely smooth. Do not heat the chocolate too much or your chocolate will lose it's shine after it has dried. Save the rest of the chocolate and shortening for later dipping, or use another type of chocolate for variety.
Alternately, you can microwave the same amount of chocolate coating pieces on high at 30 second intervals, stirring until smooth.
Quickly dip a frozen cheesecake pop in the melted chocolate, swirling quickly to coat it completely. Shake off any excess into the melted chocolate. If you like, you can now roll the pops quickly in optional decorations. You can also drizzle them with a contrasting color of melted chocolate (dark chocolate drizzled over milk chocolate or white chocolate over dark chocolate, etc.) Place the pop on a clean parchment paper-lined baking sheet to set. Repeat with remaining pops, melting more chocolate and shortening (or confectionary chocolate pieces) as needed.
Refrigerate the pops for up to 24 hours, until ready to serve.
Tagged with: Jill O'Connor + pandan cheesecake pops + pandan + daring bakers