I finally got my hands on this book that I've been coveting all summer, Emily Luchetti's gorgeous paean to all things frozen, A Passion for Ice Cream. I'd been a huge fan of her ever since I got her equally delectable A Passion for Desserts – you'll notice quite a few recipes from that book on this site:). As another bonus for this Bay Area native, Luchetti is the pastry chef at Farallon, a fixture of the San Francisco restaurant scene and mere blocks from where I live. Luchetti's desserts live in an underwater fantasyland of a restaurant with jellyfish chandeliers and kelp-patterned walls – appropriate, I suppose, as her creations are as unexpected and marvelous as treasure from the bottom of the sea.
A Passion for Ice Cream is so much more than a collection of ice cream recipes – Luchetti is a pastry chef, and she creates complete desserts with every recipe. In her book, ice cream shows up in sundaes, in cakes, in drinks, in forms and flavors you never imagined. The beginning chapters provide an excellent overview on ingredients, techniques and equipment (fortunately, she doesn't look down on the frozen-insert-style KitchenAid or Cuisinart models, although for those of you with deep pockets and an insatiable need for ice cream, she recommends the unabashedly luxurious and counter space-hogging Lussino machine. Be still my heart.) After that, a parade of ice creams, sorbets, parfaits, shakes, semifreddos and other frozen temptations, using a wonderful variety of fruits, nuts, and of course, chocolate, dance before your eyes. I settled down with the book, eager to mark recipes to try, and found myself fighting not to mark every page. In the end, good sense and limited freezer space narrowly prevailed, and I limited myself to a mere trio, a sampling of the delights to be found within the pages of this cookbook.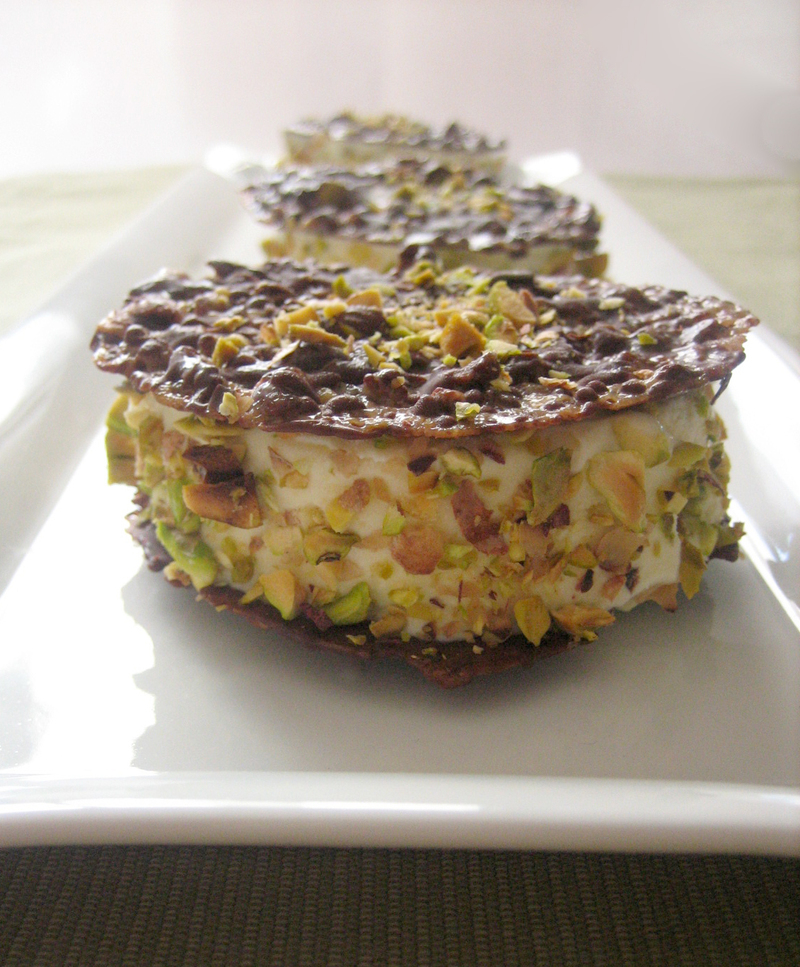 Chocolate-Coated Cocoa Nib Florentines and Orange Ice Cream Sandwiches
When I turned to this recipe I knew it would be the first one I would make. Actually, the entire chapter on ice cream sandwich-style desserts is tantalizing – Luchetti takes the concept far beyond just a scoop of ice cream between two biscuits. In this recipe, two delicate florentines flecked with bits of pistachio and cocoa nibs and spread with a layer of bittersweet chocolate cradle a layer of orange ice cream. As you can imagine, it's a melange of crisp and creamy, fruity and chocolatey, nutty and sweet – dessert heaven. I found the pistachios and cocoa nibs added wonderful crunchy interest to the florentines, and the orange ice cream, made in the rich custard style, was a clean, pure hit of the fruit. I might add some orange flower water next time, which might go nicely with the exotic feel of this dessert. Definitely this is a winner!
Very Berry Sodas
This one I had to make because strawberry ice cream has been a childhood favorite and is still on my list of top flavors. The book includes charming profiles of famous ice cream parlors around the US, including two in the Bay Area: the wonderful Sketch in Berkeley, and Swensen's in San Francisco. I have many fond memories of getting strawberry ice cream at Swensen's; it still has the best strawberry in my opinion today.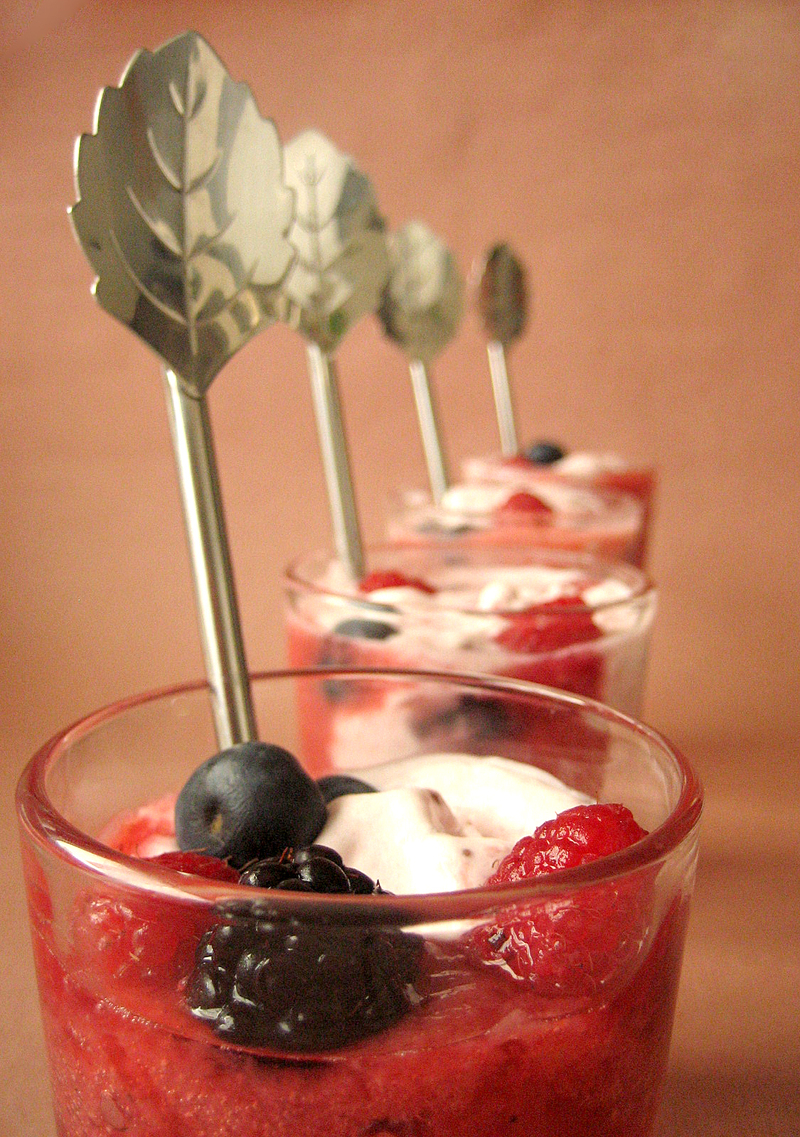 This comes from the chapter entitled, quite appropriately, "Through a Straw", and was a perfect ode to the end of summer. Yes, I understand in other parts of the world it's still hot and sunny, but in San Francisco the fog's already returned and jackets are being pulled from their all-too-brief stint in the closet. Scoops of strawberry ice cream float in a fizzy raspberry soda, accompanied by sweet berries. Luchetti's version of strawberry ice cream is an eggless, Philadelphia-style recipe; it's less rich but still has a soft, creamy texture and an appealingly full taste of the berry. These sodas are very berry indeed, a lighthearted sunbeam of a dessert. As a side note, this was a frustratingly annoying shot to take: the leaf-tipped stirrers tended to keep turning the wrong way, making it almost impossible to capture them all lined up properly! You can see the ice cream's pretty much sunk by the time I succeeded…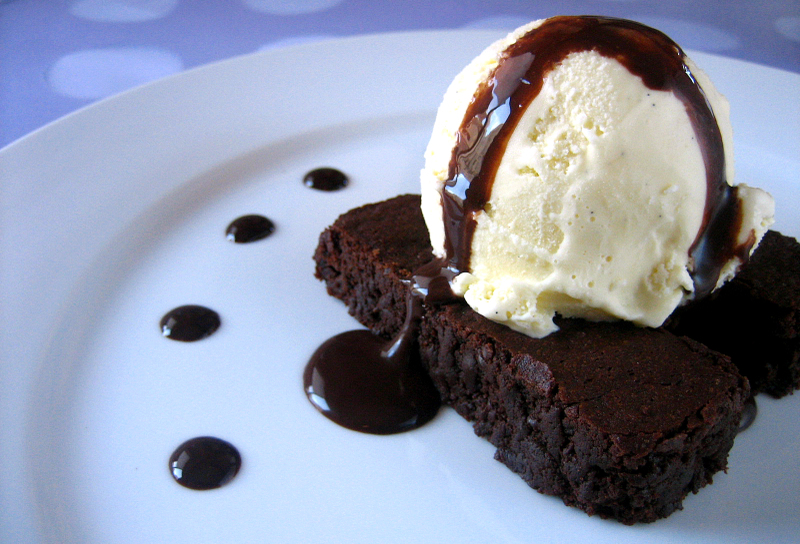 Cho Cho Cho
How could you not love a name like that? The recipe refers to the triple-chocolate punch in this dessert: White chocolate ice cream with chocolate chunks over a chocolate brownie, drizzled with chocolate sauce – the quintessential dessert a la mode. However, since I am not a huge fan of white chocolate, and there is a vanilla ice cream fan in the house, I substituted Luchetti's recipe for vanilla ice cream, and the result was still bliss-inducing. The brownie was marvelous chocolatey and fudgy, but thin enough to not overpower the rest of the dessert. There are four recipes for chocolate sauce in the book; this one is a bittersweet cocoa version that added the right notes to balance out the richness of the brownie and ice cream.
As a final note, the last chapter is worth a lengthy perusal as well – filled with all manners of sauces and toppings to satisfy the most inveterate of lily-gilders who need their sweet endings with whipped cream, nuts, and a cherry on top.
Tagged with: Emily Luchetti + A Passion for Ice Cream + ice cream