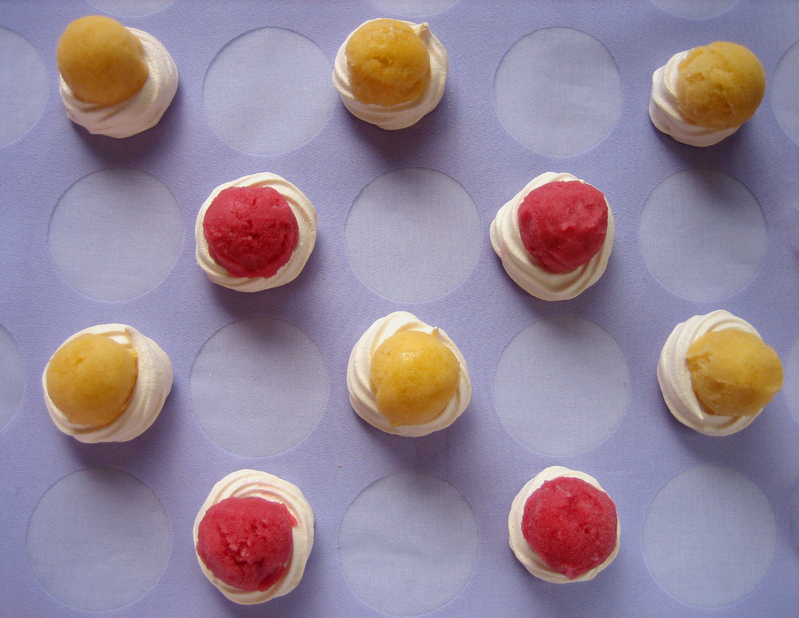 I was quite excited to get an invitation from the lovely Ivonne to her La Festa al Fresco, especially as summer is fleeing San Francisco as quickly as the ocean fog advances over the hills. If you've never been here, it's an amazing (and inevitable) sight in the afternoon: a solid wall of swirly grey and white cresting over the western hills, pouring delicate wisps and tendrils around buildings and over streets, a tender avalanche upon the city, until you look up and the pale blue sunny sky from morning is gone, covered by a blanket of fog.
In this case, I'll happily head to Ivonne's place where the sun still reigns and enjoy some good food and company. For this picnic, I was inspired by another recipe in my current obsession, Emily Luchetti's A Passion for Ice Cream. She has an adorable idea for little cups piped out of meringue and filled with tiny scoops of sorbet – a perfect little mouthful or two, and which will leave you plenty of room for sampling everything else at the table!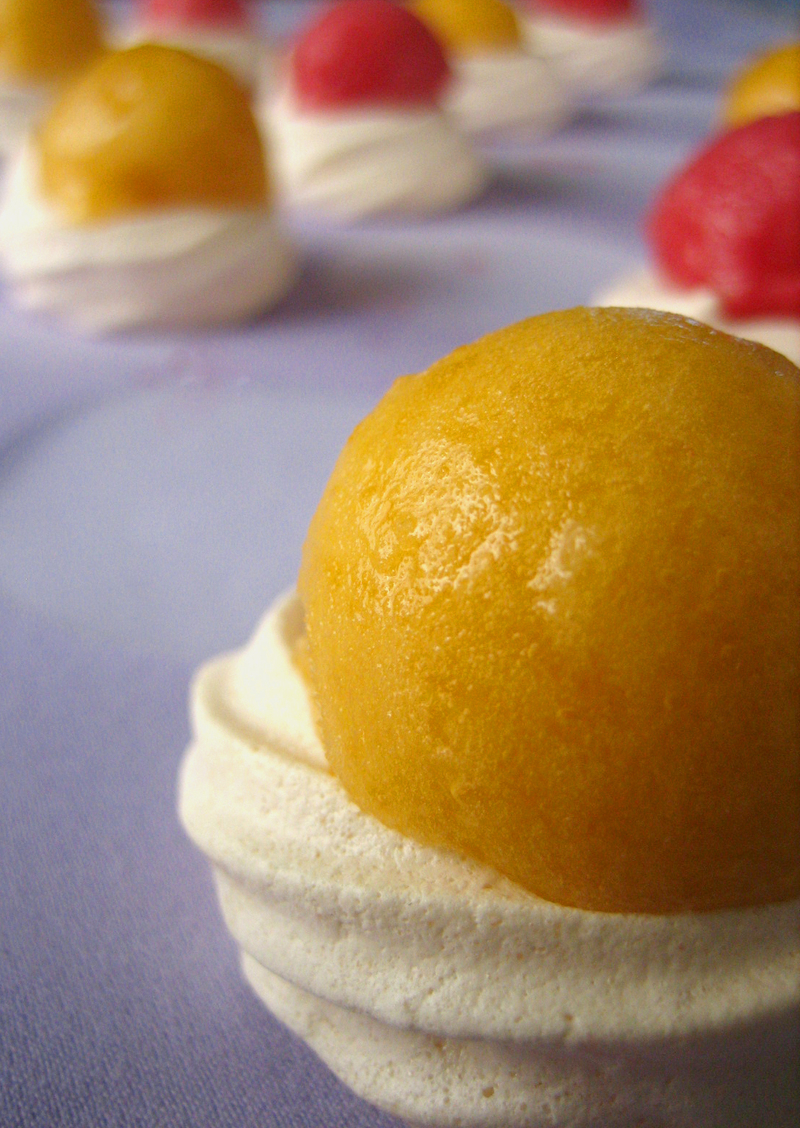 The original recipe called for pomegranate sorbet, but really, I thought it would be more fun to have different flavors, and in honoring the picnic's celebration of seasonal produce, I used some of the last golden peaches to make a peach sorbet as well. I find the two pair together well: the peach is all mellow sweetness in contrast to the tart piquancy of the pomegranate, and the sorbets have a very soft, melting texture that goes well with the slightly chewy meringues. A word of advice: make some extra meringues because they are addictively sweet, crispy mouthfuls out of the oven – it's hard to wait to fill them with sorbet.
Buon appetito, and a fond arrivederci to summer!
Mini Meringue Baskets with Pomegranate and Peach Sorbets
from Emily Luchetti's A Passion for Dessert
Meringue Baskets
2 egg whites
2/3 cup sugar
1/2 teaspoon cornstarch
Pomegranate Sorbet
1 cup sugar
3/4 cup water
2 cups pomegranate juice
1 tablespoon freshly squeezed lemon juice
1/8 teaspoon salt
Peach Sorbet
3 lbs ripe yellow peaches
1/2 cup sugar
1 teaspoon freshly squeezed lemon juice
large pinch of salt
To make the baskets: Draw about (18) 1 1/4-in circles about 1/2 inch apart on two sheets of parchment paper. Turn the sheets over and place them on baking sheets.
Preheat the oven to 300 degrees. Whip the egg whites in an electric mixer on medium-high speed until soft peaks form. Add about half the sugar and continue whipping until the peaks become very stiff and shiny. Add the rest of the sugar and the cornstarch and continue whipping to incorporate and tighten up the meringue. You want it to be fairly stiff so you can pipe it.
Place a 1/4-in star tip in a pastry bag and fill with the meringue. Pipe each basket by filling in each circle with a coil of meringue, then piping more coils on top in a continuous motion until your basket is about an inch high.
Bake the meringues for about 20 minutes or until they are dried out. Let them cool to room temperature and then remove from the parchment paper. If you are not using them right away, store them in an airtight container at room temperature.
makes about 36 baskets
To make the pomegranate sorbet: Heat the sugar and water together in a saucepan until the sugar dissolves and the liquid is reduced to 3/4 cup. Transfer the liquid to a bowl and add the pomegranate juice, lemon juice, and salt. Refrigerate the mixture overnight. Chill the mixture in an ice cream maker according to manufacturer's instructions. You will probably have to chill the sorbet further afterwards in the freezer as this sorbet is very soft.
To make the peach sorbet: Peel and pit the peaches, then cut them up into small pieces. Puree them in a blender or food processor until smooth, then strain. You should get about 3 cups of puree. Put the puree in a bowl and add in the sugar, lemon juice, and salt. Chill the mixture overnight. Chill the mixture in an ice cream maker according to manufacturer's instructions.
To serve: Using a very small scoop or melon baller, place a scoop of sorbet in the meringue baskets. Serve them immediately, or store in the freezer until ready to serve.
Tagged with: la festa al fresco + Emily Luchetti + ice cream + pomegranate sorbet + peach sorbet