Happy January! This clementine cardamon cake from Greg and Lucy Malouf's Suqar is a ray of sunshine in these grey and wintry first weeks of January. It's one of the many desserts from their gorgeous cookbook that I tabbed to try, and I'm super happy I went for this one first. It's quick and simple, and works beautifully as either a tea cake for rainy afternoons, or fancied up as a dessert.
Click here to jump to recipe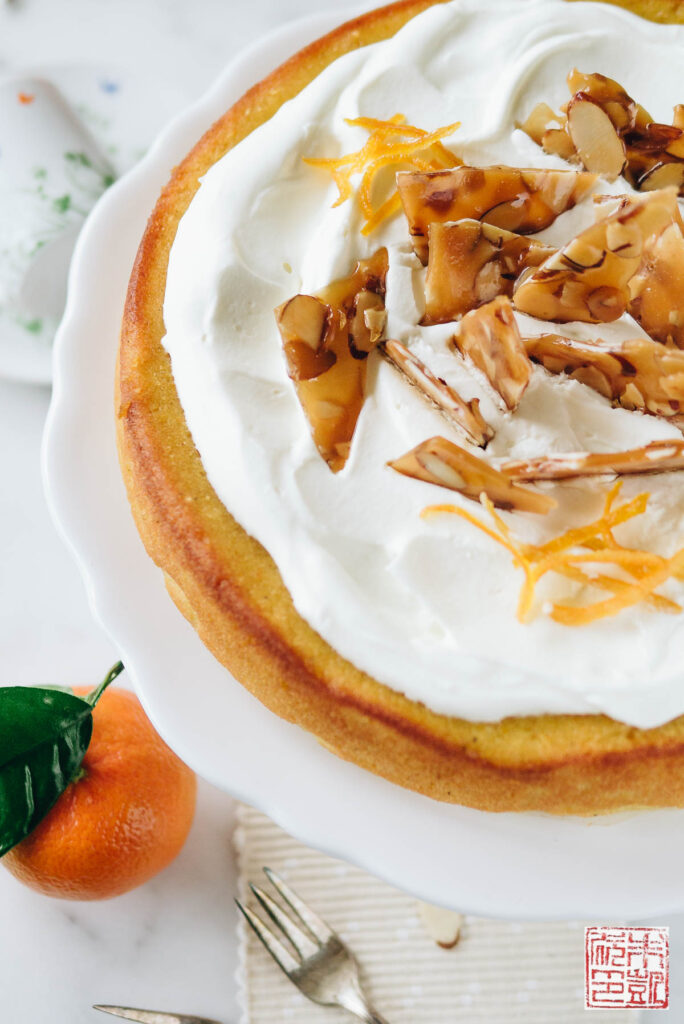 The clementine cardamom cake is inspired by the Sephardic orange and almond cake made famous by Claudia Roden in her A Book of Middle Eastern Food. It's a traditional Passover dessert and contains no flour or butter. The most unique part of hte recipe involves boiling the oranges until they are very soft, and then pureeing the oranges, peels and all, into a flavorful puree. The Suqar version calls for clementines, which are sweeter than most oranges, but regular oranges would also work fine. You can even use lemons instead of oranges for a different take on this cake; Meyer lemons work very well. The Maloufs' version adds some cardamom (I could have used even a little more for my taste) and a lush, orange-scented whipped cream that acts like a frosting. This is one of those cakes that tastes even better after a day or two, so no worries about it keeping: the flavor only becomes more intense.
Because I like a little crunch with my cake, and if you want to dress this up as a dinner-worthy dessert, I made some croquant, the French term for a nut brittle-like confection of thin pieces of caramelized sugar studded with nuts, to decorate the top. Although nut brittles in the US are usually eaten on their own, croquant is typically made as a decoration or as an ingredient; it's often ground up and mixed into cake fillings, or used as a filling for chocolates. Personally, I really like eating it on its own as well – I think we have a good idea going on here! Make a batch and use some pieces to decorate the cake, then save the rest for snacking.
Although the holidays are over, the celebrating hasn't stopped for me – I have a five year old turning six, Chinese New Year around the corner, and or course Valentine's Day on the horizon as well. Look for more sweet celebration recipes to show up in this space soon!
Clementine Cardamom Cake
Serves:
(1) 9" round cake
Ingredients
Clementine Cake
4-5 medium clementines or mandarins, about 400 g total
6 large eggs
1 cup (200 g) sugar
2⅔ cups (250 g) ground almonds or almond meal
1 teaspoon ground cardamom
1 teaspoon baking powder
Scented Orange Cream
1 cup (230 g) heavy cream
2¾ oz (80 g) mascarpone
1 tablespoon orange marmalade
1 teaspoon orange blossom water
Croquant
1 cup (200 g) sugar
2 tablespoons unsalted butter
½ teaspoon vanilla extract
⅛ teaspoon salt
1 cup sliced almonds
Instructions
For the cake:
Put the clementines in a saucepan and fill with enough cold water to just barely cover them.
Bring water to a boil, then reduce heat until the water is at a simmer. Let simmer, covered for 1½ - 2 hours until the peels are very tender and can be pierced with a fork.
Drain clementines and let cool.
Cut clementines in half and remove any pips.
Place clementines, peels and all, in a food processor and process until they become a smooth puree.
Weigh out 375 g of puree and set aside.
Preheat oven to 320 degrees F. Grease a 9" round springform pan and line the base with a round of parchment paper.
Whisk eggs together in a large bowl.
Add in the clementine puree and the rest of the ingredients and whisk together until well combined.
Pour batter into prepared pan and bake for about 1 hour, until top is golden and feels set to the touch.
Remove from oven and let cool on wire rack.Turn out the cake when fully cooled.
For the cream:
Combine the cream and mascarpone in bowl of a stand mixer fitted with whisk attachment. Whip to soft peaks.
Add in marmalade and orange water and whip to combine. Make the cream right before serving the cake or make and chill until ready to use.
For the croquant:
Line a baking sheet with a silicone baking mat or coat with cooking spray.
Place sugar and ¼ cup water in a saucepan, making sure the sugar is completely covered with the water. Bring to a boil over high heat.
Continue cooking until mixture reaches 250 degrees F as measured with a candy thermometer.
Add butter, vanilla, and salt and stir with a wooden spoon to combine.
Continue cooking until mixture reaches 290 degrees F. Remove from heat and stir in almonds immediately.
Pour candy mixture over prepared baking sheet and spread out as evenly and thinly as possible.
Let completely cool and harden. Break into small pieces.
Store croquant in an airtight container for up to 1 week.
To assemble:
Spread the cream evenly over the top of the cake. Then decorate with pieces of croquant.