edited on 9/19/06: I had to add this in – two days ago I received a very kind e-mail from Ms. Greenspan herself!!! See end of post.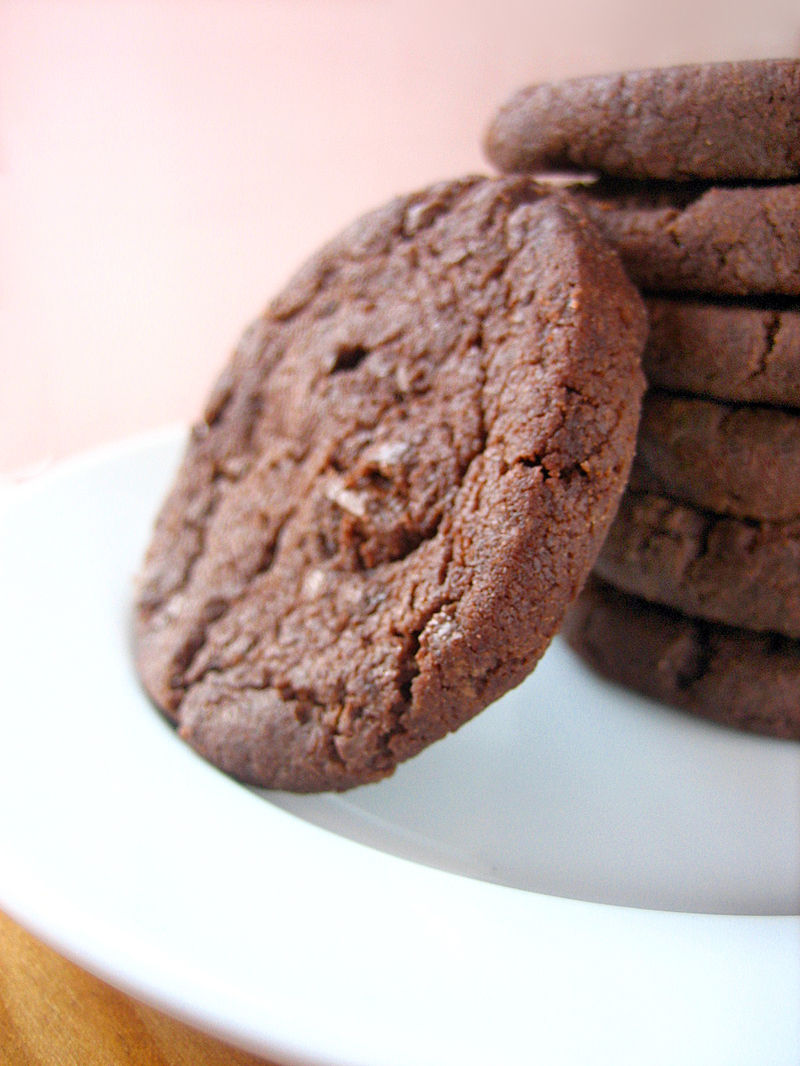 Saying I have one favorite cookie seems like a bold and potentially disingenuous claim; after all, variety is the hallmark and joy of the cookie world, and why there are dozens of cookie cookbooks on the market, to address when you have chocolate-chip-cookie-days or macaron-days, Christmas-sugar-cookie-days or tea-time-shortbread-days, or even those guilty I-really-want-an-Oreo-days.
But I have to say I fell in love with this cookie the first time I made it, everyone I've ever shared them with has loved them, and it keeps appearing in my kitchen on a regular basis. It is a cookie that makes you realize that the cookie, or koekje in its original Dutch, is not a minor sweet to be munched mindlessly out of a bag or snacked on as a poor substitute for a fancy dessert, but a full and proper member of the pastry world.
Of course, with a lineage tracing to Dorie Greenspan and Pierre Hermé, who would expect anything less? This cookie first appeared under the name of Korova Cookies in Greenspan's darling Paris Sweets, her charming, intimate ode to Parisian pâtisseries. Being the rabid fan of Hermé that I am, I made a batch, and true to the headnote, had to keep myself to consuming them all that evening. These cookies have made their return in Greenspan's new book, Baking: From My Home to Yours, which appears to not be in general release yet but which I have been lucky enough to find! In her new tome, the cookies have been renamed World Peace Cookies, an indication of Greenspan's continuing infatuation with these little handfuls of joy – and her recognition that they have won fans everywhere!
So why all the rhapsodizing? I humbly suggest the best way is to make the cookies yourself (and as a bonus, these are among the simplest of cookies to make; you have no excuse not to try them!) and take a bite of one minutes after it cools on the baking rack. They are a rich, dark, chocolately take on the classic sablé, and, as is Hermé's trademark, he has perfected both texture and taste in this recipe. There is no other way to describe biting into the cookie other than it melts and crumbles in your mouth, the perfect sandy consistency. And the smooth, buttery chocolate taste that comes from cocoa powder and chocolate chunks is enhanced by the addition of fleur de sel, which takes the level of taste to a preternatural, addictive high.
I have added a few drops of peppermint extract to these cookies for Christmastime, and they are the ones that everyone always asks if I will make again.
So I'm doing my little bit to spread some world peace and happiness and send this cookie with the simple advice to Try it! and see if it doesn't become one of your favorites as well.
I am also adding a little song of praise for Greenspan's new book, which I am sure you will see fully explored by me in the following months. She is forever my idol for translating Hermé's genius and making his recipes available to English speakers and the home baker. Now she finally gets to share her own recipes from her home kitchen, and it's a wonderful masterpiece that is homey, comprehensive, informative, and very delicious.
Korova Cookies
adapted from Dorie Greenspan's Paris Sweets
makes about 36 cookies
1 1/4 cups all-purpose flour
1/3 cup Dutch-process cocoa powder (do not use natural; I find the taste too light. I prefer Scharffen Berger or Valrhona)
1/2 teaspoon baking soda
1 stick plus 3 tablespoons butter, room temperature
2/3 cup light brown sugar
1/4 cup sugar
1/2 teaspoon fleur de sel
1 teaspoon vanilla extract
5 ounces bittersweet chocolate, chopped into little bits (I will admit I have used Nestle Toll House Mini Morsels before because they are nearly the perfect size; very tiny for this cookie is best. However, Greenspan does recommend chopping up your favorite chocolate for best results. If you see the mini morsels in the store, check them out for their size!)
Sift the flour, cocoa, and baking soda together in a bowl. Beat the butter in a mixer until it is soft and creamy. Add in the sugars, salt, and vanilla extract and beat for a few more minutes to combine. Add in the flour and combine on low speed just until the flour is combined. This is probably the trickiest part because the texture of the cookie depends on as little mixing as possible. The dough will be very crumbly; resist the urge to keep mixing until it all comes together because then the cookies will be too tough when baked. Add in the chocolate bits and mix just to distribute them.
If you have a scale, the easiest thing to do next is to divide the dough in half by weighing. If you don't, just turn the dough out onto a flat surface, press together into a ball and roughly divide in two. With each half, press the dough together gently and form into a log about 1 1/2-in in diameter. In the past, for fear of overworking the dough, I would simply form rough cylinders, wrap in plastic, and chill. The cookies would not be perfect rounds but they tasted good! (There is actually opportunity to reshape the cookies when you're getting ready to bake them). Now, I use the trick of rolling the dough into a log on a piece of parchment paper, folding the parchment in half over the log, and using a ruler to compact the log and smooth out its shape. Wrap the logs in plastic and chill for at least an hour; the logs will keep for up to 3 days in the refrigerator or you can freeze them for a month.
When you are ready to bake, preheat the oven to 325 degrees. Line two baking sheets with parchment paper or silpats. Take out the logs and let them sit for a little while to soften up, otherwise I find they shatter into pieces when I slice them. Greenspan does not seem to be bothered by this and suggests you can just press the pieces back together. I have done this before and it does not appear to affect the result.
Slice the logs into rounds about 1/2-in thick; I prefer a little thinner. Place the cookies on the sheets with about an inch between them. Bake them one sheet at a time in the oven for 12 minutes. They will not look done but that's ok – again, overbaking will give the m a crispy texture instead. Let them cool on wire racks until just warm.
9/19/06: I received the best surprise two days ago – this e-mail in my inbox from Ms. Greenspan! Here it is:
Hi Anita,
I friend just told me about your blog and I was thrilled to visit and see your gorgeous photos of our favorite cookie, Pierre Herme's Korova Cookies, now known as World Peace Cookies. Isn't it extraordinary that something so simple and so easy to make can be sooooooooo good!
Many thanks for your kind and generous words about my cookbooks. I hope you will enjoy baking from my newest book, Baking, From My Home To Yours, as much as you've enjoyed Paris Sweets. (And, for your reader who asked, the book is now in stores and online.)
I'll be visiting often to admire your beautiful work.
Again, my thanks — Dorie
Can I say I was floating in the clouds for the rest of the day??? FYI, I neglected to mention that I got my copy of Baking at my local Costco (called Sam's Club in other parts of the country), although they do not offer it online so you have to go to the warehouse yourself. It should also be available on Amazon, Jessica's Biscuit, and other online retailers at this point.
Tagged with: korova cookies + world peace cookies + Dorie Greenspan + Pierre Herme