Saffron Almond Buns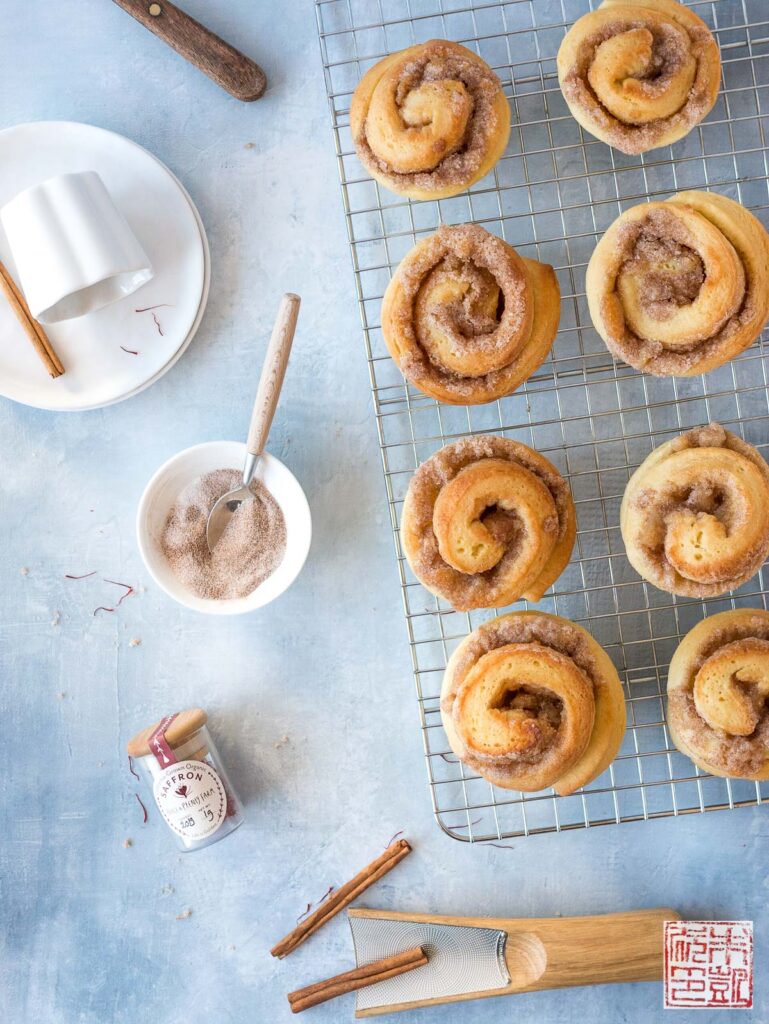 ½ cup (115 g) milk
1 teaspoon saffron
2¼ teaspoons (1 packet) active dry yeast
2 cups (280 g) all-purpose flour
1 cup (140 g) bread flour
½ (100 g) cup sugar
½ teaspoon salt
6 tablespoons unsalted butter, room temperature
2 large eggs, room temperature
¼ (58 g) cup water as needed
6 tablespoons unsalted, room temperature
½ cup (100 g) sugar
1 teaspoon ground cinnamon
85 g marzipan
Bring the milk to a simmer in a saucepan. Take off heat.
Crush saffron into small bits with a mortar and pestle and place into milk, cover saucepan and let steep for about 20 minutes.
Place milk in bowl of stand mixer and add the yeast. Let sit for about 5 minutes to activate the yeast.
Add flour, sugar, salt, butter, and eggs to the mixer.
Fit stand mixer with dough hook and knead the mixture until it comes together. If it seems dry add up to ¼ cup of water. Continue kneading for another 6-10 minutes until dough becomes soft, shiny, and sticky. It should come together into a cohesive mass and make a slapping sound as it hits the side of the bowl. If you do the windowpane test by pulling a piece of dough, it should stretch and thin out instead of breaking off instantly.
Gather dough into a ball and place in a large oiled bowl. Cover with plastic wrap pressed directly to surface of dough. Let proof in a warm place for about 45 minutes until dough has doubled in size.
Roll out dough on a lightly floured surface into a rectangle about 10 inches by 12 inches by ¼ inch thick. The dough should be fairly soft and easy to roll out.
Stir together the butter, sugar, and cinnamon in a bowl. Spread evenly over the surface of the dough, stopping about ½" from the edges.
Grate or break the marizpan into small pea-sized pieces (easier if it's very cold) and sprinkle over the surface of the dough.
Starting from the top of the dough rectangle, roll the long edge down towards you like a jelly roll, turning the dough into a spiral.
Trim off ¼ inch from each end. Using a bench scraper or sharp chef's knife, cut the roll crosswise into twelve equal pieces.
Grease a twelve cup muffin tin. Place a roll into each muffin cup. Cover with plastic wrap and let rolls proof at warm room temperature, until they have turned large, puffy, and pilllowy.
Preheat oven to 350 degrees F. Bake rolls for 20 to 25 minutes, rotating the sheet halfway through. The rolls should be golden brown and done on top. Let cool on wire rack.