Check it out: this post is featured on Yumsugar and Serious Eats!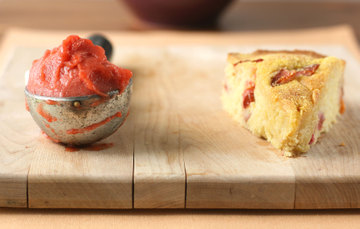 How fabulous is the bounty of fruit at the farmers' markets right now?
I wanted to make something with plums before they disappeared, and this week when I went to market I saw a variety that I hadn't baked with before: the oh-so-intriguingly named elephant heart plums.
If the slightly macabre name does not give you pause, the fruit's appearance might: a rather mottled and dusty variegation of greens and purples, making one wonder if they've been pulled, half-ripened, out of a kitchen drawer, or, perhaps, if they are something rich and strange from the depths of some sun-dappled forest.
Cut one open, and they indeed resemble something from a fairy tale: a jewellike, blood red interior that is softly, sweetly fragrant and begs to be bitten into, Snow-White style. Don't resist; the flesh is firm and burstingly juicy, the flavor sublimely sweet and tangy at once, redolent of honey and vanilla with tart berry undertones.
I adore this plum, with its perfect heart shape and rich ruby color, the subtle complexities of its flavor such a contrast to its bolder, more straightforward cousins. Incidentally, the dustlike bloom you may see on them at the market is actually a good sign; elephant heart plums are quite delicate and bruise easily, so seeing bloom means that have not been overhandled. Pick plums that are tender but not squishy soft or too firm either. Even a not-perfectly-ripened elephant heart plum is a thing of joy, but a perfect one is like the end of summer distilled into ambrosia.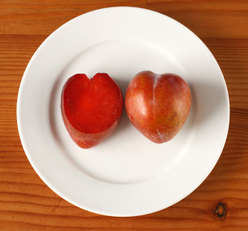 After eating a couple of these little beauties, I actually had to make sure I didn't get carried away and eat them all before I could bake anything with them (addictive, as in all the best fairy tales! or was that Persephone and her pomegranate seeds?) These plums are of course delightful out of hand, but also spectacular in many late summer or early autumn standards like galettes, tarts, or coffee cakes. The plums hold up well in baking and develop an even richer, more robust flavor.
I went with a recipe I had been waiting all year to try from Emily Luchetti's A Passion for Ice Cream
: a plum cornmeal cake paired with a plum sorbet. She calls for Santa Rosa plums in her recipe, a similar plum that's already had its season here in the Bay Area, but any red-fleshed plum like the Elephant Heart would work, or any plum or pluot that is not overly sweet (those that are both sweet and tart work best).
The recipe is a simple and fun one to make; the batter is thick and puddinglike and does not seem to be enough to yield a full cake, but don't worry, it rises prodigiously in the oven to a glorious puffy golden cloud. Be generous in sprinkling the plum pieces over the batter; even if it seems like a lot once the cake bakes up to its full height it will be quite thick and you will want it to be liberally studded with fruit. Not too sweet, pleasingly light and fluffy in texture with the slightest crunch from the cornmeal, this cake is lovely warm from the oven for breakfast or teatime.
The cake would be wonderful all on its own, but I had to make the accompanying plum sorbet, if only to show off that gorgeous wine-red color of the plums just a little more. It's also perfect for emphasizing the fruit in the cake; the chilly sorbet's intense sweetness and tanginess makes me think of plums in the snow. However you choose to devour these plums, they are surely one of the sweetest sendoffs to summer.
Plum Cornmeal Cake
adapted from Emily Luchetti's A Passion for Ice Cream
Makes one 9 1/2-in cake
4-6 ripe red fleshed plums
1 1/2 cups (212 g) flour
1 teaspoon baking powder
1/8 teaspoon ground cinnamon
pinch of salt
1/2 cup plus 1 tablespoon (64 g) cornmeal
6 oz (172 g) unsalted butter, room temperature
1 cup (200 g) sugar
3 large eggs
1/3 cup (60 g) milk
1/2 teaspoon lemon juice
1/2 teaspoon vanilla extract
Cut up the plums into small even pieces (eighths are a good size).
Preheat the oven to 350 degrees F. Grease the bottom and sides of a 9 1/2-in springform pan.
Sift the flour, baking powder, and cinnamon into a bowl. Add in the salt and 1/2 cup cornmeal and stir together to combine.
Put the butter and sugar into a mixer bowl and beat on medium speed until light-colored and fluffy.
Add in the eggs one at a time, making sure one is incorporated before adding the other.
Combine the milk, lemon juice, and vanilla extract in a small bowl.
Add the flour mixture and the milk mixture to the mixer bowl in additions, starting and ending with the dry flour mixture. Beat just until all the ingredients are combined.
Spread about half of the mixture into the springform pan, spreading evenly. Place about half of the plum pieces over the batter.
Spread the rest of the batter into the springform pan and top with the remaining plums. Sprinkle the 1 tablespoon of cornmeal over the top of the batter.
Bake in the oven for about 50 minutes until a tester inserted into the center of the cake comes out clean.
Plum Sorbet
adapted from Emily Luchetti's A Passion for Ice Cream
Makes one 9 1/2-in cake
2 pounds red fleshed plums
1/2 cup (100g) sugar
1/4 cup (45 g) water
pinch of salt
1 teaspoon lemon juice
Cut the plums into small pieces (about 1/2-in)and discard the pits. Place plums in a food processor and puree until smooth.
Strain the puree into a bowl – there should be about 2 3/4 cups.
Add in the sugar, water, salt, and lemon juice and combine. Taste and add more sugar if necessary.
Refrigerate the base for at least 2 hours to thoroughly chill.
Freeze in an ice cream machine per manufacturer's instructions. You will get a very soft sorbet that will require further freezing (about 4 hours) in the freezer before you can scoop and serve it.
Tagged with: Emily Luchetti + elephant heart plum + plum cornmeal cake + plum sorbet