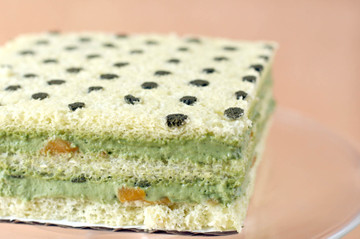 When it comes to Asian desserts in the Western world, most people don't think of them beyond the plastic-wrapped fortune cookies that come with your Chinese takeout or the fried bananas at the Thai restaurant. But there really is a huge world of Asian sweets beyond those familiar stereotypes. Step into any bakery in Chinatown and you are greeted by an array of custard-filled buns and fruit-covered layer cakes to rival any French patisserie. When I was young, I remember my mother giving us bowls of sweet soup made from almonds or black sesame as dessert.
Especially exciting to see is the commingling of Asian flavors and desserts with European and Western pastry tradition. Not that this is a new thing, of course – visit any East-West fusion style restaurant (does anyone use the word "fusion" anymore? Here in the San Francisco Bay Area, particularly, the moniker "California" cuisine appears to encompass, umbrella-like, everything from local and organic to vaguely Pacific Rim-influenced) and you're certain to find a green tea-infused crème brulée or coconut-ginger-saffron pudding on the dessert menu.
But a cookbook on Asian-inspired desserts is a rare breed indeed and cause for much KitchenAid-fiddling anticipation. And when it's written by Pichet Ong, well, it pretty much guarantees a purchase at the first moment of availability. So I am the very happy owner of Ong's new cookbook The Sweet Spot
, a veritable treatise on all things sweet and Asian.
Ong has made a career out of bridging culinary cultures – growing up in Thailand, Singapore, and Hong Kong, he put his background to good use in the pastry kitchen. His stints included Jean-Georges Vongerichten's 66 and Spice Market, where his desserts featured Ovaltine kulfi and durian ice cream (for those of you who know what durian is, you know what a daring move that was!)
The Sweet Spot is an absorbing read, from the detailed "Asian Pantry" section at the beginning that enumerates the various unique ingredients used in Asian baking, to the illuminating headnotes preceding each recipe, filled with either fond anecdotes or helpful tips. The recipes themselves are definitely not ones to be found in your run-of-the-mill baking tome. There are recipes that are exotic twists on familiar dessert forms like banana cream pie or coffee ice cream, and there are recipes that seem imported directly from Asia, such as steamed pandan layer cake and mango sticky rice.
The focus of the book seems to skew towards China and Southeast Asia, with a sprinkling of India and Japan thrown in. Coconut features prominently, as well as matcha, almond, and tropical fruits like mango and pineapple. I was pleased to see sophisticated versions of my childhood favorites like almond tofu and egg custard tarts, as well as discussions on Asian dessert techniques such as steamed cakes or Indian cheesemaking – Ong even has a recipe for what he calls Asian puff pastry.
Overall, the Sweet Spot fills a much-needed gap in the baking bookshelf as a reference on Asian baking ingredients and a stellar collection of innovative recipes. One recipe that caught my eye while I was leafing through was a riff on those cakes in the Chinese bakeries made of layers of light sponge and whipped cream, adorned with fresh fruit. They are the Chinese equivalent of the buttercream-frosted layer cakes you find in American bakeries – I've had my share of them for my birthdays while growing up.
Ong's version alternates a fluffy genoise-style cake with matcha-infused whipped cream. He calls for persimmons in the cream, but I used some beautiful mangoes I found at market instead. The result is, I think, as delectable as the inspiration and strikingly original as well.
Tagged with: Asian desserts + The Sweet Spot + Pichet Ong + green tea layer cake
Stumble this post!