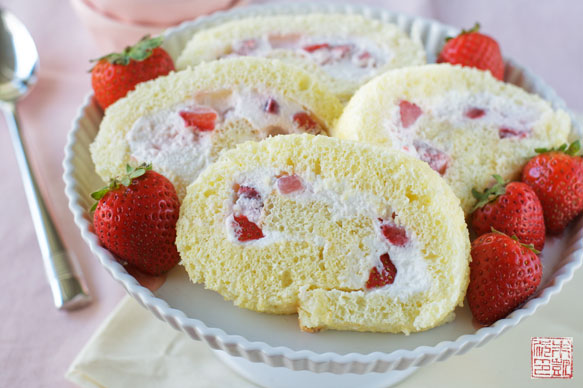 Entering a Chinese bakery is more a ritual of the expected than an exercise in novelty. No matter where the bakery is, whether deep in Hong Kong or in an overseas Chinatown, regardless of whether it's part of a big chain or a one-off store, customers will always expect a certain repertoire: steaming barbecue pork buns, golden custard egg tarts, paper-wrapped sponge cakes, whipped cream-frosted "special occasion" cases topped with fresh fruit…this list of bakery constants goes on. While savvy connoisseurs will certainly have their favorite stops for the superlative version of a particular item, walking into a Chinese bakery and not seeing certain classic items always produces a sort of shocked disappointment, as if somehow the owners of this bakery had missed out on the universal list of What to Bake.
One item on this critical "must be there" list is the Swiss roll, or I suppose the Chinese bakery version of a Swiss roll. When I was young I wondered at the incongruity of the name, curious as to why there were no German rolls or Spanish rolls to be had. Later, when I learned about jelly rolls, I was again struck by how Chinese bakeries managed to differentiate their version of a rolled-up cake from everybody else's. Theirs had no jelly inside, only a whipped cream filling. I came to accept these differences, just as I accepted that the party cakes were always frosted with a sweetened whipped cream, never buttercream like in the American bakeries.
The Swiss roll was always a classic, and easy to love: encased snugly in a dome-lidded tray or plastic wrap, there was never any doubt or guesswork with this dessert: either end of the roll was a neat cross-section showing a curlicue of cake, underscored with a thin limning of creamy filling. There was always a butter-yellow version and a cocoa-brown version, and sometimes there would be a vibrant orange version, which, as it turned out, was orange flavor. We never really quite took to the day-glo orange and usually stuck with first two, although today there are dozens of fanciful new flavors, from green tea to taro, although you'll always, always see at least one of the two original flavors.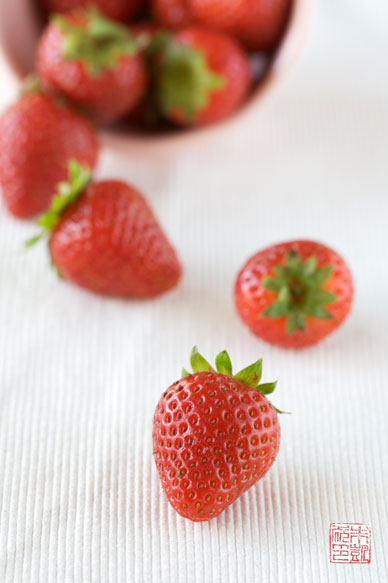 My mother would always buy one of the vanilla rolls and one of the chocolate rolls, because she knew I preferred the vanilla one and my sister the chocolate one. She was a cool mom like that. And following the unspoken but rigorously adhered-to rules of childhood and sibling relations, my sister and I never tried to eat each other's roll. Even years later, after we had moved on to new favorites (the cocktail bun for me, the pineapple bun for sister), my mom would still buy those rolls and store them in the refrigerator, asking us periodically if we wanted a slice, as if she still thought of us as little girls clamoring for a sweet treat.
To me, the Swiss roll is as comforting as yellow-cake-mix cake with chocolate frosting is to my Midwestern husband: soft cake and smooth cream, simple as a sunny day. Whenever I see it in my mom's refrigerator, I'll smile, and when she offers me a slice, I'll take it and eat it at the table, using a fork to cut off little trapezoidal wedges off the long stripe of cake, until I've unwound it to the creamy white center.
The cake in a Swiss roll is a form of sponge cake; light, just slightly springy, pleasingly rich in flavor. I discovered in my research that most of the recipes for the Chinese version of sponge cake use milk and oil, and sometimes baking powder, which differentiates it from American sponge cake, which is usually just eggs and sugar and flour. The recipe below is adapted from Farmers' Market Desserts
, as I saw this featured in the cookbook and was curious to see how it compared to my memories of Swiss rolls. The instructions are fairly detailed on how to prepare and roll up the cake, but I found them useful: The two things to remember in making a Swiss roll are to not overbake the cake so it's too hard to roll up, and using a towel or plastic wrap to roll the cake up makes things easier.
This cake is very delicate and light, a beautiful specimen of sponge cake. Carpeted with a rosewater and strawberry whipped cream filling, it's a natural for tea time or an ethereal way to end a warm summer day. Highly recommended.
I realize, however, some people might come to this page looking for a more Chinese-style Swiss roll. I'm actually experimenting so hopefully in a week or so I can post up a comparison! Stay tuned…if I don't eat this first one up, that is…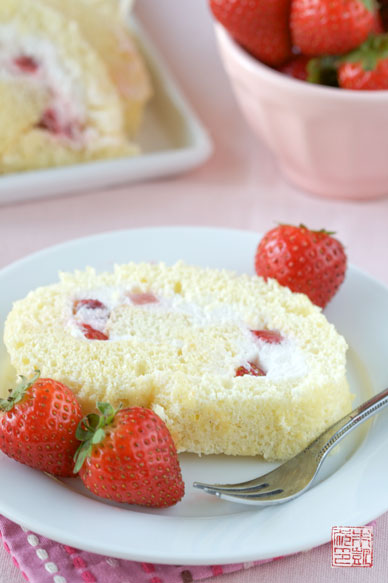 Strawberry Cream Roll
adapted from Farmers' Markets Desserts
Cake
5 large eggs, separated cold, then left at room temperature for 30 minutes
2/3 cup sugar
1 teaspoon vanilla extract
1 teaspoon almond extract
1 cup cake flour
1/2 teaspoon salt
Filling
2 pints (4 cups) strawberries, washed and hulled
3 tablespoons sugar
1 cup heavy cream
1/3 cup creme fraiche or sour cream
2 teaspoon rosewater
1/2 teaspoon vanilla extract
Confectioners' sugar for dusting
For the filling: set aside 1 cup of berries for garnish. Cut remainder into 1/2 thick slices and combine with 2 tablespoons of the sugar in a bowl. Set aside.
Preheat oven to 400 degrees F. Spray an 12×17 inch rimmed baking pan with nonstick spray and line with parchment paper. Spray the parchment paper.
For the cake: Whip egg whites in a stand mixer bowl with whisk attachment until they hold soft peaks.
Add 1/3 cup of the sugar in a steady stream and whip until white hold medium firm peaks.
In a clean mixer bowl, whip the egg yolks, vanilla and almond extracts, and remaining 1/3 cup sugar on high until mixture is thick and pale, about 5 minutes, scraping sides of bowl down as needed.
Add in flour and salt and whip on low speed just until incorporated.
Using a spatula, carefully fold one-third of the egg whites into egg yolk mixture to lighten it. Then fold in the rest of the egg whites until combined.
Turn out mixture into prepared pan and spread out evenly with an offset spatula.
Bake in oven for about 8 minutes, until the top is pale golden and the center springs back when you touch lightly. It should not get very dark.
Remove from oven and place on wire rack. Place a tea towel over the top and let rest for 10 minutes.
Run a thin knife around the border of the cake to loosen it. Using a strainer, dust the top lightly with confectioners' sugar.
Re-cover the cake with the towel, and place a flat baking sheet on top. Invert the pans together so the cake turns out onto the towel, on top of the baking sheet. Peel off the parchment paper and let the cake finish cooling.
To finish the filling. whip the cream, creme fraiche, rosewater, vanilla extract, and remaining 1 tablespoon sugar in stand mixer until the mixture holds firm peaks.
Strain the berries, reserving the liquid. Fold the berries into the whipped cream mixture.
Spread the whipped cream mixture over the surface of the cake, leaving an inch border on the long sides and a narrower one on the short sides.
Starting with the long side closest to you, use the tea towel to roll up the cake. Fold the edge of the cake over the filling, and keep rolling, pulling the towel out of the way as you go.
Transfer the cake roll to a long serving plate. Cover the cake with a lid or plastic wrap, tightly, and refrigerate for at least 2 hours to let the cream set a bit.
When you are ready to serve the cake, mix the remaining berries with the reserved berry juice. Slice the cake with a serrated knife on a slight angle.