Peanut Butter Melting Moments with Caramelized Banana Cream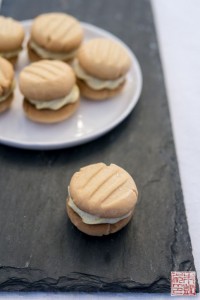 2 ripe medium bananas
¼ cup light brown sugar
½ teaspoon powdered gelatin
1 cup whole milk
½ cup sugar
½ teaspoon salt
3 large egg yolks
2 tablespoons cornstarch
1 teaspoon vanilla extract
¾ cup (170 g) heavy cream
½ cup (113 g) unsalted butter, room temperature
50 g peanut butter
50 g confectioners' sugar
115 g all-purpose flour
50 g cornstarch
Cut bananas into ¼" thick slices and place in a sauté pan. Sprinkle with the brown sugar.
Cook on medium heat, stirring to prevent burning, for about 5 minutes, until the sugar has melted and caramelized around the bananas. Let cool while you make the pastry cream.
Combine milk and ¼ cup of the sugar in a medium saucepan. Heat on the stove over medium heat until the sugar is dissolved and bubbles appear on the edge of the pan.
Sprinkle the gelatin over 2 teaspoons of water in a small bowl and let bloom.
Meanwhile, whisk together the egg yolks and remaining ¼ cup sugar in a bowl.
Whisk the cornstarch into the egg yolk mixture until combined.
Pour the hot milk into the egg mixture, whisking constantly to prevent the eggs from cooking.
Return the entire mixture to the saucepan and cook over medium heat, whisking constantly until the mixture thickens. Add in the gelatin and stir to make sure it fully dissolves. Stir in the vanilla.
Scrape the pastry cream into a food processor. Add the caramelized bananas and process until fully blended and very smooth.
Scrape the pastry cream into a clean container, press a piece of plastic wrap to the surface, and refrigerate until needed.
When you are ready to use the pastry cream, whip the cream in a mixer to soft peaks, and then fold gently into the pastry cream to lighten.
Line two baking sheets with parchment paper. Preheat oven to 350 degrees F.
Beat butter, peanut butter, and confectioners' sugar together in a stand mixer until light and fluffy.
Sift together the flour and cornstarch. Add to the stand mixer and beat until the dough comes together into a smooth mass (it may look crumbly at first, keep beating.)
Roll small teaspoons (about 10 g weight) of dough into balls. They will look small but these cookies are meant to be small. Place about 2 inches apart on the prepared sheets.
Press down on each ball with a fork dipped in flour to flatten.
Bake for about 13-15 minutes, rotating halfway through, until firm and golden brown at the edges. Let cool on wire racks.
Recipe by
Dessert First
at https://dessertfirstgirl.com/2015/04/peanut-butter-melting-moments-cookies.html