The opening of China Live, a modern restaurant and emporium in San Francisco's Chinatown, brings back a lot of nostalgic memories for me. When I was growing up in San Jose, before Ranch 99s and Marina Foods became fixtures along 101 and 880, trips to Chinatown in San Francisco were a weekly ritual for my family. We'd drive up in the late morning, arrive in time to eat in one of the packed, raucous dim sum houses, then navigate the bustling streets to pick up produce and other groceries, then finally pile back in the car for the hour long drive back home. Those once a week visits are an indelible part of my childhood and helped connect my sisters and I to our heritage.
Years later, I'm grown up, my parents have moved back to Hong Kong, and I don't need to go to Chinatown anymore since Chinese groceries are everywhere in the Bay Area. But it's nice to be reminded that San Francisco's Chinatown is not just a place to get vegetables and eat dim sum, it's also the major repository of Chinese history and culture in the bay area. China Live, a combination restaurant, café, bar, and retail shop, aims to make that culture that much more accessible to everyone, locals and tourists alike. Although there are still plenty of old school places to eat and shop in Chinatown, China Live is a wonderful addition that provides an exciting jolt of modernity to Chinese cuisine.
China Live is a passion project for restaurateur George Chen and his wife Cindy. They were looking for a space that could accommodate their plans for both a casual eatery and an upscale fine dining restaurant, and the space on Broadway fit the bill perfectly. It's completely unrecognizable from its former incarnation as a banquet hall and adjacent pet store; in their place are a series of sleek, beautifully polished spaces showcasing Chinese cuisine.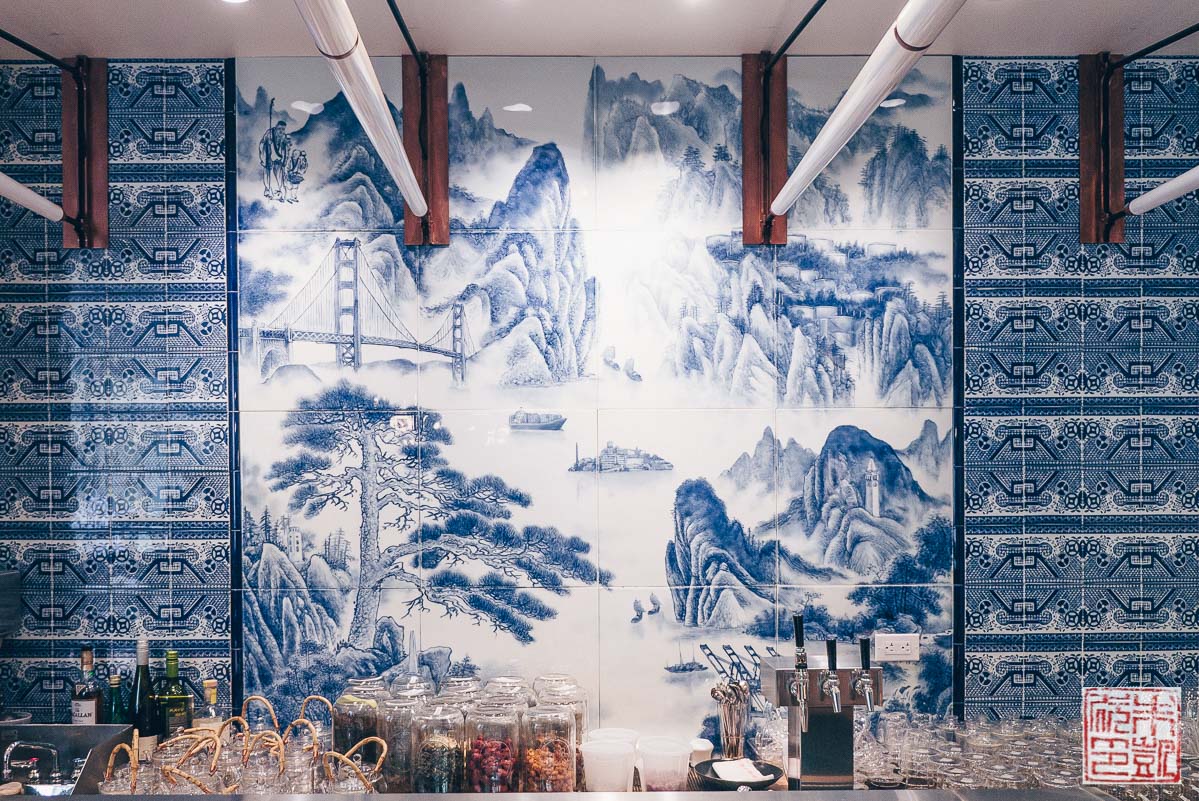 The Oolong Café is directly inside the entrance to China Live and offers tea, coffee, and prepared to-go bites. Don't miss the gorgeous blue and white mural done in the style of Ming Dynasty ceramics, and which includes several up-to-date, clever references to local San Francisco, including the Golden Gate Bridge. Currently China Live opens at 11 AM, but in the future they hope to have the café open in the morning so you can grab a breakfast pastry and tea.
Past the café, the Market Restaurant is currently the centerpiece of China Live; it occupies most of the back space and resembles a food hall, with stations for barbecue, dim sum, and other Chinese specialties, but it's a full service sit down restaurant. Try to get a seat at the counters if you want to watch the action in the open kitchens. The menu, which changes regularly based on seasonal ingredients, features an extensive selection of classic Chinese dishes updated and retooled with modern touches.
Sheng Jian Bao, or SJB, are similar to the famous xiao long bao pork dumplings, but are steamed and then pan-fried as well. The "Hot and Juicy" tag is quite accurate in this case.
The fried scallion bread is their take on scallion pancakes: instead of a flat disk the dough is rolled into little knots and fried. I'm a big scallion pancake fan so I'm happy to report I loved this incarnation just as much.
Some of the other dishes I tried (yep, I was pretty much rolling myself out the door when lunch was over). Other favorites to try include the tender kurobuta pork char siu, the Peking duck in sesame bread pockets, and the Sichuan blistered green beans, which are combined with olives and pickled salted plum – different from the original dish, but tasty in its own right. It appears to be overall theme of the restaurant: familiar or classic dishes with just a little twist.
I was especially excited to hear that one of San Francisco's star pastry chefs Luis Villavelazquez is handling dessert duties, and has big plans to create morning pastries for the café and also have a dessert bar area in the restaurant for those people (like me) who just want to come in for the sweets. His updated takes on traditional Chinese desserts, like the matcha swiss roll and the coconut rice pudding with ginger and passion fruit, are intriguing. Don't miss the delightfully smooth sesame soft serve; usually it's paired with ribbons of mango shaved ice but on my visit it was espresso shaved ice – an equally winning combination.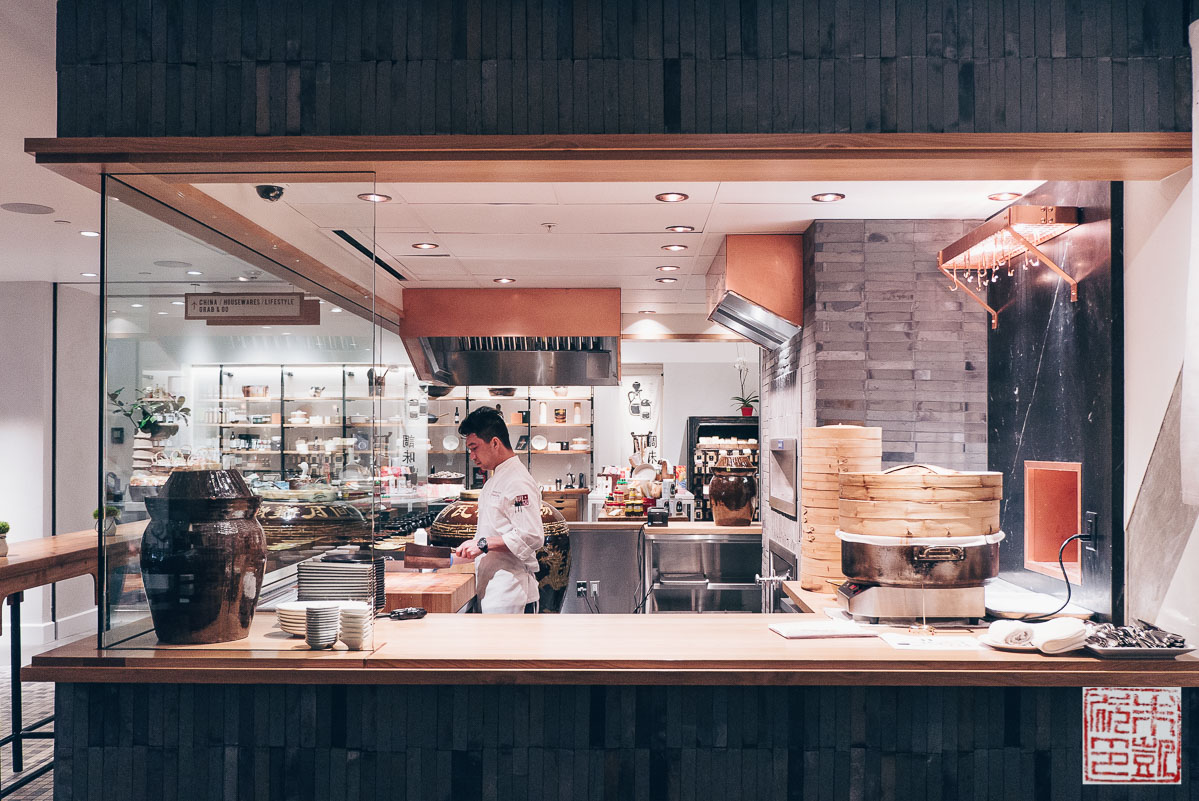 Currently the restaurant is open for lunch and dinner; no reservations are taken, but just put your name on the list and grab a drink at the adjacent Bar Central or explore the retail section until your name is called. Both the Oolong Café and Bar Central become bustling waiting/overflow areas at mealtimes – if you're there for happy hour, it's just as fun to eat at the stand up counters while watching the chef stuff Peking duck buns at his glass-walled station.
The sprawling Marketplace offers a selection of local and imported goods curated by George and Cindy. Some items, like the glass teapots and the fine china, are custom made for China Live.
Excited at the candy selection, which includes Marou Chocolate from Vietnam!
In the future China Live plans to expand to the second floor: Eight Tables, the fine dining portion of George's vision, will occupy most of that area. Thanks to China Live for the invitation to visit: I'm already a fan and look forward to seeing the next stage of this project. It's a fantastic addition to Chinatown and a place I'm excited to share with my family.