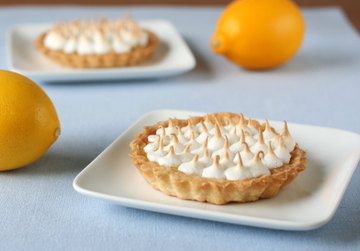 It barely seems like the new year's had time to settle in, and it's time for Daring Bakers already! This month's host is Jen of the lovely The Canadian Baker, and she picked a great classic for us to make: lemon meringue pie. When I think of lemon meringue I always think of those Strawberry Shortcake dolls I played with as a child; I had the Strawberry Shortcake doll (of course) and my sister had the Lemon Meringue doll. I remember she had a big poufy hat that looked just like a swirl of fluffy meringue. I never did understand why her pet was a little frog though; I guess they were running out of different animals to assign to each character!
(As a aside, maybe I'm showing my age, but I like classic Strawberry Shortcake. I'm not really too keen on the modernized trendy new Strawberry Shortcake dolls I'm seeing in stores. And it looks like they gave Lemon Meringue a new pet – a skunk! Wow, this girl just can't catch a break, can she?)
I'm really glad Jen picked the lemon meringue pie, because I'm seeing some beautiful Meyer lemons at the market right now, little splashes of perky sunshine just begging to be used. I really love Meyer lemons, from their painter's palette-bold yellow color to their elegant smooth skins to their subtle tang. I'm already hoarding a batch in my kitchen with eager ideas for them, and making lemon meringue pie fit right into the plans.
I have to give a real thumbs up to this recipe as well; easy to execute with fantastic results. I'm not really a pie person; long time readers will notice I'm more of a tart girl, but this pie crust recipe came together and rolled out like a dream. My only issue was that the crusts shrunk a little more than I anticipated during baking, so I didn't get as deep-dish a pie as I wanted. Nevertheless, the baked crust was flaky, buttery, and a lovely container for the lemon curd filling.
Since I used Meyer lemons, the filling didn't have the traditional zing of other lemon meringue pies, but a creamy, smooth, and wholly satisfying lemon flavor. I really liked the addition of butter to the filling, as it reminds me a great deal of my favorite lemon curd by Pierre Herme. As luck would have it, it's been pouring buckets here in the Bay Area, and anyone who's dealt with meringues knows that humidity is meringue's worst enemy. And why does it always seem to turn humid the day you decide to whip up some egg whites? Nevertheless, the meringue whipped up as billowy and satin-shiny as you please, and baked up beautifully in the oven.
Playing around with piping the meringue made for great fun as well: I liked the little dots as shown in the first picture above.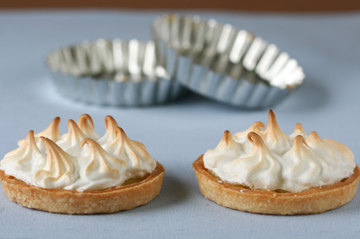 Or you could go for some ruffly peaks.
Or perhaps just the classic swirly mounds.
These little darlings are really best eaten right out of the oven, though; especially on a rainy day, they just don't hold up for very long. Altogether this was a great Daring Bakers exercise; the little pies were polished off quite handily. Thanks to Jen for another fun challenge!
Lemon Meringue Pie
(from "Wanda's Pie in the Sky" by Wanda Beaver)

Makes one 10-inch (25 cm) pie
For the Crust:
3/4 cup (180 mL) cold butter; cut into ½-inch (1.2 cm) pieces
2 cups (475 mL) all-purpose flour
1/4 cup (60 mL) granulated sugar
1/4 tsp (1.2 mL) salt
1/3 cup (80 mL) ice water
For the Filling:
2 cups (475 mL) water
1 cup (240 mL) granulated sugar
1/2 cup (120 mL) cornstarch
5 egg yolks, beaten
1/4 cup (60 mL) butter
3/4 cup (180 mL) fresh lemon juice
1 tbsp (15 mL) lemon zest
1 tsp (5 mL) vanilla extract
For the Meringue:
5 egg whites, room temperature
1/2 tsp (2.5 mL) cream of tartar
1/4 tsp (1.2 mL) salt
1/2 tsp (2.5 mL) vanilla extract
3/4 cup (180 mL) granulated sugar
To Make the Crust:
Make sure all ingredients are as cold as possible. Using a food processor or pastry cutter and a large bowl, combine the butter, flour, sugar and salt.Process or cut in until the mixture resembles coarse meal and begins to clump together. Sprinkle with water, let rest 30 seconds and then either process very briefly or cut in with about 15 strokes of the pastry cutter, just until the dough begins to stick together and come away from the sides of the bowl. Turn onto a lightly floured work surface and press together to form a disk. Wrap in plastic and chill for at least 20 minutes.
Allow the dough to warm slightly to room temperature if it is too hard to roll. On a lightly floured board (or countertop) roll the disk to a thickness of 1/8 inch (.3 cm). Cut a circle about 2 inches (5 cm) larger than the pie plate and transfer the pastry into the plate by folding it in half or by rolling it onto the rolling pin. Turn the pastry under, leaving an edge that hangs over the plate about 1/2 inch (1.2 cm). Flute decoratively. Chill for 30 minutes.
Preheat oven to 350ºF (180ºC). Line the cr ust with foil and fill with metal pie weights or dried beans. Bake for 20 to 25 minutes. Carefully remove the foil and continue baking for 10 to 15 minutes, until golden. Cool completely before filling.
To Make the Filling:
Bring the water to a boil in a large, heavy saucepan. Remove from the heat and let rest 5 minutes. Whisk the sugar and cornstarch together. Add the mixture gradually to the hot water, whisking until completely incorporated. Return to the heat and cook over medium heat, whisking constantly until the mixture comes to a boil. The mixture will be very thick. Add about 1 cup (240 mL) of the hot mixture to the beaten egg yolks, whisking until smooth. Whisking vigorously, add the warmed yolks to the pot and continue cooking, stirring constantly, until mixture comes to a boil. Remove from the heat and stir in butter until incorporated. Add the lemon juice, zest and vanilla, stirring until combined. Pour into the prepared crust. Cover with plastic wrap to prevent a skin from forming on the surface, and cool to room temperature.
To Make the Meringue:
Preheat the oven to 375ºF (190ºC). Using an electric mixer beat the egg whites with the cream of tartar, salt and vanilla extract until soft peaks form. Add the sugar gradually, beating until it forms stiff, glossy peaks. Pile onto the cooled pie, bringing the meringue all the way over to the edge of the crust to seal it completely. Bake for 15 to 20 minutes, or until golden. Cool on a rack. Serve within 6 hours to avoid a soggy crust.
Tagged with: lemon meringue tartlets + Daring Bakers