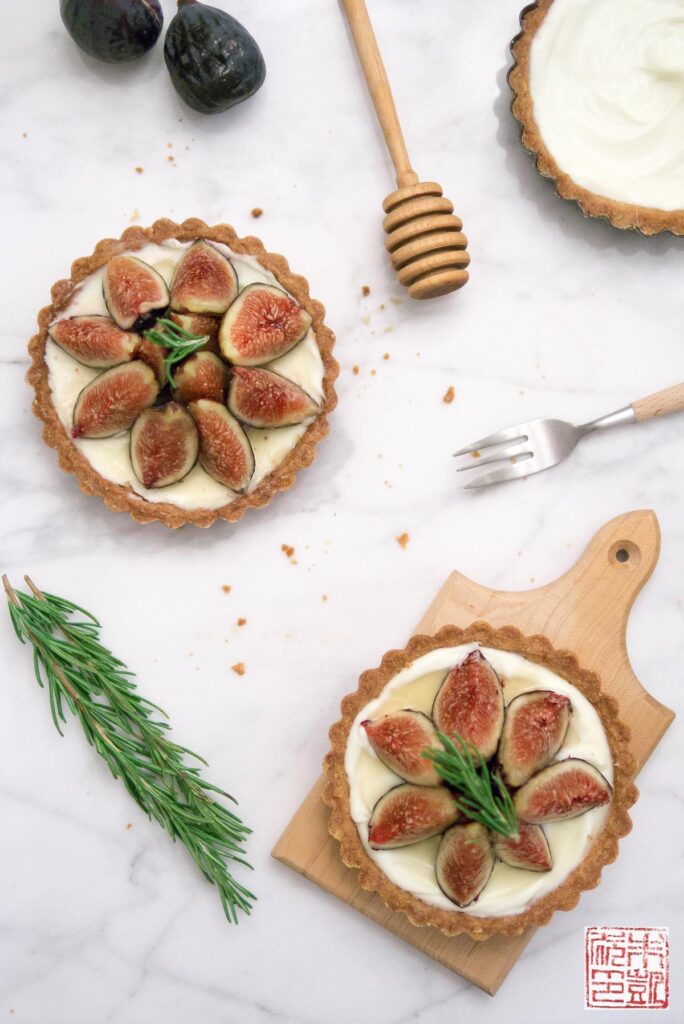 Continuing my tart obsession with a quintessential ode to fall: a fresh fig mascarpone tart in a cornmeal crust specked with fresh rosemary. It's hard to "do" anything to figs when it's peak fig season; they're so perfect on their own, I don't even feel the need to bake them or anything else. The tart crust and filling is just a frame constructed to elevate the perfection of some lusciously ripe figs.
Cornmeal provides heartiness and crunch to a basic tart crust. The butter and egg in this crust give it a richness more akin to cookie; on the one hand, this can be a very soft and sticky dough, especially in warm weather – be sure to chill it so it can harden to a workable firmness. On the other hand, all the fat makes for a very forgiving dough. You can pretty much press it into the tart tins, and any holes can be simply patched up with another piece of dough. If the dough gets too soft while you're working it, you can give it another chill in the refrigerator, or you can sprinkle some flour on top without fear. The rosemary adds a complementary savory note, and incidentally makes the kitchen smell amazing while these tart crusts are baking.
Instead of a typical pastry cream or whipped cream filling, I love the more subtle sweetness of mascarpone. Its dense, voluptuous texture also combines well with the cornmeal crust to ground the figs; it feels like taking a bite of Tuscan countryside in the late afternoon sun. A drizzle of honey on top provides just the right finishing note; as none of the other elements of the tart are as forthrightly sweet, it's lovely exercise to swirl the honey into the filling and let its brightness wend its way into the rest of the dessert like a golden grace note.
Enjoy this tart before summer – and this year's figs  –  vanish away before the advent of fall.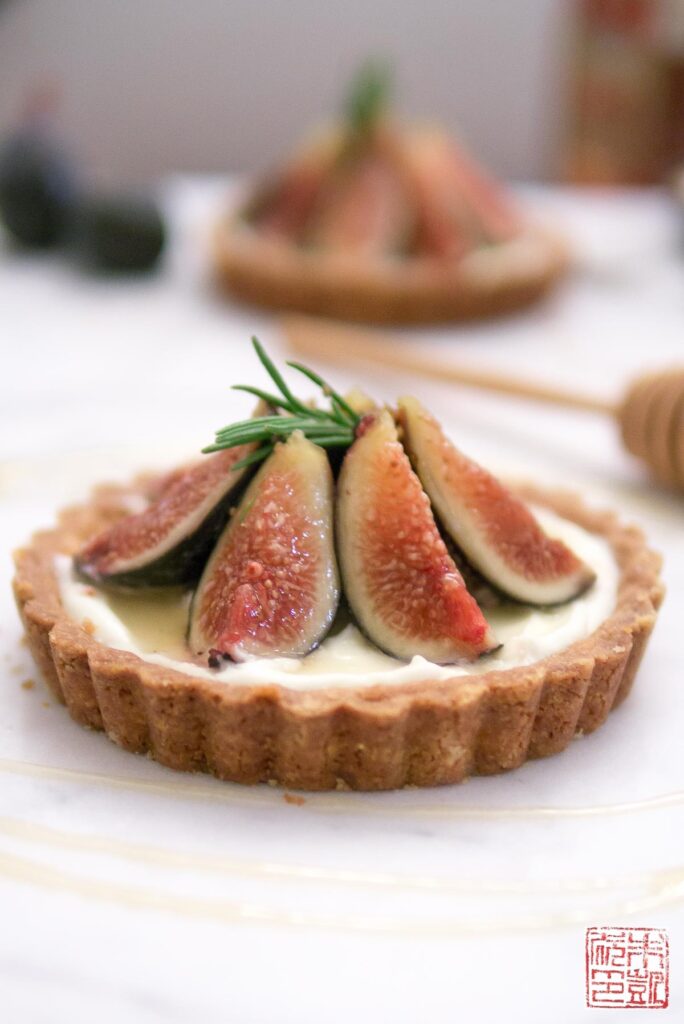 Fresh Fig Mascarpone Tart in Cornmeal Crust
Serves:
(8) 4½" round tarts
Ingredients
Cornmeal Crust
1½ cups (210 g) all-purpose flour
½ cup (80 g) yellow cornmeal (don't use stone-ground as it's too coarse)
3 tablespoons (38 g) sugar
¼ teaspoon salt
½ cup (113 g) cold unsalted butter, cut into pieces
1 tablespoon finely chopped fresh rosemary or 1 teaspoon dried rosemary
3 to 4 tablespoons ice water
1 large egg yolk
Mascarpone Filling
1 cup mascarpone cheese
¾ cup creme fraiche
1 tablespoon sugar
½ teaspoon vanilla extract
8-10 fresh, ripe figs, sliced in quarters
Honey for drizzling
Instructions
For the tart crust:
Combine flour, cornmeal, sugar, baking powder, and salt in a food processor. Pulse several times until combined.
Add butter and rosemary and process until mixture is the consistency of coarse crumbs. Do not let the dough form into a solid ball.
Add water and egg yolk and process just until the dough starts to come together. Do not overmix.
Form dough into a flat disk; wrap in plastic and refrigerate for 30 minutes to let it firm up.
Preheat oven to 350 degrees F.
Remove dough from refrigerator and divide into eight pieces, and press into (8) 4½" round tart tins with removable bottoms (you can also make one 10-in round tart). You may have leftover dough. Chill tart tins for 30 minutes.
Bake tart crusts for 20-25 minutes until crusts are dry and golden brown in color.
Remove from oven and let fully cool on wire rack before filling.
For the filling:
Beat together mascarpone cheese and creme fraiche together, either by hand with a wooden spoon and bowl or in a stand mixer with beater attachment, until combined and smooth. Add sugar and vanilla and beat until incorporated and filling is smooth and glossy.
When tart shells are cool, divide filling between tart shells.
Arrange cut figs on top and drizzle with honey. These tarts are best served the same day, but will keep up to two days in the refrigerator, covered tightly.