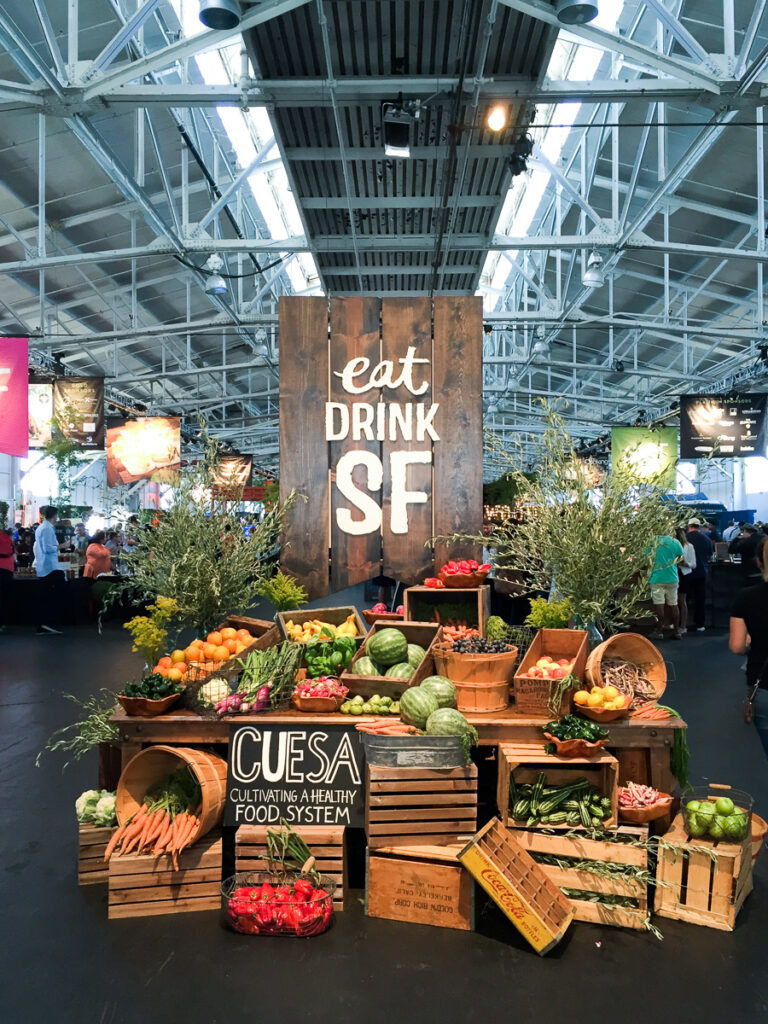 After a summer of food and wine events, it's always exhilarating to go out with a bang. Eat Drink SF, a weekend-long festival of food, wine, and spirits from around the Bay Area, was a delicious way to close out August. Over 160 Bay Area restaurants, along with over 70 bars, wineries, and distilleries served up a feast of bites over three days of celebrations.
Eat Drink SF is organized by the Golden Gate Restaurant Association. Many thanks to them and Wagstaff for inviting me to attend the Sunday Grand Tasting! This year, the festival highlighted several Legacy Restaurants – establishments that have been running for over 20 years, and have helped shape the culinary landscape and language of San Francisco. It was very cool to see restaurants like Delfina, Scala's Bistro, and Sutro's at the Cliff House showcased at the event. Hope you enjoy the following selection of highlights and my favorites from the tasting!
One of the first bites I had ended up being one of my favorites of the day. Tosca Cafe's Stone Fruit with Proscuitto Americano, Smoked Pancetta and Toasted Sunflower Puree.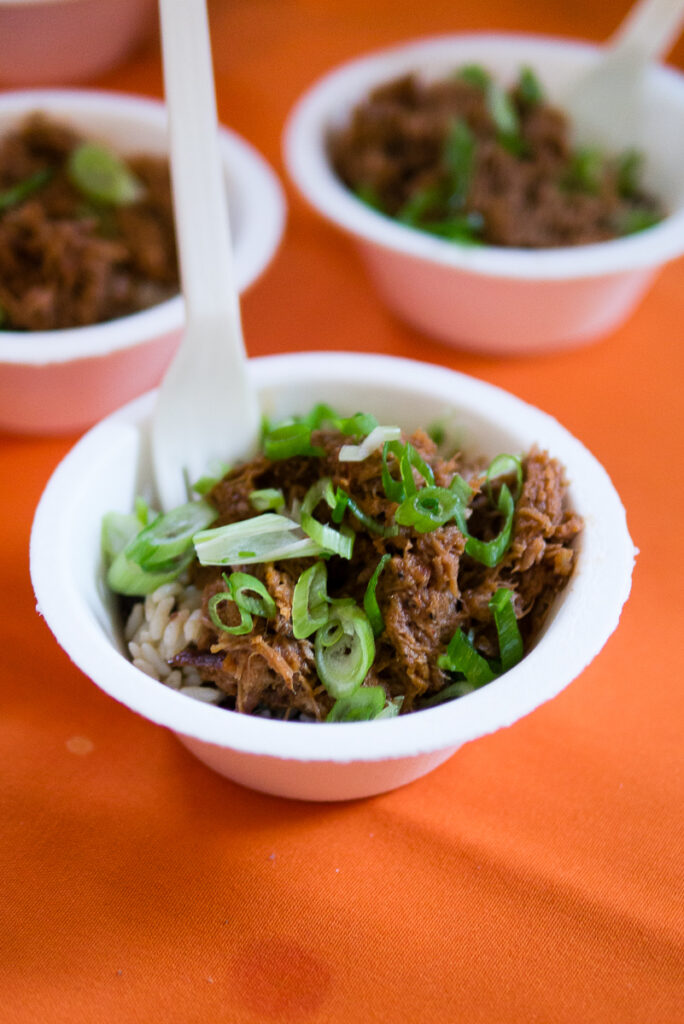 Another standout of the afternoon: Front Porch's Carolina Pulled Pork with Red Pea Hoppin' John and Green Onions. Customized with their three levels of hot sauce, totally satisfying.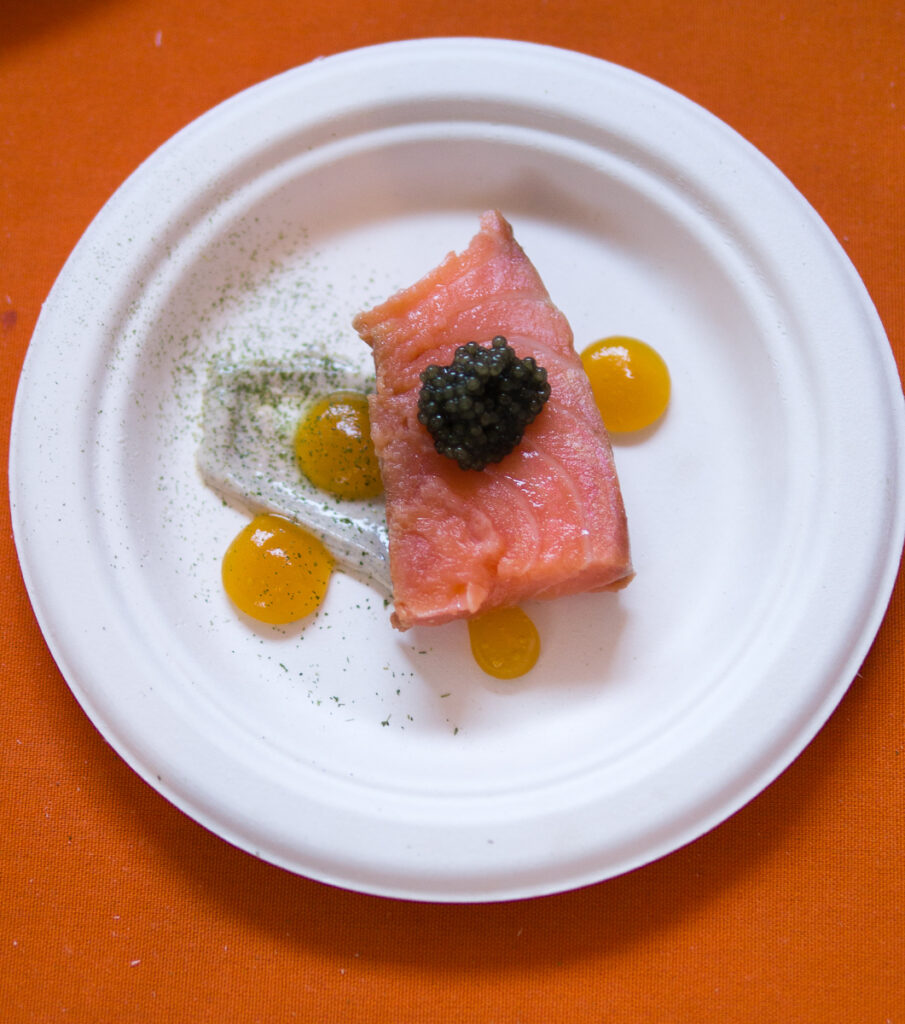 Utterly decadent: 1601 Bar & Kitchen's House Smoked Salmon with Burnt Onion Creme Fraiche and Turmeric Gel.
So happy to see bakery representation at the festival. Noe Valley Bakery had the most mouthwatering lineup of breakfast pastries and breads. I snuck a couple of them out for a fabulous breakfast the next morning.
Another shot of their double raisin bread.
Teleferic Barcelona, a Spanish tapas restaurant, offered up their version of pigs in a blanket with chorizo sausage wrapped in a unbelievably flaky pastry.
One of my go-to restaurants in San Francisco, Town Hall, did a country ham tasting which pitted a Johnsthon County North Carolina Ham against La Quercia Speck from Iowa. Served on a buttermilk biscuit with butter and red pepper jelly, I could have eaten these all afternoon.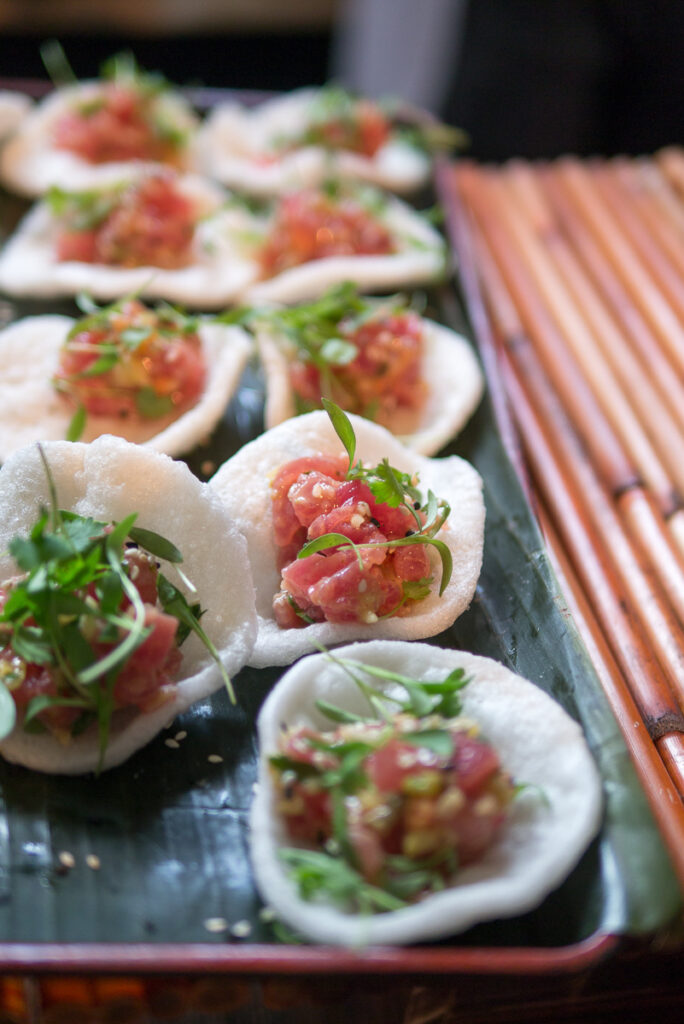 Another San Francisco classic, Le Colonial, which serves Vietnamese cuisine in a gorgeous houselike restaurant, offered up a fresh take on tuna tartare in a crispy shrimp chips, dressed with pickled vegetables, avocado lime oil, green papaya, and passion fruit dressing.
One of my husband's favorites, the Porky Pig Sisig and Grits from Buffalo Theory. A "pork medley", chilies and onions, and chicharrons, spooned over cheesy grits. Quail egg optional
Onto the sweet bites of Eat Drink SF: one of the most novel desserts was certainly this foie gras ice cream.
Blue Plate's Corn and Smoked Oyster Panna Cotta with Raspberries, Vanilla, and Chili Oil
Fall fruit crisps from Scala's Bistro. Scala's also makes the gorgeous Neighborhoods of San Francisco chocolate collection that highlights several of the city's iconic districts.
My favorite discovery of the day: Gowan's heirloom apple ciders. Gowan Orchards in Mendocino County has been growing apples since 1876, but only recently started making apple cider. The Gravenstein Heirloom cider was my pick, not surprisingly since I love Gravenstein apples so much!
Super Duper is my current burger joint of choice: although they weren't making burgers at the event they were serving their equally famous chocolate-dipped Straus ice cream cones. A don't miss for sure!
Protip: Definitely don't eat anything before you go to the tasting, and do a bit of strategizing about what restaurants you want to try. It's nearly impossible to sample everything, unless you have a supersized stomach (and a high alcohol tolerance) – the focus is on relaxing and having fun. So take your time to stroll around, check out the various dishes, chat with the chefs, and enjoy the atmosphere at one of the best food festivals San Francisco has to offer. Thanks again to Eat Drink SF for a delightful afternoon!