Fresh Fig Mascarpone Tart in Cornmeal Crust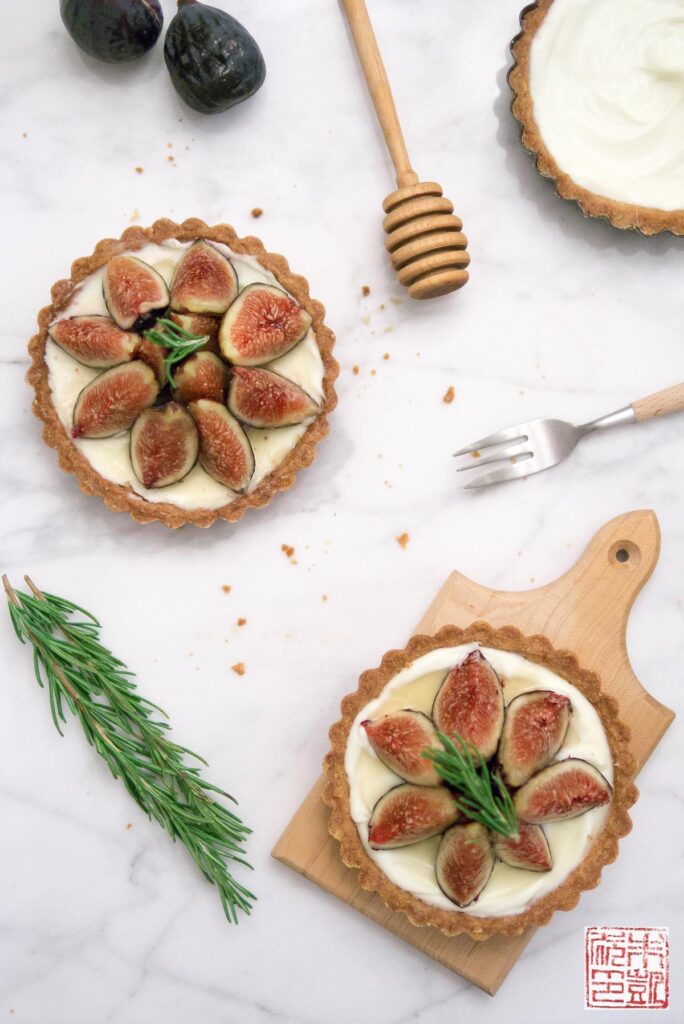 Serves:
(8) 4½" round tarts
1½ cups (210 g) all-purpose flour
½ cup (80 g) yellow cornmeal (don't use stone-ground as it's too coarse)
3 tablespoons (38 g) sugar
¼ teaspoon salt
½ cup (113 g) cold unsalted butter, cut into pieces
1 tablespoon finely chopped fresh rosemary or 1 teaspoon dried rosemary
3 to 4 tablespoons ice water
1 large egg yolk
1 cup mascarpone cheese
¾ cup creme fraiche
1 tablespoon sugar
½ teaspoon vanilla extract
8-10 fresh, ripe figs, sliced in quarters
Honey for drizzling
Combine flour, cornmeal, sugar, baking powder, and salt in a food processor. Pulse several times until combined.
Add butter and rosemary and process until mixture is the consistency of coarse crumbs. Do not let the dough form into a solid ball.
Add water and egg yolk and process just until the dough starts to come together. Do not overmix.
Form dough into a flat disk; wrap in plastic and refrigerate for 30 minutes to let it firm up.
Preheat oven to 350 degrees F.
Remove dough from refrigerator and divide into eight pieces, and press into (8) 4½" round tart tins with removable bottoms (you can also make one 10-in round tart). You may have leftover dough. Chill tart tins for 30 minutes.
Bake tart crusts for 20-25 minutes until crusts are dry and golden brown in color.
Remove from oven and let fully cool on wire rack before filling.
Beat together mascarpone cheese and creme fraiche together, either by hand with a wooden spoon and bowl or in a stand mixer with beater attachment, until combined and smooth. Add sugar and vanilla and beat until incorporated and filling is smooth and glossy.
When tart shells are cool, divide filling between tart shells.
Arrange cut figs on top and drizzle with honey. These tarts are best served the same day, but will keep up to two days in the refrigerator, covered tightly.
Recipe by
Dessert First
at https://dessertfirstgirl.com/2016/09/fresh-fig-mascarpone-tart.html