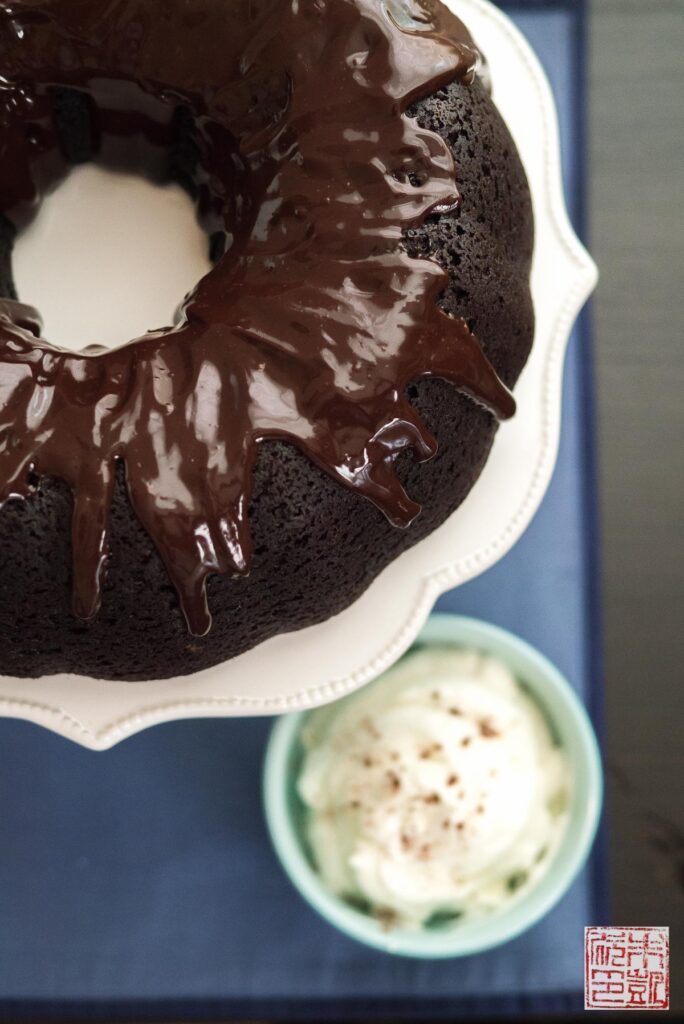 In the never-ending quest for the perfect chocolate cake, I realized that I've never tried a very popular variant, the chocolate stout cake. I'm not much of a beer drinker, which is why I've passed by this cake many times, but with St. Patrick's Day coming up, I thought what better time to revisit my preconceptions? Also, hubby happens to be a big beer aficionado, so I figured I already had an in-house expert to pick out a cake-appropriate stout for me!
The chocolate stout cake recipe I used is adapted from one I found in Theo Chocolate's new cookbook. I'm in love with the cookbook; not only does it capture the quirky-casual charm of this Seattle chocolatier, but the recipes are original and intriguing. Instead of sticking to obvious basics like brownies and cookies, the cookbook covers a wide range of sweet and savory dishes, all using their baking chocolate, from chocolate granola to chocolate ravioli to cocoa nib infused vodka. I'm planning to go on a baking-with-chocolate bender, soon.
In the meantime, the chocolate stout cake filled my chocolate cravings and then some. It's impressively big and rich-looking, and once you cut inside it doesn't disappoint. The oil and sour cream make this an delectably moist cake, with a very soft and delicate crumb. I used a mix of Theo's 70% and 85% bittersweet chocolate, which combined with cocoa powder gives it a dark chocolately richness. This is the stout Mike picked out; its chocolate and malty notes round out the cake and give it a deeper, more rounded finish.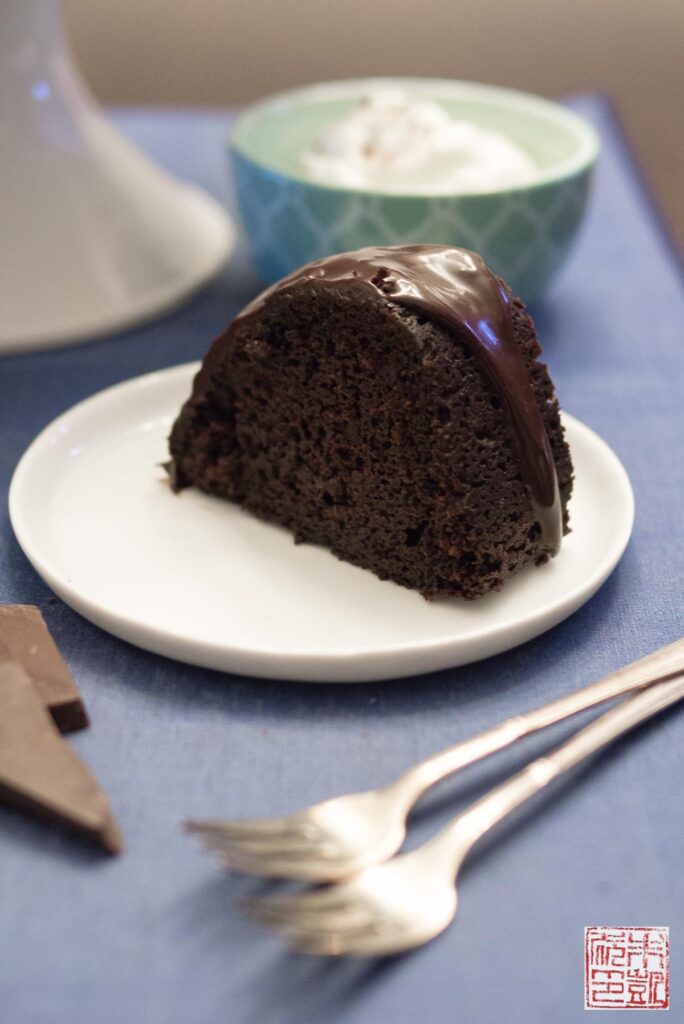 All cakes need a frosting. For the chocolate glaze, I considered flavoring it with Irish cream to keep with the St. Patrick's day theme, but I decided not to go overboard with the alcohol and instead incorporated some of the individual elements into the glaze instead. Melted semisweet chocolate and cream are whisked together into a ganache, then enhanced with espresso powder, vanilla and almond extracts. The glaze is satisfying glossy and thick; if you want a thinner glaze you can always add a bit more cream. The coffee and almond notes really bring out the intense chocolate-ness of the cake, and using a lower percentage chocolate gives the glaze more sweetness, which I liked since the cake itself is not super sweet.
Finally, I couldn't resist a final accompaniment. Hubby loves eating cake with whipped cream –  I've gotten used to seeing containers of cream in the refrigerator that I didn't buy, apparently reserved for embellishing his evening dessert! In honor of the holiday, I added a bit of peppermint extract to some whipped cream (I didn't color it green, but feel free to do so if you're really in the spirit!), and it makes a great topping for the stout cake. Fantastic idea, hubby!
This household is happy we tried the chocolate stout cake; between the two of us we finished off an alarmingly large amount of it in the last couple of days. We won't wait for the next St. Patrick's Day to make it again. And neither should you.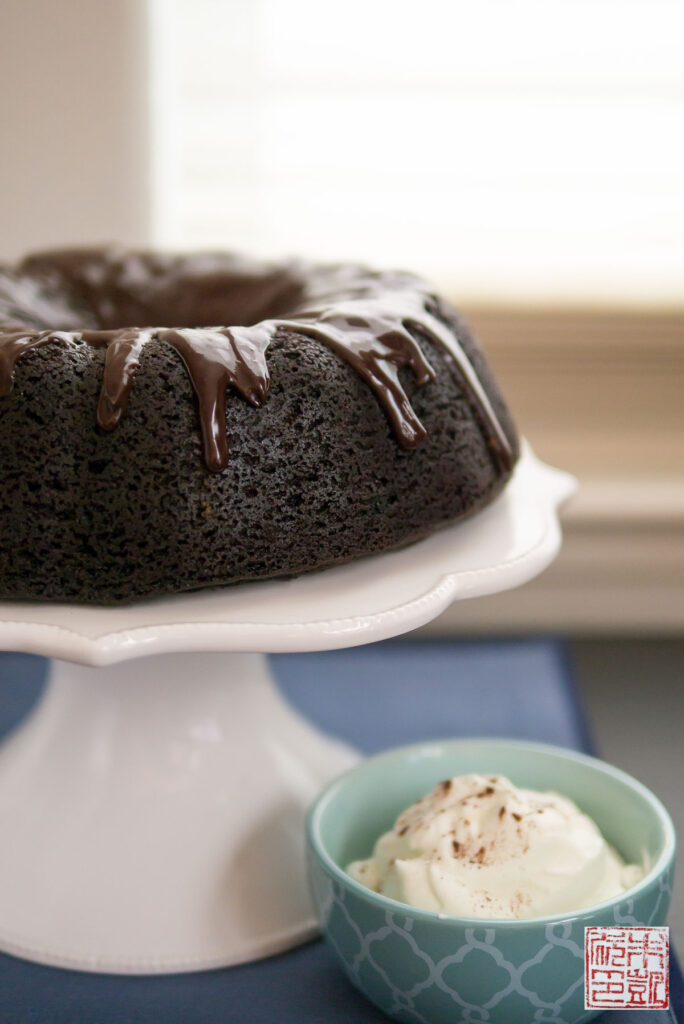 Chocolate Stout Cake with Mint Whipped Cream
adapted from Theo Chocolate cookbook
Serves:
One 10" bundt cake
Ingredients
Cake
¼ cup (3/4 oz) plus 1 tablespoon cocoa powder, divided
2 cups (9 oz) plus 1 tablespoon all-purpose flour, divided
1 cup stout, chocolate stout, or porter beer
6 ounces 70%-85% dark chocolate, roughly chopped
2 cups (14 oz) light brown sugar
8 oz sour cream
2 large eggs
½ cup vegetable oil
1 teaspoon vanilla extract
2 teaspoons baking soda
1 teaspoon baking powder
1 teaspoon salt
Glaze
5 oz 60% semisweet chocolate, roughly chopped
½ cup heavy cream
1 teaspoon vanilla extract
1 teaspoon almond extract
½ teaspoon instant espresso powder
½ tablespoon unsalted butter
Whipped Cream
1 cup heavy cream
1 teaspoon confectioners' sugar
½ teaspoon peppermint extract
Instructions
for the cake:
Preheat oven to 350 degrees F. Combine 1 tablespoon of cocoa powder and 1 tablespoon of flour together in a small bowl. Spray inside of a 12-cup bundt pan with nonstick cooking spray, then dust with the cocoa powder mixture. Tap pan upside down to remove excess, then set aside.
Combine remaining ¼ cup cocoa powder, stout and chocolate in a medium saucepan. Cook over medium heat, whisking regularly to prevent burning, until chocolate is melted and mixture is smooth.
Remove saucepan from heat and add in brown sugar, sour cream, eggs, vegetable oil, and vanilla extract, whisking between each addition.
Place remaining 2 cups flour, baking soda, baking powder, and salt in a large bowl and whisk to combine.
Add in liquid mixture and whisk to combine until very smooth with no lumps.
Pour batter into prepared pan and bake 40-45 minutes, until tester inserted into center of cake comes out clean.
Let cake cool in bundt pan on wire rack for about 10 minutes, then invert pan, remove cake, and let finish cooling on wire rack before glazing.
for the glaze:
Combine chocolate, cream, vanilla extract, almond extract, and espresso powder in a double boiler or a heatproof bowl set over a saucepan of simmering water.
Cook on medium, stirring until chocolate is fully melted and combined.
Remove from heat and add in butter. Stir until melted and fully incorporated. If glaze seems too thick, you can add in more cream and whisk to incorporate.
Let glaze cool until it thickens and leaves a trail when you lift the whisk.
Carefully pour glaze over cooled cake. Let glaze cool and set for about 1o minutes before serving.
for the whipped cream:
Combine cream, sugar, and peppermint extract in the bowl of a stand mixer fitted with the whisk attachment.
Whip on high speed until soft peaks form. Scoop out whipped cream into a bowl and serve alongside cake.