Chocolate Stout Cake with Mint Whipped Cream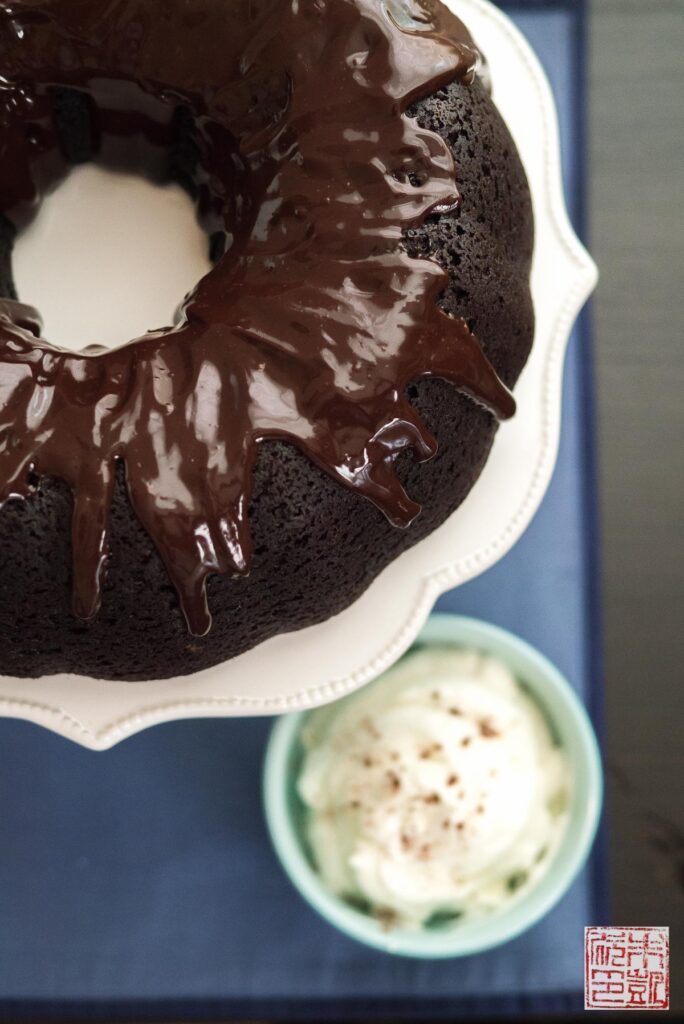 Serves:
One 10" bundt cake
¼ cup (3/4 oz) plus 1 tablespoon cocoa powder, divided
2 cups (9 oz) plus 1 tablespoon all-purpose flour, divided
1 cup stout, chocolate stout, or porter beer
6 ounces 70%-85% dark chocolate, roughly chopped
2 cups (14 oz) light brown sugar
8 oz sour cream
2 large eggs
½ cup vegetable oil
1 teaspoon vanilla extract
2 teaspoons baking soda
1 teaspoon baking powder
1 teaspoon salt
5 oz 60% semisweet chocolate, roughly chopped
½ cup heavy cream
1 teaspoon vanilla extract
1 teaspoon almond extract
½ teaspoon instant espresso powder
½ tablespoon unsalted butter
1 cup heavy cream
1 teaspoon confectioners' sugar
½ teaspoon peppermint extract
Preheat oven to 350 degrees F. Combine 1 tablespoon of cocoa powder and 1 tablespoon of flour together in a small bowl. Spray inside of a 12-cup bundt pan with nonstick cooking spray, then dust with the cocoa powder mixture. Tap pan upside down to remove excess, then set aside.
Combine remaining ¼ cup cocoa powder, stout and chocolate in a medium saucepan. Cook over medium heat, whisking regularly to prevent burning, until chocolate is melted and mixture is smooth.
Remove saucepan from heat and add in brown sugar, sour cream, eggs, vegetable oil, and vanilla extract, whisking between each addition.
Place remaining 2 cups flour, baking soda, baking powder, and salt in a large bowl and whisk to combine.
Add in liquid mixture and whisk to combine until very smooth with no lumps.
Pour batter into prepared pan and bake 40-45 minutes, until tester inserted into center of cake comes out clean.
Let cake cool in bundt pan on wire rack for about 10 minutes, then invert pan, remove cake, and let finish cooling on wire rack before glazing.
Combine chocolate, cream, vanilla extract, almond extract, and espresso powder in a double boiler or a heatproof bowl set over a saucepan of simmering water.
Cook on medium, stirring until chocolate is fully melted and combined.
Remove from heat and add in butter. Stir until melted and fully incorporated. If glaze seems too thick, you can add in more cream and whisk to incorporate.
Let glaze cool until it thickens and leaves a trail when you lift the whisk.
Carefully pour glaze over cooled cake. Let glaze cool and set for about 1o minutes before serving.
Combine cream, sugar, and peppermint extract in the bowl of a stand mixer fitted with the whisk attachment.
Whip on high speed until soft peaks form. Scoop out whipped cream into a bowl and serve alongside cake.
Recipe by
Dessert First
at https://dessertfirstgirl.com/2016/03/theo-chocolate-stout-cake.html