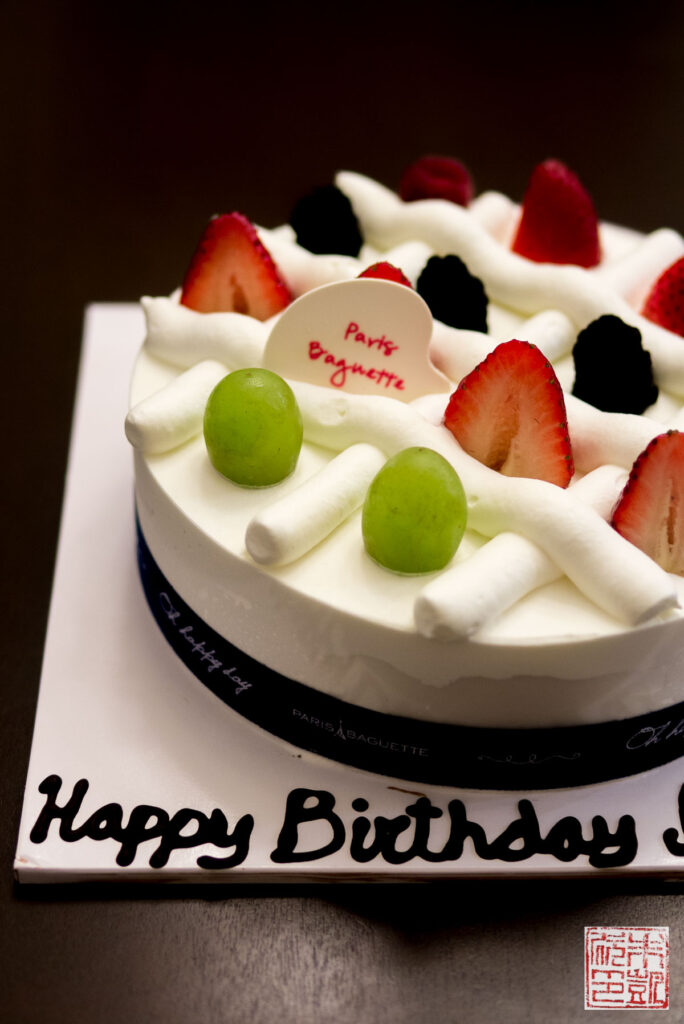 I'm excited to see an increasing number of globally-inspired bakeries rising into the spotlight in the Bay Area's ever-growing pastry scene, opening people's eyes to a world of sweet pastries beyond just American and French-inspired treats. Asian bakeries have always flown a bit under the radar, but several modern new chains are making Asian pastries more accessible to all audiences. One of these places, Paris Baguette, has opened several storefronts in the Bay Area , and recently I was invited into their shop for a tasting.
Disclosure: I was invited to visit Paris Baguette for a media tasting. I was not compensated for this post and all opinions are my own.
Paris Baguette is a South Korean-based enterprise with outlets throughout South Korea, China, Singapore, and France. They expanded into the US several years ago, bringing a mix of traditional Asian bakery goods like milk bread and curry buns with French-inspired pastries like danishes and macarons. Like many modern Asian bakeries, they find a careful balance between the exotic and the familiar for both Western and Asian audiences. Asian flavors like matcha, mango, and red bean show up alongside French classics like chocolate croissants and apple danishes.
I visited Paris Baguette's Millbrae store, which is pleasantly airy and bright. One of Paris Baguette's big selling points is the warm and inviting atmosphere of their shops, which encourages customers to relax and enjoy a cup of coffee with their pastry. Above, a mix of the macarons and alfajores. Some of my favorite macaron flavors I tried include the salted caramel and the earl grey; the macarons are pleasantly chewy and not overly sweet. The alfajores feature buttery shortbread cookies sandwiching a dulce de leche filling; I especially liked the version that was rolled in hazelnuts.
One of the cutest little concepts I got to try at Paris Baguette was this "one-bite pastry", composed of a base that's a cross between croissant and brioche, filled with cream and topped with fruit. On the whole, the pastries at Paris Baguette are on the lighter, less sweet side. Breads are softer, less chewy, fillings are often whipped cream based or tend to be airy rather than rich and dense, which definitely appeals to Asian sensibilities. I really like the change up from the American-style bakeries; it's fantastic to have such a variety of choice here in the Bay Area.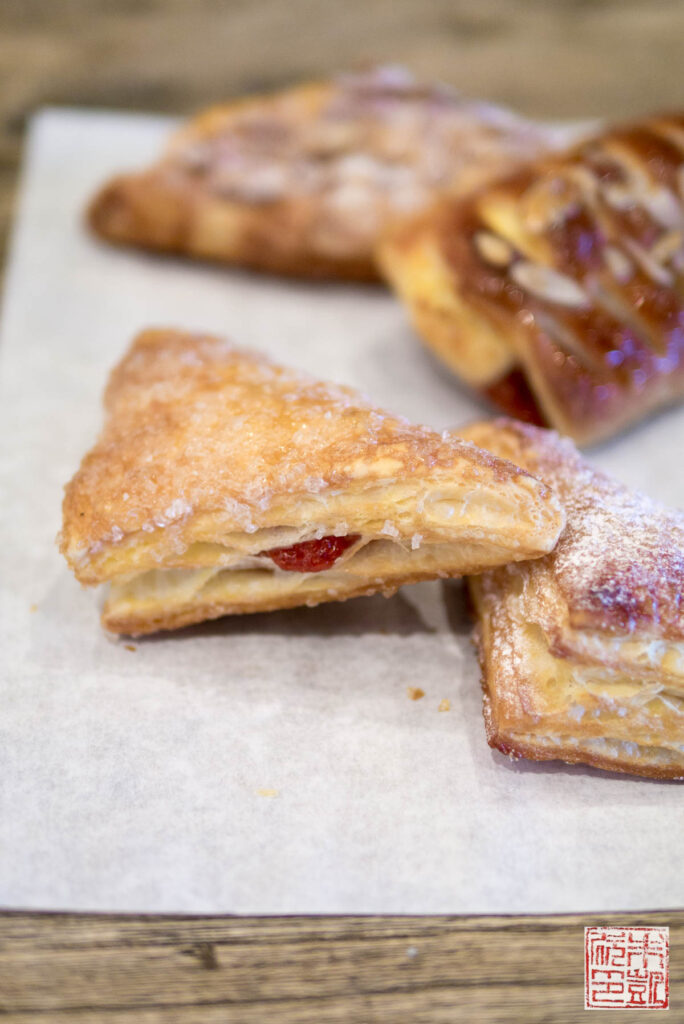 There's always a good selection of breakfast pastries at Paris Baguette, from traditional croissants to red bean buns. I go for their turnovers often; the mango and guava fillings give a unique spin to this classic pastry, and the crunchy sugar crust is perfection. If I pick some up in the afternoon they often don't make it to next morning!
There's an admirable selection of cakes at Paris Baguette, from frosted layer cakes to mousse cakes, all charmingly decorated and also customizable for special occasions. As with the other pastries, the cakes tend towards the lighter side; the cake layers are generally chiffon or sponge-style, and the frostings are whipped cream based or light buttercream. The slice of chocolate buttercream cake I had was decadent without being overwhelming rich – a perfect little chocolate hit. Since I'm a big mango lover, I also enjoyed their silky mango mousse cake; in general you can't go wrong with their mousse cakes.
I also really liked their eye-catching chiffon cakes, with towering layers of melt in your mouth chiffon cake generously covered in whipped cream. Very similar to angel food cake, and a delightfully ethereal experience. I love indulging in a slice of cake, and feeling like I've still got room in my stomach for more!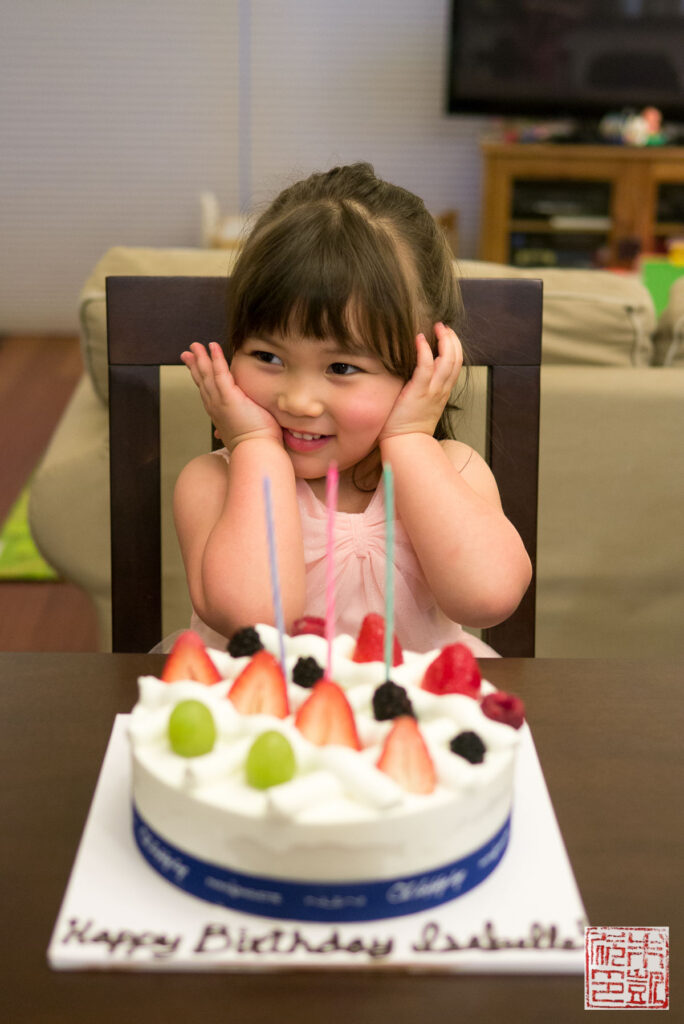 Paris Baguette was also nice enough to arrange for me to take home one of their signature strawberry fresh cream cakes for Isabelle's birthday. This actually turned out to be a wonderfully nostalgic experience, as it reminded me of the cakes my mom would get for my birthdays when I was small. They were always from a local Chinese bakery, and composed of featherlight layers of sponge cake filled with whipped cream and fruit, most often strawberries, my favorite fruit. As it turns out, strawberries are now Isabelle's favorite fruit as well, and you can see how thrilled she was with her birthday cake.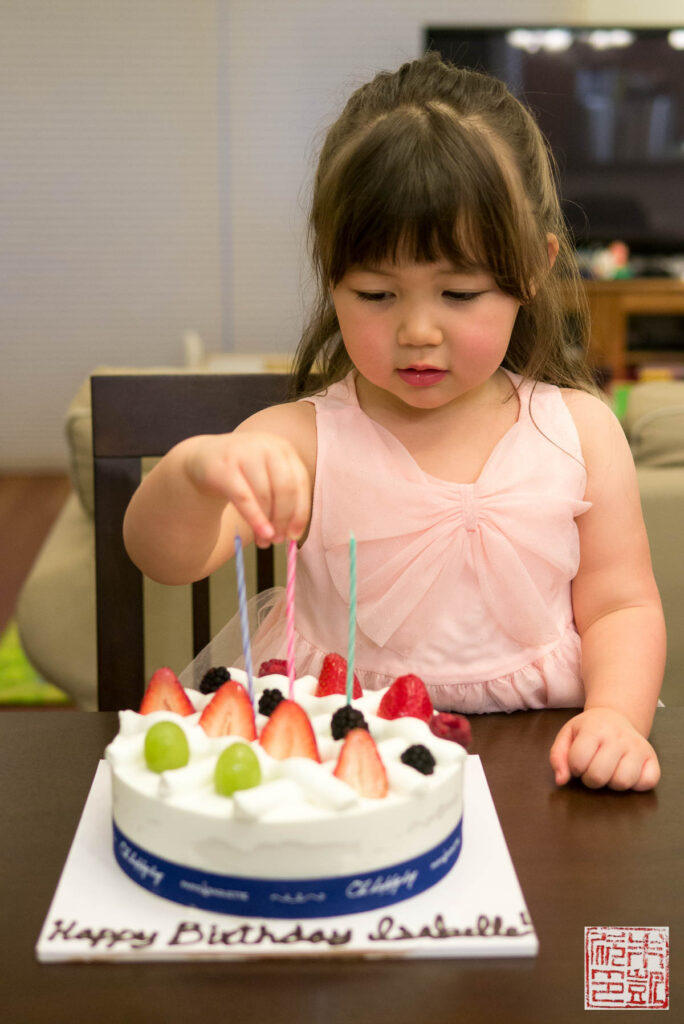 Besides Millbrae, Paris Baguette has several other Bay Area locations, and is planning further expansions. Thanks to Paris Baguette for the invitation to their store, and for helping us celebrate Isabelle's birthday! (By the way, there will be an upcoming post on her birthday party and dessert table; stay tuned!)
More on Asian style desserts: